Inside: This Spain packing list will ensure you are prepared for anything on your Spanish vacation.
A trip to Spain offers so many opportunities. The Spanish people are incredibly warm and welcoming, as well as very keen to show off their beautiful country.
And why not? This is a European destination that boasts a coastline liberally spangled with pristine golden sands and smart resorts.
Spain also packs in some gloriously gothic and appealingly arty cities. Seville, Madrid, Barcelona, or Bilbao, anyone?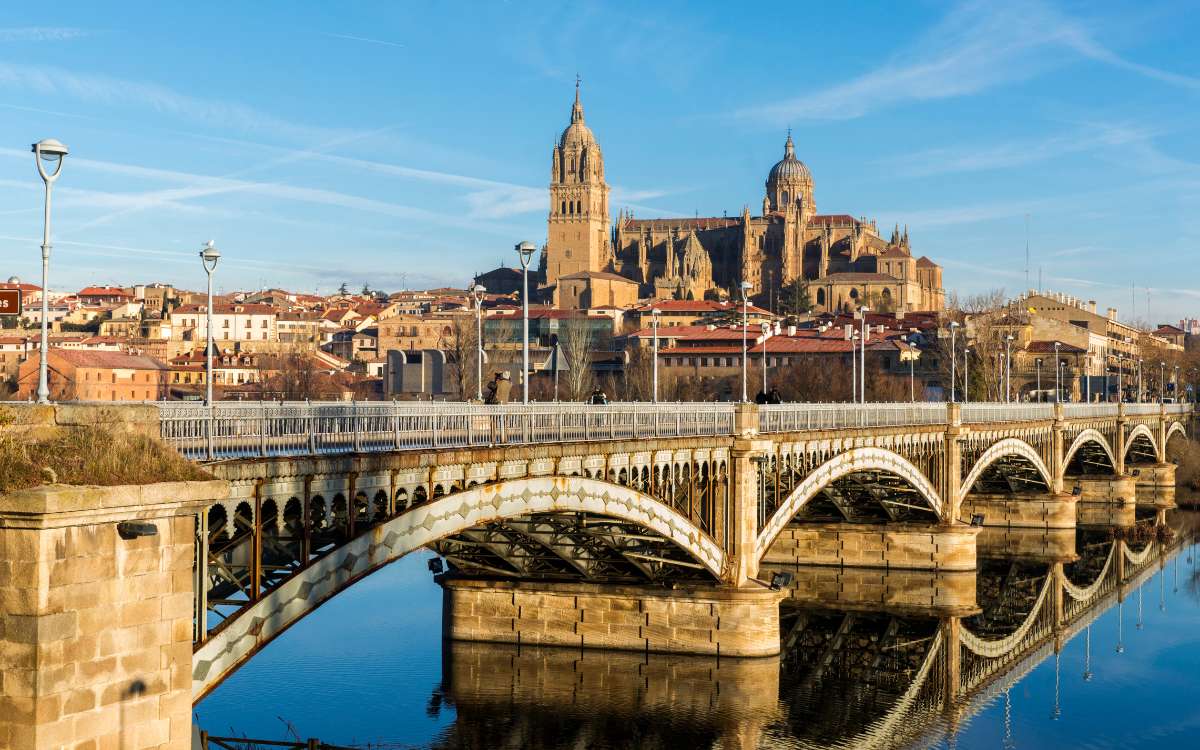 The country also offers plentiful gastronomic treats, from tapas at the neighbourhood bar to Michelin-starred fine dining.
All washed down with a sparkling Cava, a floral Albariño, or a rich, rounded Rioja. Or perhaps an Estrella or San Miguel if beer's more in your bag.
Spain is also home to some breathtaking hiking trails, not least the Camino de Santiago, aka the Way of St. James. This popular pilgrimage ends at Santiago de Compostela's cathedral in the northwest of the country.
Whether you plan to walk, surf, sail, follow the Gaudi trail, marvel at Granada's multitude of Andalusian delights or simply eat and drink your way around a variety of bars, cafes, and restaurants, you need to know what to pack in your luggage for Spain – and indeed what to wear in Spain.
Hence this Spain packing list.
Whether you're visiting Spain in summer for a relaxing beach break, are visiting the country's vibrant cities like Seville or San Sebastian, or are planning to do a lot of walking in northern Spain during the cooler months, this is the ultimate guide to packing for Spain.

Spanish travel essentials for all seasons are covered, as well as questions like what to wear in Spain, the weather in Spain and whether or not you need clothing to keep you warm in the more northerly parts of Spain.
Read on so you can decide what to pack for when visiting Spain according to the time of year, the cities and towns you'll be visiting and how active – or relaxed – you plan to be during your stay.
A weather guide is included towards the end of this post and is divided according to season so you can plan just what to bring to Spain and what you can get away with leaving behind during winter or summer.
The travel tips we're sharing here are based on years of experience, not least when traveling to one of our favorite destinations in the world. Let alone Europe.
We genuinely love Spain, and only hope that your trip makes you every bit as fond of this fascinating European destination as we are!
Spain Packing List: 33 Must-Bring Items
Whether you're spending winter or summer in Spain, here are the items you simply must consider making room for.
1. Travel insurance
Never, ever leave your home country without adequate travel insurance coverage.
It doesn't only cover your luggage, it's also an absolute must should any medical emergency occur.
If the worst happened and you suffered a major accident, the insurance would cover not only the cost of any treatment given in Spain but also getting you home to recover.
While it's not something you want to think about when planning a vacation, accidents can and do happen.
When you're taking valuable items, or plan to participate in sporting or even dangerous activities, it's even more important to ensure you have adequate travel insurance coverage in place.
Travel insurance tops this list of travel tips because it's not just a good idea.
It's absolutely necessary for peace of mind and thus firmly belongs on any list of what to pack for Spain. Before you even begin to consider the luggage.
2. The Luggage
Before you pack for Spain, you need to consider the sort of luggage you want to take with you.
As with everything, this depends on where you're going and what you're doing.
If your case will go direct from plane to taxi to hotel, then it doesn't matter so much what kind of luggage you take.
The cities of Europe, though – like the Spanish capital Madrid – often have the sort of cobblestone paved streets that can wreak havoc with suitcase wheels.
If you're going to be moving around a lot or want to take public transport to your accommodation, then you may need to bear this in mind.
Whether to use a backpack/rucksack or suitcase is really down to personal preference, but there are a couple of alternatives – almost hybrids, in fact.
These include the sort of soft-sided wheeled duffels made by brands like Osprey.
Some even have straps so you can convert them to a backpack when required, thus offering the very best of both worlds.
If you're flying Ryanair and trying to save money on luggage costs, we highly recommend the Cabin Maz Metz.
It's a 20l backpack made to fit within Ryanair personal items measurements. Check out our Cabin Max Metz review here.
3. Packing Cubes
So many seasoned travelers swear by packing cubes, and indeed we find they're a packing list essential wherever you're headed.
They just make packing your luggage so much less of a chore, and also make it so much easier to stay organized when you're away.
You can color code them if you like by buying a different shade for each person, or even for each type of item you take when taking a solo trip.
This is one of the top packing tips any frequent traveler or travel blogger will share once tried.
They are especially useful when you need to pack for multiple people, or if you'll be moving on every couple of days or so.
Eagle Creek packing cubes come in so many sizes, shapes and styles, so it's well worth investing in a set of these before you even begin to pack that backpack or suitcase.
Another alternative is Travelon, which also offers travel cubes in all sorts of colors, styles and sizes. Both brands offer specific cubes for items such as shoes so you can keep them separate.
4. A Neck Wallet
Another speciality of Eagle Creek's is the neck wallet. As with the vast majority of major cities around the globe, major tourist centers like Madrid and Barcelona are sadly among pickpockets' favorite haunts.
Hiding a good quality neck wallet makes it almost impossible for you to become the target of thieves.
Especially when it has built-in RFID blocking technology, as this stops criminals from reading your details from your credit cards remotely.
The most recommended brands include Hero, Eagle Creek, Travelon and Venture 4th. All have their unique benefits and offer a great and more secure alternative to a money belt.
As neck wallets do vary in shape, size and thickness, it's really down to personal preference which one to go for.
5. Travel Scarf
If you're headed to Spain in winter – particularly a colder place like Madrid – then a scarf is ideal for layering up and adding warmth.
The kind of clever travel scarves you can now buy, though, brings an added bonus for use during your flight and when on the ground.
A hidden pocket means you can stash cash and other valuables out of sight while keeping them close to you. Offering another viable alternative to the bulky money belt.
If you're wondering what to wear in Spain during winter – or even how to keep warm during the flight – one of these travel scarves should perhaps be the first item on your Spain packing list.
6. A Daypack
You might well need this piece of luggage for the journey itself, let alone the destination. If you're going to be hiking a good quality daypack is an absolute necessity.
The Osprey range is pretty hard to go past. This highly respected outdoor brand offers lots of men's and women's daypacks in various styles and colors.
A hiking and gender-specific pack is best if you are going to do much walking during your trip, as these are ergonomically and very cleverly designed for maximum comfort.
If you want something that looks more suitable for the city, the Osprey daypack range includes sleeker Daylite backpacks, bags for kids, a tote-style pack and even a shoulder sling pack.
7. Crossbody Bag
If you want a one-size-fits-all option to take to Spain for day and evening use, then a cross-body bag can be a great choice.
It's more comfortable – and theft-proof – than a regular purse, and there are various styles that are smart enough to be seen with when hanging out in big city bars or glamorous resorts.
The Dakine range includes some very attractive designs suitable for city, beach or evening use.
A key bonus of the crossbody bags from this brand in particular is that they fold up very flat and compact, so it's easy to stash one inside your carry-on or checked luggage without it taking up much space at all.
For a more upmarket option that you might need to flex the credit card for, Coach and Michael Kors also offers a great range.
8. A Cover-up
Parts of Spain can be more conservative than you might think. Add the fact that not all Spain travel involves warm weather, and packing a cover-up for your trip suddenly seems like a really good idea.
If you travel to Spain by air it's so useful on the plane, especially if the cabin temperature plummets just when you want to grab some shut-eye.
It can also be used as a privacy screen for breastfeeding, or even something the kids can use to build a den.
Whether you prefer bright colors or something more subtle, a soft shawl can be used in lieu of a blanket, cardigan or long-sleeved top.
It's also ideal for placing over your shoulders when wearing tank tops and entering a religious site – such as a cathedral – that may also be chilly inside.
A well-chosen travel wrap can add modesty and warmth in one hit – as well as being very versatile indeed. A key item when it comes to what to wear in Spain.
9. Silk Eye Mask
Speaking of naps, a silk eye mask is another indispensable travel accessory. It vastly improves your chances of grabbing a nap on the plane or public transport, for starters.
It's also ideal for wearing in shared accommodation, or when the hotel room blinds or curtains aren't blocking out quite as much light as you'd like.
While not strictly an essential, a silk eye mask is often one of those items that owners wonder what on earth they did without.
Why silk? Nothing else is as soft and gentle on the delicate skin of the eye area. Nor is any other material as comfortable, or as luxurious.
10. A Packable Rain Jacket
It does rain in Spain, believe it or not! Which is why your list of what to pack for your trip might well include a packable waterproof jacket to wear in Spain.
With options for all the family, the Colombia range makes a sound choice. They're tough enough for a downpour while hiking and pack away into their own pockets for easy carrying through the city.
You could buy one in a bigger size than you actually need if you plan to wear it during the coldest months or in the chilliest areas.
That way you can layer up with a thick cosy sweater beneath rather than taking a bulkier item of outerwear.
11. Sun Hat
It might not be something you're used to wearing at home, but if you're going to be walking the streets of Madrid, hiking in the hills or exploring the Alhambra during July, then boy are you going to need one!
Add a sun hat to your Spain packing list and it's like having your own portable slice of shade to carry around with you.
A roll-up hat with a wide brim is the best choice – in terms of both comfort and practicality.
12. A Travel Umbrella
On the flip side, if it rains in Spain then you're going to wish you'd included a travel umbrella on that Spain packing list. Especially if you decide against taking a rain jacket.
Some of the latest styles are small enough to fit into the palm of your hand, so there's no need for it to take up too much room.
No matter what you wear in style-conscious Spain, it's not going to look good if you're soaked to the skin!
13. Hanging Toiletry Bag
It may seem like a simple switch, but a hanging toiletries bag can be a game changer. Particularly for those staying in budget accommodation.
In the sort of shower facilities found in hostels, campsites or sports centers, there are almost always hooks on the back of the door – but rarely is there anywhere to put your shampoo or body wash but the floor.
Having a hanging bag for toiletries means you don't need to keep bending down, saving your back from strain. Not only in the hotel room, but at the gym, pool or spa too.
This type of hanging washbag is also good as it's often divided into various compartments, making it easier once again to stay organized.
14. A Solid Shampoo Bar
While this isn't an essential as such due to the fact that liquid shampoo does the same job, packing a solid shampoo bar may make life easier during your trip as there's far less risk of spills or leakage and therefore mess.
If all you need for a shower is shampoo and body wash, then check out the next item on this packing list for Spain.
You might not even need to pack a toiletry bag in your luggage at all!
15. Travel Soap Holder
Take a travel soap holder to Spain and you're covered, as both your body wash and shampoo are neatly stored in containers that are just the right size and shape.
Some come in packs of two or more, which is ideal when your favorite shampoo bar doesn't come with its own waterproof container.
16. A Sand Free Towel
If you're packing for Spain in the summer, then adding a sand-free towel to your packing list has the power to revolutionize your days at the beach.
Made from microfiber, these compact towels are highly practical. Even if your trip involves going nowhere near the coastline.
Many come complete with a carry bag for easy storage, and they resist dirt and dust as well as sand. They come in all sorts of stylish designs too.
Sand-free towels are also very quick drying, so they're great for packing without getting the rest of your gear damp and soggy.
17. Sunscreen
What do you really need to bring to Spain in the summer? Sunscreen, of course.
If you want to pack light you may be tempted to buy this locally, and indeed you can do that. But you'll need to get hold of some pretty quickly after you arrive.
Locally available sunscreen may also be over-priced – plus there may be a limited choice of brands to pick from.
Mineral sunscreen formulas are great for the planet, as well as even sensitive skin, and come in various strengths for adults and kids.
A tinted mineral sunscreen also makes a great make-up base, so you may be happy to travel without packing a separate foundation.
18. Bug Repellent
If you plan to head out for the night upon arrival, then don't forget to add bug repellent to your Spain packing list.
There are lots of formulas available, whether you believe in the power of DEET or would rather go for something a little more natural.
From a small travel-sized spray made with lemon eucalyptus or a fragrance-free formula to a great value family-sized pack, there are plenty of potent insect repellents on the market to keep those pesky bugs at bay while in Spain.
Make sure to keep an eye out for flying insects like the Spanish Fly, Tiger Mosquito and the Tarantula Hawk Wasp  – these can cause a painful reaction.
19. Deodorant Wipes
Whether your trip to Spain takes place during warm weather or not, if you plan on being active then a pack of deodorizing wipes is a must.
As well as wiping away the sweat and bacteria that combine to form body odor, they will wipe away city grime or the mud and dust that can cling to your skin when trekking the trails.
When the Spanish weather is hot and sticky, using one of these cooling wipes can also give you a very welcoming feeling of freshness too.
20. A First Aid Kit
Frankly, it's not really wise to go anywhere in the world without taking a first aid kit, so why would packing for Spain be any different?
Even for a beach holiday that involves little more than lazing and walking on the sand, all sorts of nasties can lurk beneath the surface – such as shards of broken glass or even a sharp stone.
If you're traveling with kids, then a grazed knee or elbow is simply part and parcel of life – and a plaster can be a necessity even when one isn't really required.
Whether it's blisters developed from hiking the trails during hot weather or a cut sustained when cooking in your vacation rental's kitchen, a travel first aid kit contains all you should need to soothe and heal grazes, cuts and other minor injuries during your time in Spain.
Spain tip – Don't forget to take any prescribed meds with you as well as a first aid kit!
21. Swimwear
Swimwear is of course a must. Many city hotels and even budget accommodations have swimming pools, due to the balmy Spanish climate.
With such a variety of styles available for men, women and kids, what kind of swimsuit to pack for Spain is entirely down to your own preferences.
A long-sleeved one can be good for kids who don't like having sunscreen put on.
22. A Pair of Polarized Sunglasses
If you're going to be doing any driving there, then including a pair of polarized sunglasses when you pack for Spain is a great idea.
Not only for Spain in the summer either. Glare can occur during winter too, and decent sunglasses will protect your eyes from UV rays or even windy or wet weather.
If you're in the market for a new pair, you really can spend as little or as much as you'd like. From Oakley or Ray-Ban to Foster Grant, there is plenty for men and women to choose from. Kids too.
23. Flip Flops
You may not think you need flip-flops if you're not heading to the beach, but they can in fact be useful in all sorts of situations in Spain or indeed any part of Europe.
If you're staying in a hotel, wearing a pair to pop to the front desk, for a swim in the pool or for breakfast means you can make a quick and comfortable dash from the room as required.
When camping or staying in budget accommodations, a pair of flip-flops are ideal for toilet and shower trips too.
Stay stylish by packing a pair of Havaianas. Some of these flip-flops are smart enough to take you from beach to bar, and you can select options that are as neutral or as colorful as you like.
Or for a more substantial pair of flip-flops, opt for the FitFlop brand. These supportive sandals can give you a workout while you explore the city streets or amazing Roman ruins, and the sparkly styles can also make a great evening pair of shoes for those sultry Spanish summer nights in the beach resorts. Meaning you can pack just one pair.
24. A Pair of Sneakers
If you plan to drive in Spain then a pair of solid shoes is a must as it's not advisable to drive in sandals. While flip-flops are good for the beach, packing at least one pair of shoes for Spain is essential.
Everyone has their favorite brand, but we do have a fondness for Skechers, which are designed to be ultra-comfortable, lightweight and supportive footwear for all ages.
They also look good, which can be pretty important. Those Spaniards can be a very stylish lot, and you wouldn't want to feel out of place when planning what to wear in Spain!
Nikes are also another reliable and cool-looking option and a favorite among Europeans as well as those from the US.
Outdoor brands like Ecco or Merrell also make good picks for those who plan to do a lot of exploring or hiking.
25. Evening Wear
People in Spain tend to dress up for an evening out. So if you want to fit in, packing some smart garments is a good idea. And we're not talking about just a pair of jeans and a t-shirt.
For women, a nice dress teamed with some jewelry works well. We love the dresses from Toad and co, which are ideal for travel and can double up as daytime and evening wear.
To look the part, men should opt for a shirt with a collar rather than a t-shirt. Polo shirts are ideal here, as they're smarter than a t-shirt yet much more practical when traveling than a classic shirt. Ralph Lauren, Nautica, Lacoste and Tommy Hilfiger offer plenty of suitable options.
Both sexes should wear decent shoes if possible, although smarter sandals for women or clean, neutral-toned trainers for men are acceptable.
Spain tip – the Spanish tend to go out much later than many people are used to, often starting out at the sort of time some of us would normally head for home!
26. A Moisture-Wicking Shirt
If you're headed to Spain in summer or intend to be active while you're there, do not underestimate the heat. It can be the key consideration when deciding what to wear in Spain.
Spending time in Spain can be a sweaty affair, so it's best to pack accordingly. One or more moisture-wicking shirts can therefore be worth their weight in Spanish gold.
Whether you're taking to the trails or heading out for a night on the town, a well-chosen shirt that wicks moisture away quickly can make life much more comfortable.
These are available for men and women, in a variety of colors and styles. A long-sleeved one can also save on sunscreen and insect repellent. It may not be as cool, however, so it's ideal for the evening rather than day wear.
Men can also buy moisture-wicking polo shirts that are ideal for flamenco-filled nights out in balmy Seville – the hottest city in Spain.
27. Portable Charging Stick
A small portable power bank can be a godsend whenever you're away from home and access to mains power may be at times limited.
There are some super sleek and ultra-compact chargers on the market now, and some are similar in size and shape to a lipstick or cigarette lighter.
Some portable charging sticks are magnetic, while others may come with an integral flashlight. They vary in terms of power, and may be rechargeable via an included power cable.
28. An International Power Adapter
A mains power adapter is clearly an essential on any Spain packing list when you're traveling from North America, Australia or other parts of the world.
Even if you're coming from the UK or you plan to stop there en route, the plug sockets are different there from what's found in mainland Europe.
International power adapters are thus the best way to go, as you can purchase just one for inclusion on your packing lists for all future trips.
Most of these chargers now come with multiple USB sockets, meaning you can charge devices like a laptop, cell phone or iPad while on the go.
29. Kindle or E-reader
Why be weighed down by lots of books when you can carry as many as you like on one sleek, portable device?
Some of the Amazon Kindles now available offer incredible value for money and some impressive features to boot. Such as Paperwhite technology and adjustable lighting.
There are even kid-friendly Kindles that come with tough covers and a two-year warranty.
Whether it's the latest novel from a favorite writer or an in-depth guide to the city, region or country, a Kindle makes light work of reading while on the road.
Don't forget to add a Spain guide to your Kindle reading material too.
30. A Water Bottle With Filter
The quality of the water does vary across Spain, as is in fact also the case in the whole of Europe.
Investing in a filter water bottle means you can always access clean, safe tap water, and they're not expensive to buy.
Recommended makes include the original water filter brand Brita, US brand Epic and LifeStraw. All three offer a good range of high-quality water filter bottles that will purify the water as you hydrate.
Spain is hot in summer – and warmer than you may be used to during the other seasons too. So drinking enough water is one of the keys to coping with those hot and dry conditions.
31. GoPro Camera
If you like capturing lots of stills or video footage, then you may well be more concerned about your camera than you are about what to wear in Spain.
A GoPro is the travel blogger's go-to, and it's a must for many who take family holidays in Spain too.
Which one to pack for Spain depends on your budget and precise requirements, with clearer images and improved sound tending to feature on the GoPros at the higher end of the price range. As well as the newer ones, of course.
32. A Travel Journal
Modern technology isn't the only way to capture those memorable moments – old-fashioned methods like pen and paper can work very well too.
So when you pack for Spain, it's worth considering whether or not to include a travel journal.
As well as written notes, it's a good place to keep all those mementoes too, such as tickets, business cards, and other keepsakes.
33. International Driving Permit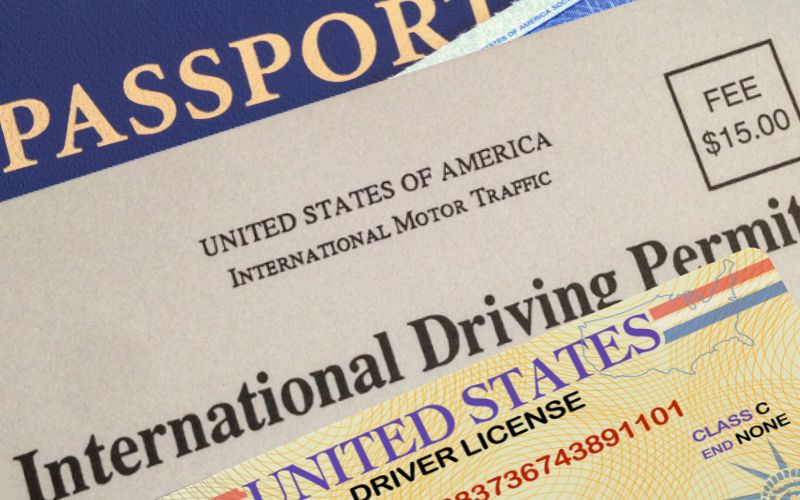 An International Driving Permit is a requirement for visitors from most countries outside the European Union.
At the time of writing, this does not include the UK, however, there are exceptions to this rule.
We've written a guide on who needs an IDP here.
Spain Packing List: FAQs
When's the Best Time to Visit Spain?
Any time of year can be a good time to visit Spain – it all depends on what you want to do.
Sun-seekers may love the searing heat of July and August, while some prefer to visit between March to June or between September and early November as it's a little cooler.
Generally speaking, visitors can expect the interior of the country to have hot and dry weather during summer and hot but more humid conditions in coastal areas.
During winter taking a warmer jacket will be required, as minus temperatures aren't uncommon in some regions. Particularly inland or at altitude.
The San Sebastian area is Spain's wettest, with fairly consistent levels of rainfall throughout the year. So do pack a rain jacket if you're headed there!
By contrast, Seville's weather tends to be several degrees hotter, all year round, than in most other cities and regions.
Related: When Is the Best Time to Visit Spain?
What's the Weather in Spain Like?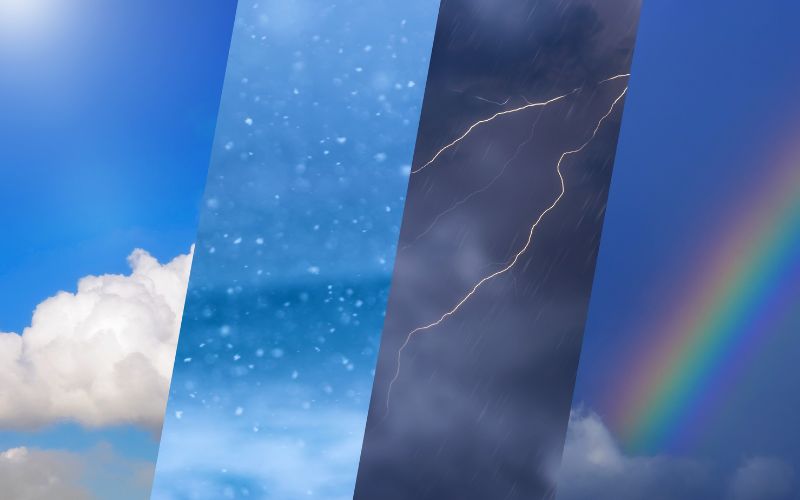 Spain in Spring
The weather tends to warm up considerably by the end of March. During April and May you can thus expect daily highs of about °25C ( 77°F).
Most areas will experience between 5 and 9 rainy days per month during spring, with more rainfall on the islands and inland areas.
Spain in Summer
During June, July and August, you can expect high temperatures in Spain, especially in southern cities like Seville or Malaga where daily averages may reach around 35°C or 95°F and rainfall is rare.
In other areas, typical averages will hover around the 30°C mark (86°F), with several days of rainfall per month.
Spain in Fall
If you're making a list, what to pack for autumn again depends on where you're going. There is usually more rain in central areas like Madrid, as well as on the Balearic islands.
Fall in Spain can still be pretty hot, particularly in the southern parts. As a whole, you can still expect daily highs to reach around 25°C (77°F) in many places.
Spain in Winter
During December, January and February Barcelona is one of the driest locations and temperatures will range between around 5°C (41°F) and 15°C (59°F).
Madrid is generally several degrees cooler with about 10 days of rainfall, while Malaga may reach daily highs of around 20°C (68°F).
Seville and the islands will be a little cooler. Along with San Sebastian, the Balearics are also one of the wettest areas in winter, with about a dozen days of rain per month.
Spain travel tip – the Canary Islands are located off the coast of North Africa rather than Europe, so they have a different climate to the Spanish mainland and islands.
You can find out more about Canary Islands' weather here.
What Should You Not Wear in Spain?
Spain is on the whole a fashionable country, so you may wish to dress accordingly. This means that swimwear is reserved for beachwear only, especially in seaside cities like Barcelona.
Many Spaniards are religious, so do dress respectfully when you're entering a church or cathedral. This applies elsewhere in Europe too.
The Spanish tend to dress up for evenings out, so women could add a pretty dress or two to their packing list for Spain. For men, a casual shirt and pants beat a t-shirt and pair of jeans, particularly in the bigger cities or more upmarket resorts.
Shoes other than flip-flops or sneakers are also a must for nights out in Spain involving dinner, drinks or dancing.
What Should I Pack for a Year in Spain?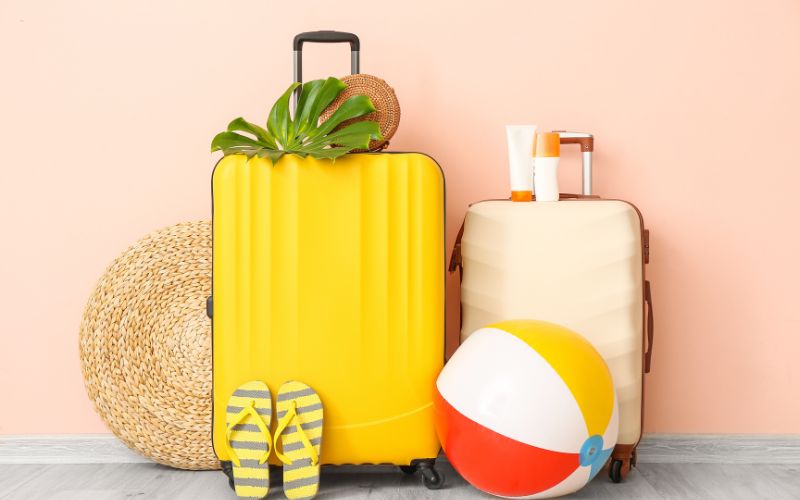 If you're going to live in Spain for a whole year, then you will experience spring, summer, fall and winter in the country.
As a starting point, check out the general guide to Spanish weather above before making a packing list for Spain.
When you'll be traveling around Spain during the year you may need clothing for a wide variety of climatic conditions, so layering is one of the best ways to achieve this.
If you're traveling to Spain for work, or to spend time with family, then you may mainly stay in one place, in which case you can pack according to the whereabouts in Spain you'll be living.
Again, if your destination is the Canary Islands, remember that they're not located in Europe. With a North African climate, they're generally hotter and drier all year round than Spain is.
Spain Packing List | Final Thoughts
We hope this post helps you make your perfect packing list! Spain has so much to offer, and using practical tips like packing cubes really can help you make the most of every moment.
Whether you travel during summer or winter, a trip to Spain can be the highlight of any vacation in Europe. So make your packing lists, grab that bag – and just go.
Whatever you decide to wear in Spain during a day out, just don't forget that water bottle. As it can literally be a lifesaver, that must top the list of all Spanish travel tips.
Related: