Whether you're heading to Spain or other sunny climes, there's one essential item that every family member will need to pack to protect them from skin cancer: Sunscreen.
Before you pack those bags, though, you need to think about how to carry your sun protection. Can it go into your carry-on bags, or should it be packed as part of your checked baggage?
What about those who prefer aerosol sunscreen to creams or lotions? This type can be much quicker and easier to apply than other kinds.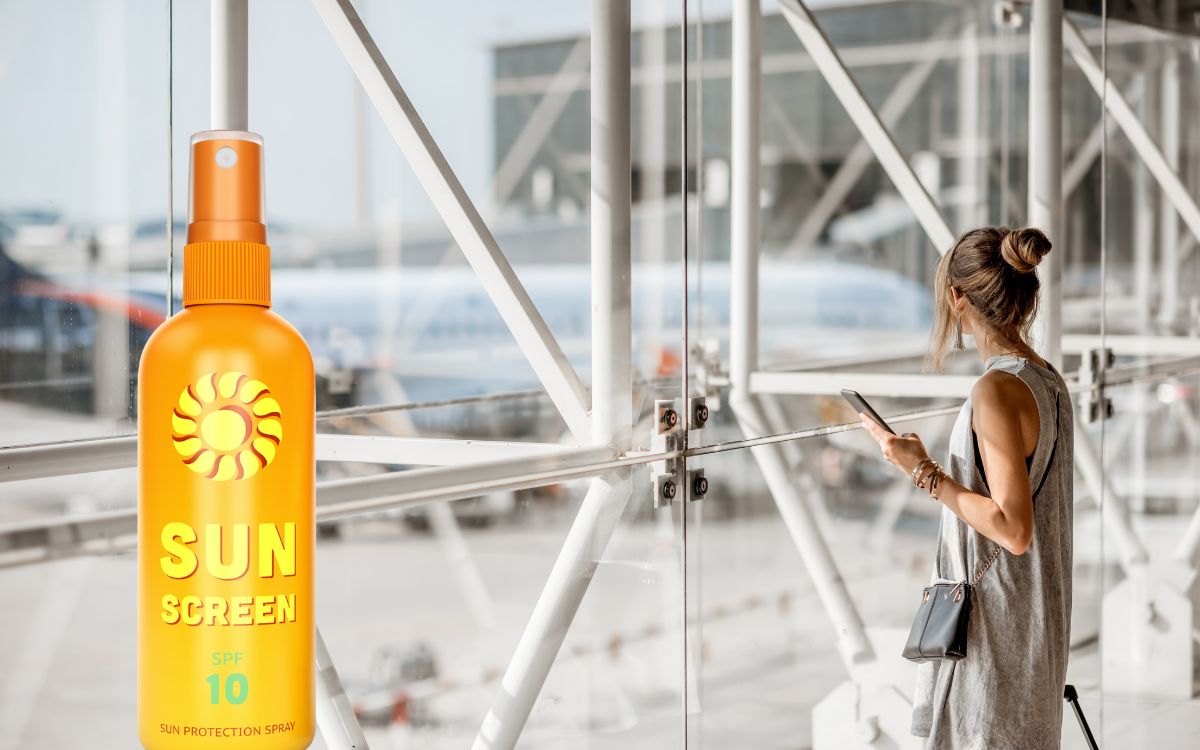 But what are the rules to be aware of when you want to pack the sort of sunscreen that comes as a spray?
If you want to know whether to pack sun protection products in your carry-on luggage or a checked bag, read on to find out the answers.
Bringing sunscreen can save you time and money when you arrive at your destination, but what will happen at the security checkpoint?
When you've found a sun care formula that works for you and your family, here's all you need to know about getting it from A (home) to B (your vacation destination).
What the TSA Says About Sunscreen on a Plane
The Transportation Security Administration (TSA) is the first port of call when you want to know about what to take in carry-on luggage and checked baggage.
This is because their officers will enforce the rules at airports in the US. These regulations are set out by the Federal Aviation Administration (FAA).
As they apply to airports and airlines operating to, from, or via the US, do be aware that the rules in other countries may differ.
The following information is thus just a guideline. Do check with your carrier before traveling. And before you pack sunscreen, of course!
Sunscreen in a carry-on bag
You can take 100 milliliters (or 3.4 fluid ounces) of sunscreen in your carry-on luggage. It doesn't matter whether this is a spray sunscreen or not, but it must be for personal use only.
Any aerosol with a button or nozzle must be fitted with a suitable cap to contain any accidental spillage.
You may not be allowed to use certain toiletries during the flight, as they could contaminate surfaces, touch other passengers or give off a strong odor. If in doubt do check with a member of the cabin crew.
Sunscreen in checked baggage
Each passenger is subject to a total 2 liter (68 fluid ounces) limit on restricted toiletries and medically necessary liquids. Every individual container must also hold no more than 500 ml (or 17 fluid ounces).
Again such liquids must be for personal use. The FAA says that if it touches you when used, then it should fit into the medicines and toiletries category.
Typical permitted but restricted items include (but are not limited to) hand sanitizers, hair spray, nail polish and remover, colognes, perfumes, inhalers, rubbing alcohol, shaving cream, medicines, and aerosols.
Sunscreen on a plane – TSA summary
According to TSA rules, any sunscreen containers larger than 100ml must be packed into checked luggage. This is because the maximum permitted in carry-on bags is 100ml.
Full-size sunscreens are usually sold in bigger bottles than this unless they're in travel-sized containers.
It doesn't matter if it's an aerosol spray sunscreen or a regular bottle, but any aerosol must have a cap to cover it in case of accidental spillage.
Placing this inside a zip-top bag adds another layer of protection – for your own clothing and other items as much as anything!
You can take no more than 500ml of sunscreen in any one bottle when you pack this into checked baggage. So a full-size sunscreen is fine as long as it's no bigger than that.
In total, the TSA says each passenger can carry 2 liters of restricted toiletries and medicines. That includes all such items, not only sunscreen bottles.
If you took multiple bottles and each had a 500ml capacity, for example, you could take only 4 such containers before reaching the 2-liter limit. Though in reality, the sizes of your toiletry and medicine bottles are likely to vary.
Don't forget that this outline refers to the rules set out by the FAA and enforced by TSA airport security officers in the US.
Other countries and airlines may differ, so do check with your agent or carrier before you pack those carry-on and checked bags!
Bringing Spray Sunscreen on a Plane – FAQs
Can you check spray sunscreen on a plane?
You can bring sunscreen onto a plane in regular or spray containers. When carried in your hold luggage, each sunscreen container must have a capacity of no more than 500ml.
Toiletry aerosols must have a secure cap fitted to contain them in case of spillage.
In your hand luggage, you can take just 100ml of sunscreen. This also applies to other medicinal and toiletry items for personal use.
If you want to carry more than 100ml, then you'll need to pack it into your checked bags rather than your hand luggage.
Even then an overall limit of 2 liters per passenger applies to all toiletries and medicines.
Can you bring full-size spray sunscreen on a plane?
If you want to bring sunscreen in full-size bottles it will need to go into your hold luggage rather than your carry-on bags. This is because a 100ml TSA limit applies to any toiletries or medicines packed in a carry-on bag.
Whether it's an aerosol sunscreen or a regular bottle, only limited quantities are permitted per person.
For checked bags, each container's capacity must not exceed 500ml, and a total limit of 2 liters per person applies to such liquids and creams.
Regardless of whether you carry smaller or larger quantities within these limits, a cap must be fitted to any aerosol to protect people and items in case of leakage.
Will aerosol cans explode in checked luggage?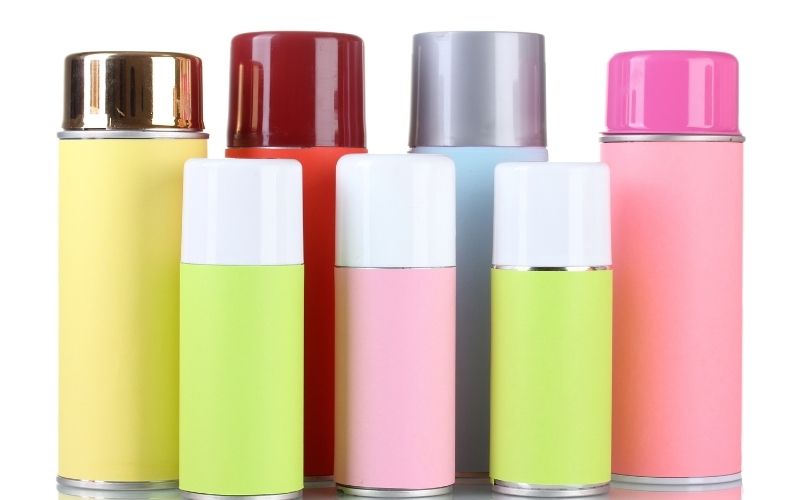 Aerosols will not explode on a plane – whether they're packed in a carry-on or on the hold. If this was the case, then sunscreen nor hairspray in a carry-on or checked bag would not be allowed at all.
Apart from the inevitable mess, exploding items might pose a threat to passenger safety. Not to mention causing fear!
Is sunscreen considered a liquid when flying?
Any medicines, toiletries, and beauty products such as lotions, gels, and creams are categorized as restricted medicines and toiletries. The thickness and texture of the formula make no difference.
Both sunscreen and other liquids are permitted in reasonable quantities only.
The TSA limits for checked baggage are 50oml per container and 2 liters in total. For carry-on luggage, the limit is just 100ml.
Bringing sunscreen on a plane – Final thoughts
You can bring sunscreen in carry-on luggage, but the TSA limit is just 100ml (or 3.4 ounces). If you want to take a bottle larger than 3.4 ounces, then you'll need to pack this into your hold baggage.
A 100ml or 3.4 oz container is just a small bottle. Regular-sized sunscreen containers, therefore, need to go into the hold. These must hold 500ml or less and form part of your overall toiletry and medicine allowance of 2 liters.
This means you can either book a checked bag – if you hadn't already – or restrict the quantity you take.
You might be able to buy sunscreen at your destination, but if you have a favorite brand then do bear in mind that this may not be available.
Finally – this post was written to provide helpful information only, and to do so we've outlined the rules of the TSA based in the US. If you're flying with a non-US carrier or via another country, then do check with the airline.
It's also a good idea to take a look at the latest TSA sunscreen rules just before you travel, in case anything has changed very recently.
Related: