Inside: If you've ever wondered if you can bring a razor on a plane, this guide is here to help. 
Many people want to be able to shave while they're away from home, whether it's a short business trip, a long weekend, or a fortnight's vacation.
From the top of the head to the bottom of the legs, shaving is a quick, cheap, and convenient way of keeping unwanted hair at bay. But can you bring a razor on a plane?
In most instances, disposable razors and electric razors can be safely brought in your carry on luggage. Safety razors and straight razors will need to go in your checked luggage. Always check with your airline for specific requirements.
If you're wondering whether you can take disposable razors in hand luggage or perhaps electric razors in your checked bags, this post will answer all your questions about taking straight razors, safety razors, and even shaving cream in your checked luggage and hand luggage.
Can You Bring a Razor on a Plane? What You Need to Know
Like vapes and magnets, disposable razors, safety razors, electric razors, and razor blades are among those items people are never sure about packing.
Can you take them on a plane at all, and if so do they belong in your carry-on luggage or your checked baggage?
Read on to find out all the rules around bringing razors and shaving cream in your checked and carry-on luggage.
From domestic flights to traveling internationally, this article outlines all the rules. Making it much easier to pack for your next trip!
Types of razor
First, let's take a look at the various types of razors you may want to take with you. The main categories are disposable razors, safety razors, electric razors, and straight razors.
Disposable razors
A disposable razor is one of the most commonly used kinds of razor.
This type is generally sold in packs, and often as gender-specific variants for different areas of the body you want to shave.
They may have one or several blades and are designed to be thrown away after use.
Safety razors
So what is a safety razor?
This type of razor is designed to reduce the risk of cutting the skin when shaving, and for this purpose has some kind of barrier between the blade or blades and the skin.
Electric razors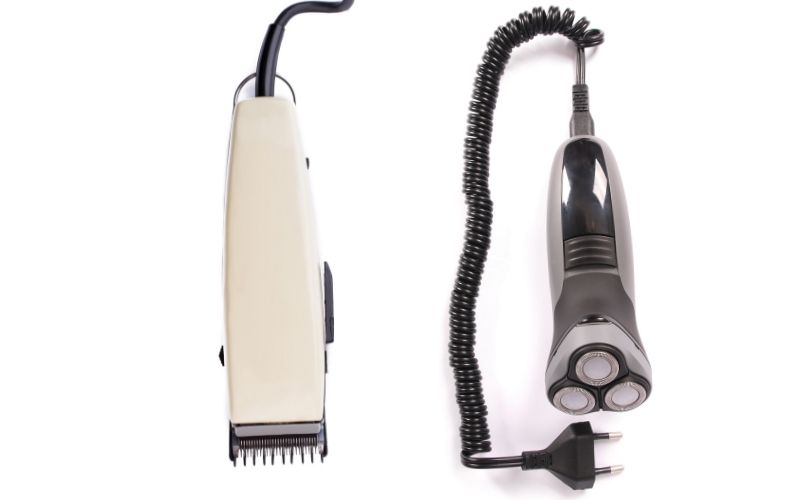 An electric razor adds electrical power into the mix. This is for many a very convenient way to shave and saves on waste.
Electric razors do cost more, however, and of course, use power too.
Many also say they don't get as close a shave with an electric razor as with a disposable razor.
Electric beard trimmers also come under this category.
Straight razors
A straight razor is often colloquially described as a cut-throat razor and resembles a knife.
This is the type used in barbershops across the world.
Although it's more dangerous to use, some prefer the incredibly close, smooth shave that using one of these produces.
Think of Sweeney Todd and you'll get the idea.
Other razors & shaving cream
There are other types of razors to consider when checking travel advice regarding razors on planes. For example, separate razor blades and other sharp items like box cutters.
Shaving cream is also a consideration – can you take this, and if so in what quantity? What sort of containers are allowed?
TSA razor rules
So now we've outlined the different types of razors, the next thing to look at is the TSA rules regarding whether or not you can bring shaving cream and razors on a plane.
The TSA
What do we mean by TSA? TSA is an acronym that stands for the Transportation Security Administration.
This is a US government agency responsible for the security of transportation. This applies within the US and also to anywhere connected to the country.
The TSA exists in the interests of passenger safety, so it's easy to see why there may be strict rules regarding the carriage of shaving cream and razors on an aircraft.
Someone wielding a straight razor could clearly cause serious harm, for instance.
Especially if a victim had shaving cream sprayed in their eyes first so they couldn't see to defend themselves.
Spoiler alert – you can see why a sharp razor would need to be packed into your checked luggage!
TSA rules are in place regarding what passengers can take on planes, and they provide a comprehensive, itemized A-Z list.
So let's look into what these regulations say about packing electric, straight, safety, and disposable razors into your checked or carry-on bags.
One thing to note, however, is that different rules may apply at airports across the world.
It's always a good idea, therefore, to check with the airline or airport what is permitted at each location before you travel.
Other countries outside the US may have different rules about what you can carry and where.
Disposable razors
Carry on bags? Yes
Checked bags? Yes
Notes: Wrap sharp objects to avoid injuring baggage handlers or security officers
Safety razors
Carry on bags? No
Checked bags? Yes
Notes: Sheath sharp objects to avoid injury to security officers or baggage handlers
Electric razors
Carry on bags? Yes
Checked bags? Yes
Notes: None
Straight razors
Carry on bags? No
Checked bags? Yes
Notes: Cover sharp objects to avoid injury to baggage handlers or security staff
Other razors
Carry on bags? No
Checked bags? Yes
Notes: Cover box cutters or razor blades to avoid injury to airport staff
Shaving cream (aerosol)
Carry on bags? Yes – 3.4 ounces (100 milliliters) or less is permitted
Checked bags? Yes
Notes: The Federal Aviation Administration (FAA) places strict limits on the total quantity of toiletries and medicines permitted per passenger. The maximum total per person must be 2 kilos (70 ounces) or 2 liters (68 fluid ounces). Each individual container's capacity must be no more than 0.5 kilos (18 ounces) or 500 milliliters (17 fluid ounces). This applies to all checked baggage and includes aerosols. These should also be covered by a cap so there is no risk of spillage occurring accidentally.
TSA razor on a plane summary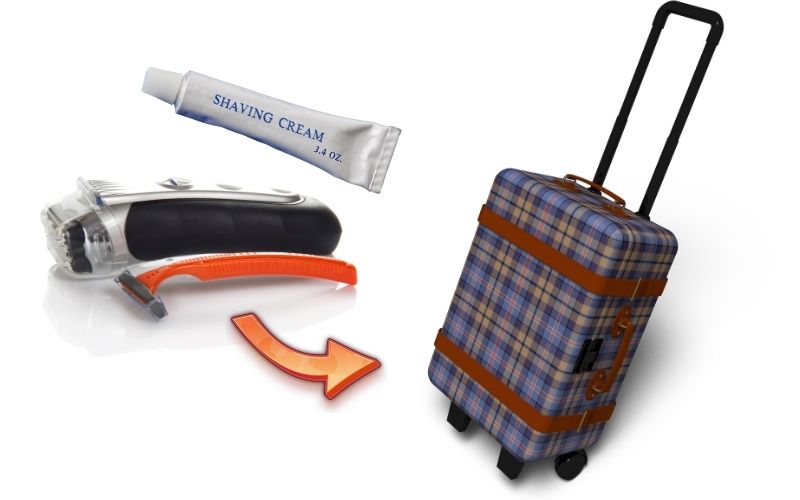 So you can take a razor on a plane – but you have to be careful about making sure it's securely wrapped. You must also be selective about where it's stored, according to type.
The simplest kind to take on a plane is an electric razor, as there are no regulations about sheathing this as there are other kinds of shaving implements.
All other kinds of razors must be carefully covered. This is to protect the baggage handler.
Only an electric razor or disposable razor can be taken in a carry-on bag. A safety razor or sharp razor must be securely sheathed and packed into your checked luggage.
Shaving cream can be taken in your carry-on luggage – but only if there is 100 milliliters (3.4 ounces) or less (the same as hairspray)
If the container holds more then it must be packed into your checked luggage. All shaving cream cans must also be securely capped.
A good alternative is to use shaving oil instead. This is highly concentrated, so you only need a little each time you shave.
Make sure you wrap it well, though as you don't want top open your bag to find an oily mess all over your other belongings!
You may also come across shaving bars. These are pretty much mess-free, as they're made much like a bar of soap.
If you like the idea of these, this is a very convenient way to help ensure a smooth shave while you're away.
Disposable razors are considered low risk because they are difficult to cut with and the blades are well covered. It's also difficult to remove the blades.
They should still be safely wrapped to prevent injury, however.
It seems ironic you cannot bring safety razors on the plane in your carry-on baggage and that they must go into your checked baggage instead.
The rationale behind this is the fact that the blades are easy to remove from them.
Thus the razor blade could be used as a weapon, which is a clear threat to passenger safety.
Bringing a Razor on a Plane – Frequently Asked Questions
Can you take a Gillette razor on a plane?
The same rules apply to Gillette razors as any other shaving razors. If they're disposable they can be packed into your hand luggage, and if they're safety razors they must be carried in the hold.
Whichever type you pack, it should be securely wrapped for safety.
Can you take razors in hand luggage?
You can take an electric shaver or disposable razor in your hand luggage, plus up to 100 milliliters (3.4 ounces) of shaving gel in an aerosol.
Safety and straight razors are strictly prohibited and must be taken as hold luggage rather than cabin baggage.
Can you take a women's razor on a plane?
When it comes to gender-specific razors, simply apply the same straightforward rules as you do to any type of shaving razor.
Electric shavers and disposables can go into your hand luggage once wrapped securely, while safety or straight razors must be covered and packed as hold baggage.
Can you pack razors in checked luggage?
You can take a razor of any type in your checked baggage. This includes disposable, safety, and straight razors, all of which must be safely wrapped to avoid injuring airport staff.
An electric shaver does not need to be wrapped before packing into hold or cabin bags.
Why do razors need to be covered?
In short, razors should be covered to prevent injury. This is to protect baggage handlers, security officers, and other airport staff – but it also protects you, the passenger, at the same time.
As well as other passengers. Don't forget – a good shave requires a sharp razor, so covering the blades will also protect them from being blunt.
What can I use for wrapping razors?
When you pack, you can use a plastic bag to wrap razors in, such as a quart-sized Ziploc bag.
You can also cover the blades with the plastic cap that's normally supplied when buying safety or disposable ones, and place the wrapped razor inside your usual washbag.
Take great care with a straight razor – using something like bubble wrap to cover the blade fully will provide extra protection for everyone.
These can be very sharp, and therefore extremely dangerous!
Can You Bring a Razor on a Plane – Final Thoughts
The easiest option, when traveling by plane, is to take disposable razors with you. Or you could buy these when you reach your destination – that way you don't even need to worry about whether or not you've wrapped them up properly.
With an electric shaver, you may well need a power adapter for the country you're visiting, or need to carry batteries if that's how it's powered. Straight and safety razors must also be wrapped, and can only be carried in hold bags.
When it comes to airport security, the final decision will always rest with the officer on duty at the time.
It's always wise to check with the TSA website before you travel, as the list of permitted and prohibited items can change at any time. You can even enquire via Twitter – just tweet @AskTSA.
Before packing your bags for your next trip, do also check with the airports you'll be using as well, in case their regulations differ from TSA rules.
Have a safe and enjoyable trip!
Related: