While we all know the differences between a carry-on suitcase, a laptop bag and checked baggage, a garment bag is something of a grey area.
Is it a carry-on bag or does it belong with the checked bags? This post will explore your options for taking garment bags on an aircraft.
So on future trips, you'll know whether your garment bag can be taken with you as carry-on luggage to stow in the overhead compartment – or if you need to consider it as checked luggage.
A garment bag may or may not be a carry-on because it varies according to the rules of the airline you're flying with. These will differ in terms of weight, dimensions, and how many pieces of carry-on luggage you can take. Garment bag sizes also vary.
Firstly we'll take a look at what we mean by a garment bag, before moving on to the rules regarding taking garment bags as carry-ons.
Next up is our industry insider tips for both leisure and business travelers who want to take a carry-on garment on a flight. So don't miss those.
We'll also address some frequently asked questions before wrapping up. Let's get started!
What is a garment bag?
A garment bag may also be referred to as a suit bag. It's used for carrying items of clothing that you want to keep as flat as possible.
This may include formal attire such as a business suit or tuxedo, or a ball gown or cocktail dress.
Garment bags can also come in useful when you have fabrics like linen to transport, as they wrinkle easily and are tricky and time-consuming to iron.
Sometimes people even hang a garment bag in a closet while it's covering the clothes, to protect the garments beneath from dust and moths.
They are also used to carry items of clothing to and from the dry cleaners. A garment bag may also be used to protect a wedding dress.
The sort of garment bags used for these purposes is lighter and thinner than the luggage kind.
A garment bag sold as luggage is a heavier duty item, made from similar materials to a soft-sided suitcase, spinner luggage, or a backpack.
These are designed to be used again and again.
How sturdy a garment bag is varied by the manufacturer and the specific product. As some are still made from thinner materials, they may not be as robust as other hold luggage.
Most garment bags are made to be folded in half during transit, so they don't actually keep clothing completely flat.
Can you take a garment bag as a carry-on?
So – can you take your garment bag as a carry-on, or must it travel as checked luggage? There is no one-size-fits-all answer to this question, unfortunately.
Whether taking domestic or international flights, you're subject to the regulations laid out by the airline you're flying with.
Most airlines in the US, for example, allow a couple of carry-on bags. This means you can take another piece of luggage onto the plane as well – but do check before travel.
Size and weight restrictions may also apply, and you need to find out if these apply per carry-on item or as a total.
Each flight operator has different policies regarding how many carry ons you can take. They will also have their own weight and size restrictions.
Whether you're flying internationally or taking a domestic flight anywhere in the world, you need to check with your airline about what's allowed.
The American Airlines, United Airlines, and Southwest Airlines rules will differ, for example.
In general, carry-on suitcases or bags should fit underneath the seat in front or into the overhead bin. The question is – do you want to keep your suit, dress or other garments in those places, where they're pretty likely to get squashed?
If you're already taking two other carry-on items on board, then the question are garment bags allowed becomes purely academic.
You'll need to consider it as checked baggage anyway in this case. Unless you switch it for one of your other two carry-on bags.
Tips for taking a garment bag on a plane
The airline
Go through the fine print on the airline's website with a fine-tooth comb when checking what you can and cannot take on board.
They may make specific reference to garment bags, which should help clear things up.
Is it OK if the garment bag fits beneath the seat, for instance?
Even if not, the rules applying to each carry-on item should give you some idea. Issues to look out for include how many carry-on bags you can take, as well as the weight and size restrictions for each.
Are any limits per piece, or for everything added together?
The onboard closet
Selected airlines – and aircraft – make provisions for passengers who want to take garment bags as carry-on items.
The plane may therefore have an onboard closet for your use – all you need to do is ask!
It's a good idea to enquire about this as the date of your flight approaches. By that point, a specific aircraft should have been assigned to your flight, so airline staff should be able to advise regarding whether or not there is such a closet.
And if so, whether you'll be permitted to use it. If the answer is yes to both those questions, then do enquire whether there are any rules about hanging your personal items up – such as restrictions applying to the size of the garment bag.
You may also want to find out if the closet is tall enough for long dresses where that applies!
Try contacting your airline a month or so before the flight if you can. This way it gives them time to respond – and you, time to make other plans if necessary.
The carry-on with garment compartment
If you've not yet bought a garment bag or don't mind investing in a new one, then one solution is to buy a piece of luggage with an integral garment compartment.
This is made especially for this purpose, and may even be detachable.
This kind of compartment should be designed to minimize wrinkling, and as it's part of your luggage it will also count as one item rather than two.
The checked luggage garment bag
Where you'll be checking a garment bag into the hold, you want to make sure it can withstand the rough and tumble of baggage handling, the reclaim carousel – and being tossed about in the hold.
If you take a soft, lightweight suit bag that cannot cope with this treatment, then there's not really much point in taking one at all.
Your suits or dresses might even end up more wrinkled than they'd have gotten in a regular suitcase!
The roll
If you decide against a garment bag in favor of packing your dresses or suits into a regular suitcase, then how wrinkled they get can depend on how you pack them.
Any seasoned traveler or industry expert will tell you to roll, don't fold. Doing this simply results in fewer creases.
The 01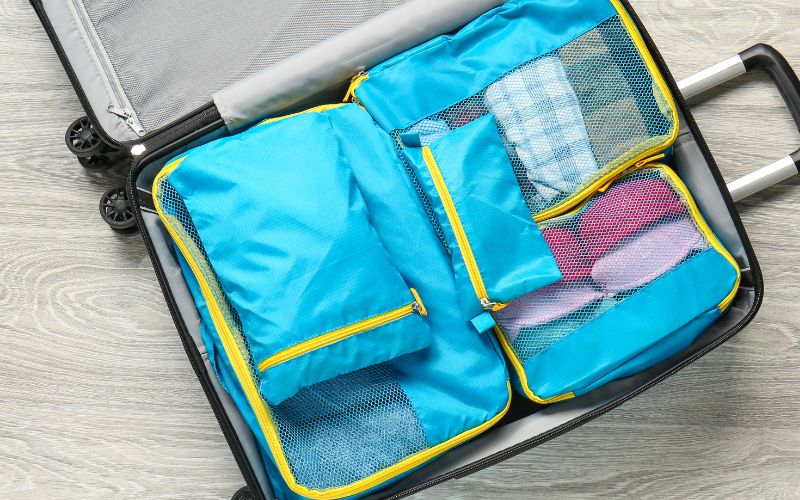 If you are going to pack everything into a regular bag, use packing cubes. They can also help to keep all items in your case flat and contained. This means they're less likely to squash your delicate garments.
Frequent fliers often swear by packing cubes anyway, as a general travel hack (which is why they are an essential in our Spain packing list).
Is a garment bag a carry-on – FAQs
How do you travel with a garment bag?
A garment bag is designed to be folded over once. Then it can be carried by the handle provided, or by the hanger.
You could also drape it over your arm. Whether you're checking it or taking it as a carry-on, do check everything is secured by strapping and zipping it all up before you leave. This can also help to reduce wrinkling.
Can you put a garment bag in a suitcase?
Putting a garment bag inside a suitcase would defeat the object – unless you're planning to bring garments back that you're not carrying on the outbound journey.
Garment bags fold in two, so they're still rather large. This means they might not even fit inside your suitcase: it all depends on the dimensions of both.
What size garment bag can you carry on?
If they fit within the maximum dimensions specified by the airline, then garment bags can be carried on board.
This varies from one carrier to another, so it's best to check with the airline concerned before you travel. The company website will probably be able to provide the answer.
Carry-on garment bags – Final thoughts
While there's no definite answer as it depends on the airline, you can often take garment bags as carry-on items.
Do bear in mind any restrictions regarding the weight, number of pieces, and size if you're choosing what garment bag to buy or take with you.
Garment bags are a great way to free up more space in your main case while keeping important items of clothing as crease-free as possible. As such is the one personal item many travelers wouldn't leave home without!
Related: