Many people are glad of an excuse to indulge in a little retail therapy – and surely purchasing gifts from Spain while visiting makes the perfect pretext for wandering around the market or browsing in the local shops.
There are so many great Spanish gift ideas too, whether you're buying for a committed foodie, a fashionista or someone who loves to have pretty things in their home.
Whether you're on vacation in the country or actually living in Spain, there are plenty of wonderful presents to take home or send to friends and family based elsewhere.
This guide will help you find the perfect gift for everyone on your list, whether you're Christmas shopping or simply want to give a traditional Spanish souvenir.
From Spanish food themed gifts such as cheese, extra virgin olive oil, ham or a paella pan to colorful ceramics or something to do with flamenco dancing, the range of suggestions given here means you'll be able to tick off every person on your gift list.
This is the shoppers' travel guide to Spain, packed with ideas so you can share your love of this warm and welcoming European country with all your family, friends, colleagues and neighbors.
Let's get started! Here are 31 of the best Spanish gift ideas.
31 Best Gifts from Spain
To make life simpler, we've divided the ideal Spanish gifts into categories, beginning with food.
Glorious Spanish food and cookware, such as olive oil, tapas dishes, cured meats, a paella pan, spices and wine.
We then move onto items that can be worn as clothing or footwear, including garments, accessories and shoes made using leather or rope. There are also some typically Spanish shirts and dresses to buy.
The third category in this Spanish gift guide includes miscellaneous products such as homeware, Spanish ceramics, fans and goods made from olive wood.
To whet your appetite for all things Spanish, the first category concentrates on consumables, plus other items that make ideal gifts for foodies everywhere.
Foodie gifts from Spain
The options here include foods like local extra virgin olive oil, spices, olives, manchego cheese and Iberian ham.
There are also food-related items like traditional tapas dishes, a paella pan or a cookbook – as well as delicious Spanish wine.
1. Spanish olive oil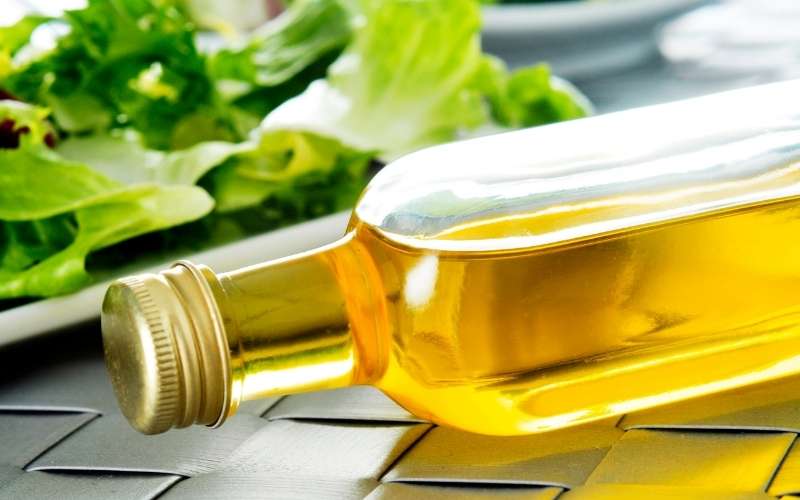 A good quality extra virgin olive oil is a great gift for foodies, who can use it for cooking, making salad dressings and serving with bread, perhaps alongside balsamic vinegar.
The hotter, more southerly parts of Spain – such as Andalusia and the Costa del Sol – are best for finding olive oil of the finest quality. Look out for cold pressed oil, as it is made by traditional methods and with minimal processing.
Though olive oil is often associated with Italy, Spain is actually the biggest producer of extra virgin olive oil. A plethora of local artisans producing these oils assures buyers of a top quality product.
Artisan producers like Castillo de Canena sell first harvest and reserve versions of their olive oils. These will be appreciated by true connoisseurs!
Spain's olive oil may be fruity or nutty in flavor. As this rich oil may be more flavorsome than its Italian counterparts, it's often used for dipping, drizzling and making salad dressings so that the full, rounded flavor can really be appreciated.
While it may not look as attractive, it's best to buy olive oil in a can rather than a bottle if you're flying home, as it's more resistant to cabin pressure than glass or even plastic.
You could always decant it into a pretty bottle before gifting it. The attractive bottles that can be found anywhere selling Spanish ceramics are ideal for this purpose.
2. Chorizo
Another product from Spain that's incredibly popular is chorizo. This paprika-spiced pork sausage is now almost as widely used across the world as Spanish olive oil.
Chorizo is loved for the rich, salty flavor it adds to dishes. Its color also makes food look incredibly appetizing, and any meat eater who loves garlic is likely to adore the flavor too.
This type of Spanish sausage may also be sliced and served as cold cuts, perhaps alongside other products like Iberico ham or Manchego cheese.
You can buy chorizo just about anywhere that sells food, from supermarkets to specialist delis, local markets and more. Yes, you can buy it anywhere, but isn't there something special about bringing some home from Spain?
3. Iberian ham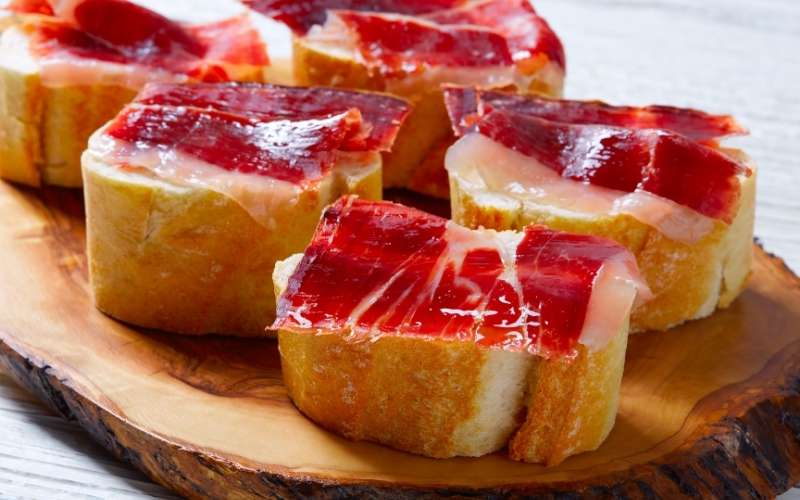 Iberian ham, Iberico ham or Jamon Iberico is one of the best Spanish gifts for those who eat meat. You can buy it in various ways, from a small pack of slices to a whole leg.
The latter stays fresh for far longer. If you can, seek out a front rather than a hind leg: it's more compact for packing or posting. Outside of local producers, Joselito and Cinco Jota are highly regarded brands.
Do check with your country's customs regulations before you pack a huge ham into your suitcase. If you cannot carry it, then the store may be able to post it to you or your gift recipient.
For many, Iberico ham is the finest cured pork you'll find anywhere in the world, so it's well worth any effort you need to make in getting it home!
4. Saffron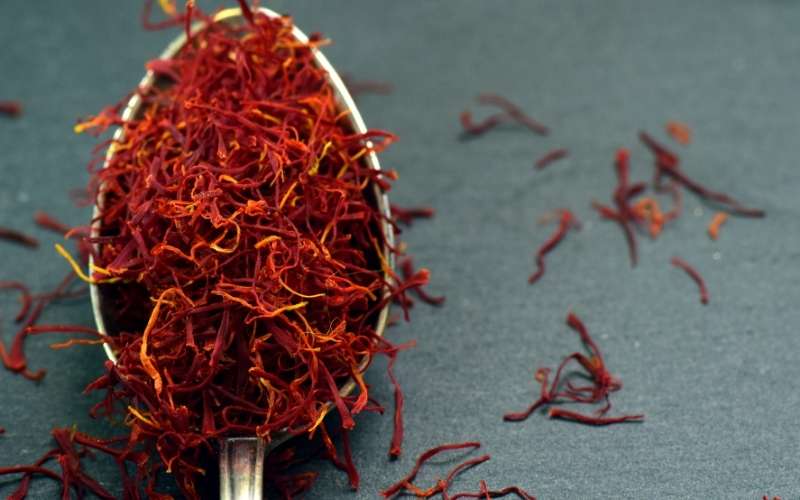 Saffron is one the most costly spice there is, so some authentic Spanish saffron will go down a treat with any keen foodie. It's necessary for making a traditional paella, as well as many other sweet and savory dishes.
Saffron comes from the saffron crocus and the delicate reddish threads obtained from this flowering plant are prized for their glorious color and delicious flavor.
If a gift consisting solely of saffron doesn't seem enough, you could pair it with other foods or items, such as paprika, a paella pan or a bottle of wine.
5. Manchego cheese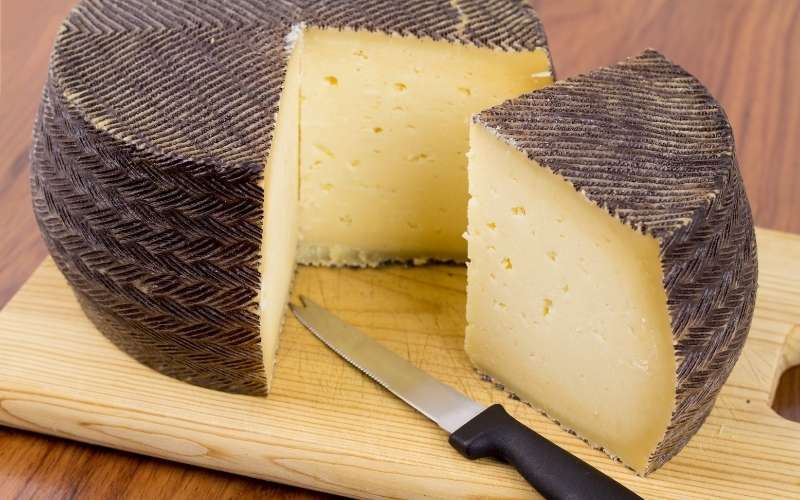 Spanish cheese makes the perfect accompaniment to cured meats like Iberico ham and chorizo. A great meal could consist of little more than a spread of meats and cheeses, plus a few olives to nibble and some bread to share.
Manchego cheese is the go-to for anyone seeking an authentic flavor of Spain. It hails from the La Mancha region, and is made from sheep's rather than cow's milk.
Manchego is matured for anywhere between two months and two years, and can contain small holes caused by pockets of trapped air.
It's a firm cheese with a buttery flavor, and the name comes from the Manchega breed of sheep whose milk is used to make it.
6. Paprika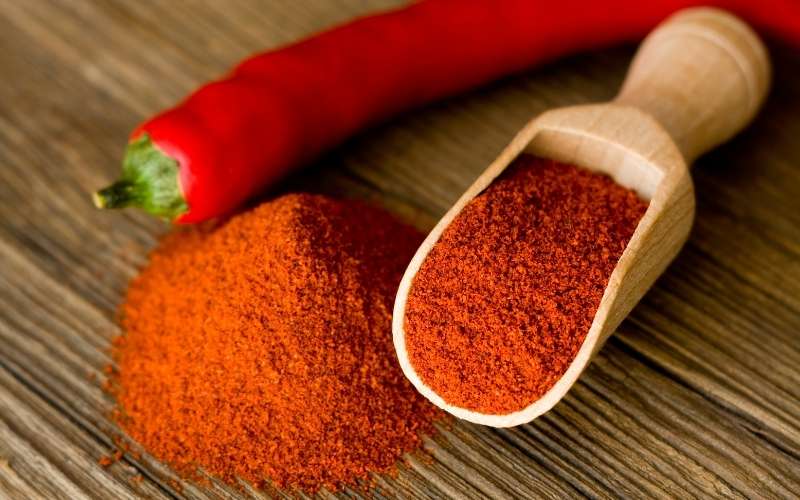 Paprika is far less expensive than saffron, and is also a typical spice used in Spanish cooking. Locally, it's known as pimentón. It may be sweet, smoky, spicy or all three.
Whichever you pick, this powdered spice is a most appealing shade of rich, brick-like red. It makes a great addition to a range of dishes and is what gives chorizo its characteristic color.
How spicy, sweet or smoky a particular paprika is varies according to the precise blend of peppers used when it's made. Each variety will thus be a little different from the next.
Paprika is often sold in cute little tins labeled in Spanish, which will also add a dash of flair and authenticity to your giftee's kitchen. You can buy paprika at food stores or markets found all over Spain.
7. Spanish olives
Spanish olive oil isn't the only way to bring a piece of Spain home with you. Olives are a very popular Spanish food indeed, and they make an excellent gift for anyone not living in Spain.
If you buy someone olives as a gift, then you could well be looking after their health at the same time. Like olive oil, olives are rich in nutrients such as healthier fats and vitamin E. They are good for overall health, especially the heart.
In Spain olives are normally harvested by hand and are often fermented for several months to ensure the best possible flavor. You can buy them all over the country.
There are several varieties to look out for, including large gordal olives that are often sold stuffed, mildly flavored Cacereña olives, sharper tasting Hojiblanca olives and Manzanilla olives. The latter are often referred to as Spanish olives.
Manzanilla olives are the best known Spanish variety. These are often grown in Andalusia, before being prepared and fermented in the traditional Sevillian manner.
8. Turrón
Turrón is a Spanish sweet treat that's particularly popular around Christmas. It's a nutty kind of nougat sold all over the country.
This southern European candy is typically made using egg white, honey, sugar and nuts. Often these are toasted almonds. Turrones Vicens is one of the oldest companies, and has been creating the confection since 1775.
Each block of Turrón may be rectangular or round in shape, and it can be sold whole, in slices or cut into bite-sized pieces. You may spot turrón blando or turrón duro when shopping – this refers to soft or hard nougat respectively.
When gift-wrapped, Turrón makes a most aesthetically pleasing gift. It's also a guaranteed palate pleaser for those who love the sweet things in life.
9. Polvorón or Mantecado
Spain's answer to Scottish shortbread, polvorón is another sweet foodstuff sold across Spain. It's a soft, crumbly and substantial kind of biscuit or cookie.
Most polvorón is produced in Andalusia, and a typical recipe may contain of flour, milk, sugar, butter and nuts. Each cookie is normally oval in shape, and the plural is polvorónes.
Mantecado – or mantecados – are also Spanish shortbread biscuits. They are small, round and dry, and tend to be made using lard.
Both of these Spanish shortbread cookies are especially popular around Christmas time. They are often consumed in South America as well as Spain.
10. Chocolate figs
Another sweet festive treat often seen in Spain is figs slathered in chocolate. These fruit and cocoa confections are sold all over the place during December and make the perfect accompaniment to strong Spanish coffee.
These fruity treats are often made in the region where the fig trees grow, and are often filled with a creamy, chocolate ganache before being coated in the finest chocolate.
11. Spanish wine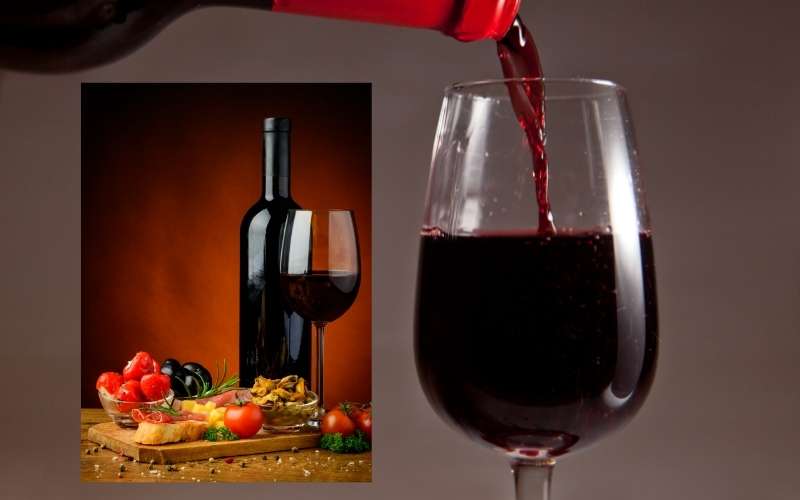 Spain is one of the biggest 'Old World' wine producers in Europe and makes some very fine examples. From a juicy red Rioja to a refreshing, sparkling Cava, there are plenty of reds, whites and roses to pick from.
There are wine regions found throughout the country, including Castilla La Mancha and Galicia in the west, Rioja and Navarra in the north, Catalunya in the east and Andalusia in the south.
Touring Spanish vineyards to find the perfect gift for someone you know makes a great day out, or you can pick up wine in many stores. It's the perfect accompaniment to a platter of Spanish meats and cheeses.
If you know a Prosecco or Champagne fan, do try introducing them to a good Spanish Cava. It's a fraction of the price of the latter and, according to many drinkers, tastes far better than the former.
Look out for 'el método tradicional' or traditional method on the label, as this means the sparkling wine has undergone secondary fermentation. Just like Champagne.
Sherry also comes from the Jerez region and is a good alternative to a bottle of wine.
And you needn't worry about flying with wine – you can safely do so in most instances.
12. A porró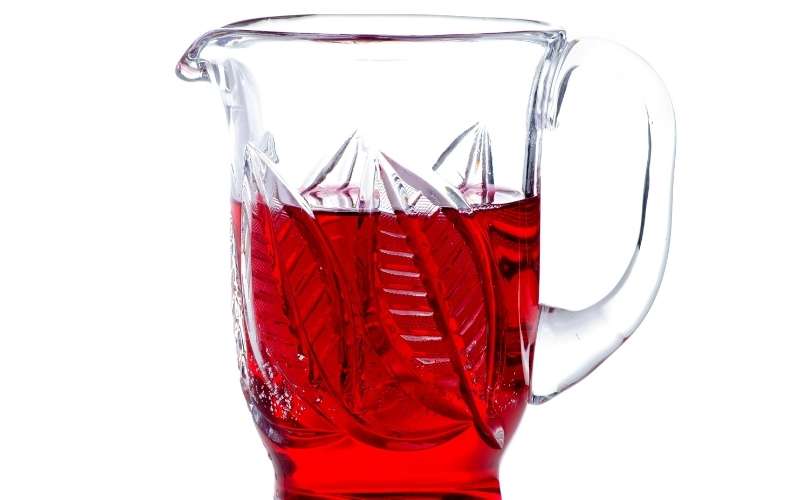 A porró is a Spanish glass carafe with a pouring spout. It's used for letting wine breathe before sharing with friends or family.
Porrón were first used in northern Spain, but may be used or sold all over the country. The unusual shape makes this an eye-catching gift – it's like a hybrid between a funnel and a regular pitcher.
13. Jamoneros or jamon knife
If you – or they – are serious about Iberico ham, then a professional style jamonero may make a perfect gift from Spain. As might a proper ham slicing knife.
A jamonero is a stand that holds the ham in place while you carve -a a must for many who buy whole legs to send or take home.
While they not seem like essentials, using a decent stand and a good quality carving knife means you can achieve those thin, almost transparent slices that will delight any connoisseur.
As well as creating that melt-in-the-mouth texture, a jamonero and the right knife will also make that ham leg stretch much further, making the most of every delicious morsel.
14. A paella pan
Whether it's already their signature dish or they simply love all things seafood, a proper paella pan is essential for making a Paella recipe the right way.
It also looks stunning when presented at the center of the dining table, ready to everyone to dig in and feast on rice flavored with paprika and saffron, studded with fresh mussels, prawns and chunks of chicken.
Or whatever ingredients happen to be in the recipe they prefer. There are so many variations, and each region – or indeed every cook – will have their own favorite.
If you visit Valencia, then you must not only try their authentic paella, but really should think about taking a paella pan home with you.
The famous rice dish was born in this region and other Spaniards tend to think of it as a Valencian specialty rather than a national dish.
15. Tapas dishes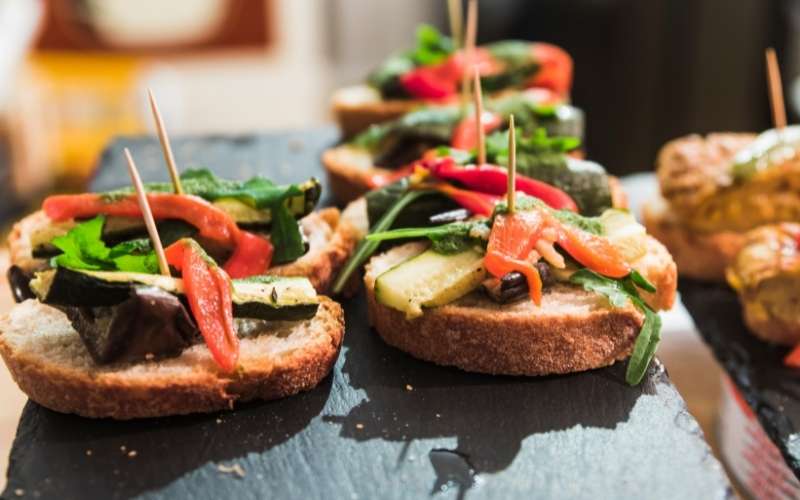 Glazed terracotta tapas dishes are popular the world over. The classic style looks good in any kitchen, and the glazed finish is naturally non-stick for easier cooking and serving.
This type of Spanish ceramics has so many uses beyond preparing tapas. They are also great for use as small serving bowls, or for popping in the oven when you want to cook or heat a small quantity of food.
This is the kind of gift that rapidly becomes an indispensable kitchen item, whether you're using it to hold a dip like aioli, hummus or guacamole or for cooking with.
These cazuelas, or cazuelitas (smaller ones) are also great in terms of heat retention.
16. Cafetera
A Spanish coffee maker is the ideal gift for the caffeine addict in your life. It's a small stove-top pot that you add water and coffee to before heating.
In just a few minutes, the perfect espresso awaits. These little gadgets are available all over Spain and make perfect presents for coffee fans.
17. Spanish cookbook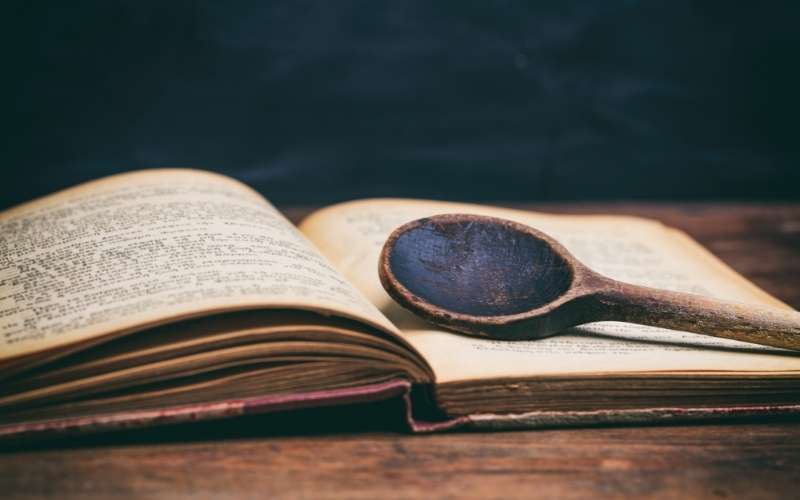 With an impressive culinary heritage spanning olive oil production, meat curing, rich spices and much more, Spain is a great place to pick up a cookbook for a friend or loved one.
Delicious dishes keen cooks will want to recreate at home include paella and tapas, but there are many recipes for regional specialties to taste too.
If they like creating homemade meals for a family, lover or friends, then a Spanish cookbook is sure to go down a storm. Just make sure it's in English if they don't speak Spanish!
Clothing gifts from Spain
18. A Spanish scarf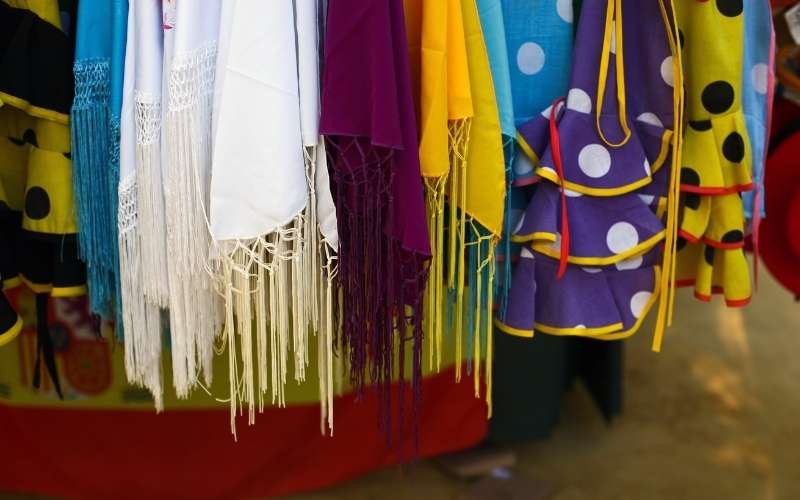 The well-dressed ladies of Spain will often be seen wearing elegant scarves, and these can be very inexpensive to buy. It's an instant way to add glamour and color to any outfit.
A scarf can of course be a useful accessory during winter, when it's worn around the neck to ward off chills. It can also be worn on the head in place of a sun hat during summer.
It should be easy to find a lovely scarf or two if you search in the local gift shops or boutiques, or when visiting a market in Spain.
19. Espadrilles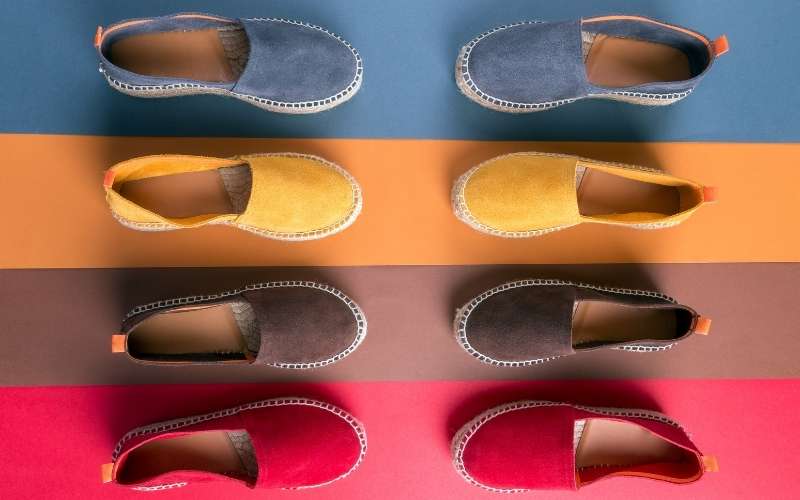 Espadrilles are traditional Spanish footwear featuring a canvas upper and a sole made from rope. The heel may be flat or wedge-shaped. Sometimes they are slip-ons, or may have an ankle strap.
The name comes from the esparto rope used to make the flexible soles. This casual footwear may also be referred to as alpargatas in Spanish, espartinak in Basque regions or espardenyes in Catalonia, northern Spain.
With authentic versions available in Spain at great value prices, a pair of genuine espadrilles tends to offer far more bang for your buck than designer items sold in other countries.
20. A flamenco dress
Another item that's quintessentially Spanish is the flamenco dress. This flamboyant type of gown is traditionally worn by dancers, particularly in the Seville area.
You can buy these traditional Spanish dresses all over Spain, and they come in shorter styles as well as long lengths. Vibrant red is a typical color, though this may be toned down by using the shade as an accent rather than the main hue.
The skirt is shaped a little like a fishtail, and ends in a series of flouncy frills. These add instant drama to what might otherwise be a fairly unremarkable dress.
21. Spanish leather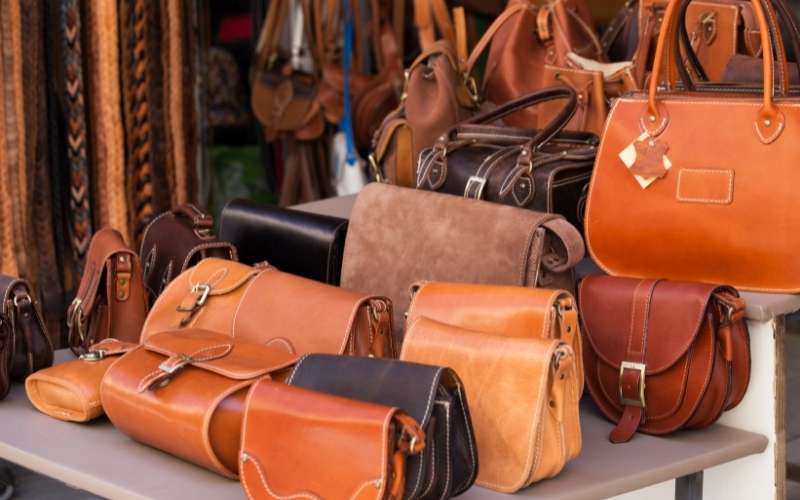 Spain is famous for the quality of its leather goods, and they're sold all over the country from local markets to small, local boutiques or large department stores in the cities.
Options range from belts and handbags to purses, jackets and shoes. The great news is that Spanish leather goods tend to be available at incredibly good value prices too.
Spanish leather has in fact been immortalized in a variety of ways. There is a musky, spicy woody fragrance bearing the name made by a men's barber shop based in London.
Bob Dylan also wrote a song called Boots of Spanish Leather, said to be about a former girlfriend of the musical superstar. It was released in 1964. Various artists have since covered the track.
22. A football shirt
If someone you know is a fan of soccer – or football as it's called in Europe – then a football shirt in their size is a dead cert as a gift.
You can buy a replica shirt just like those worn by the national team, or opt for a local club like Real Madrid or FC Barcelona.
If you're vacationing in those regions, then surely a souvenir shirt is a must for any fan of 'footie'.
It's not just Barcelona and Madrid that turn out great football players – other highly regarded teams include Zaragoza, Valencia, Sevilla, Málaga, Villarreal, Celta Vigo and Deportivo de La Coruña. Atlético Madrid is also a popular and successful club.
Many key matches are played during the Christmas period, so if you're seeking a festive gift in particular then that's perhaps another reason to opt for a Spanish soccer shirt.
A football shirt from a top Spanish club is also one of the easiest gifts to post or carry home.
23. Gold jewelry
Spanish gold is of a higher quality than that sold in other European countries, making Spain a popular place in which to buy investment pieces or special gifts.
The nine carat gold jewelry sold in Britain, for instance, is unheard of in Spain. For a while yellow gold fell out of favor with the public, but has been back on the fashion scene for a number of years now.
If you want a designer look, then recommended brands include PDPaola, Tous, UNO de 50, Sansouers and Majorica. White gold, silver and platinum jewelry is also available.
You could also look out for jewelry with a Spanish theme, such as a map or text reflecting the destination.
Miscellaneous gifts from Spain
24. A tablecloth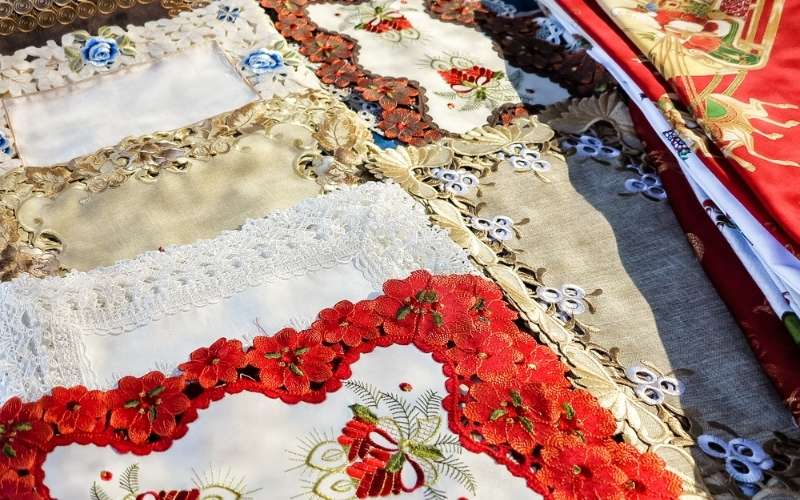 Gorgeous tablecloths are often spotted for sale at markets and stores across Spain, and sometimes these have been handcrafted.
The Malaga region is the ideal place to snap up a beautiful tablecloth at a bargain price. They may be colorful or more muted in tone, with a wide variety of designs available to brighten any kitchen table.
Patterns may call to mind the spices or fruits of Spain, or even flamenco. Some are more Moorish in appearance, especially when you're shopping in the south of the country.
Colors range from citrus shades or terracotta red to a cool, deep blue.
25. Spanish ceramics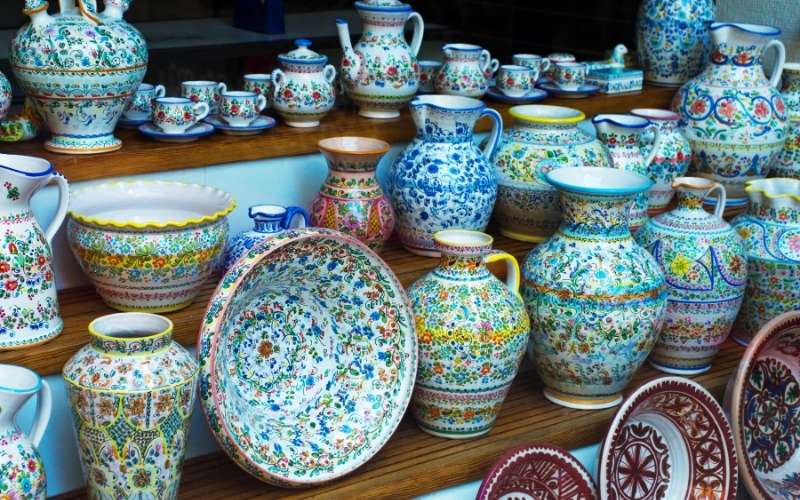 Spain has a long tradition of making beautiful, colorful ceramic pieces. These are often handmade by local artisans, particularly in southern regions like Andalusia.
Options range from small dishes or spoon rests to larger decorative pieces like jugs, plates or even plant pots. These will liven up any interior or outside space.
As unique gifts, Spanish ceramics are very affordable, and can sometimes be personalized to make them even more of a one-off.
A hand painted Spanish olive oil bottle makes an ideal gift, especially if you want to decant the liquid gold from a can into a more aesthetically pleasing container.
26. Damascene ware
Often associated with the city of Toledo in central Spain, damascene refers to the art of embellishing steel with threads of silver, copper or gold.
Damascene ware may be available to buy as small items like jewelry, or larger pieces like decorative plates. It may also come as items like a sword or small storage box.
The metallic shades contrasting against a black steel background results in a piece that is dramatic, opulent and bohemian.
It's certainly a striking effect, and Damascene ware is one of the more unusual items from Spain to give as a gift.
27. A travel guide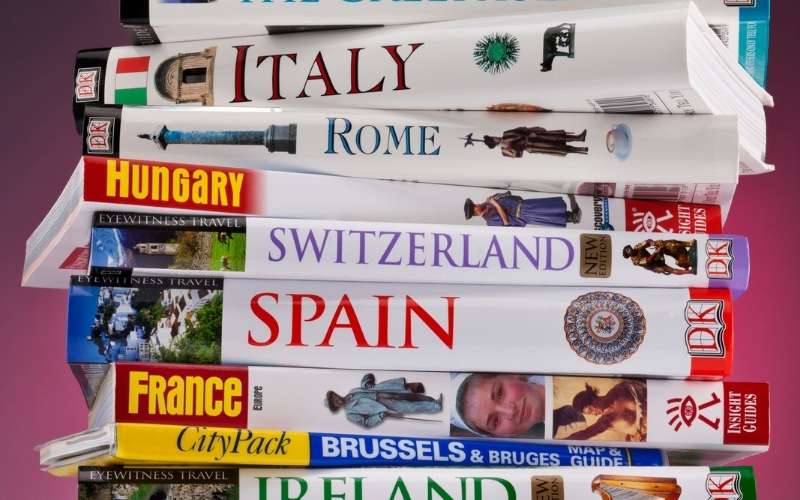 If they're heading to Spain themselves – perhaps on vacation or to visit friends or family based in the country – then a travel guide to Spain makes a great gift.
You can of course purchase these outside the country, but there's something a little more special about obtaining one from the very destination the book is about.
There are many travel guides to Spain as a whole to choose from, or you could opt for a book focusing on the specific region they intend to visit.
28. Olive wood goods
As Spain produces such vast quantities of olive oil, a natural by-product is olive wood. This is used to make all sorts of items, from serving bowls or cutting boards to larger pieces of furniture.
With a multi-toned, marbled appearance, this type of wood is very attractive and has in the past been used to make items of religious importance.
An olive wood product is also one of the best gifts for anyone with an interest in food or home decor. So that's pretty much anyone, really!
29. A fan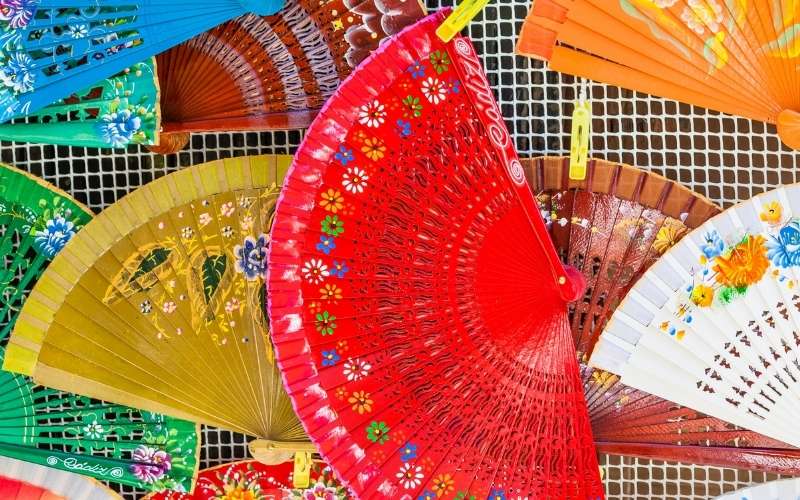 Spanish fans have been popular as gift items for decades, and designs range from the pleasingly kitsch to the downright naff – or even, in some cases, the genuinely beautiful.
These fans are great for cooling off on a hot summer's day, or alternatively may be used as cute decorative items for the home. Displaying one on a wall is always popular.
Fans are widely available in Spain and are without doubt one of those gifts that people instinctively associate with this particular part of the world.
Kids in particular will love to receive their own authentic fan from Spain, and are likely to adore the more colorful, out-there designs.
If you want the real deal, look out for a fan that was made in Spain and preferably one that was painted by hand.
30. Spanish guitar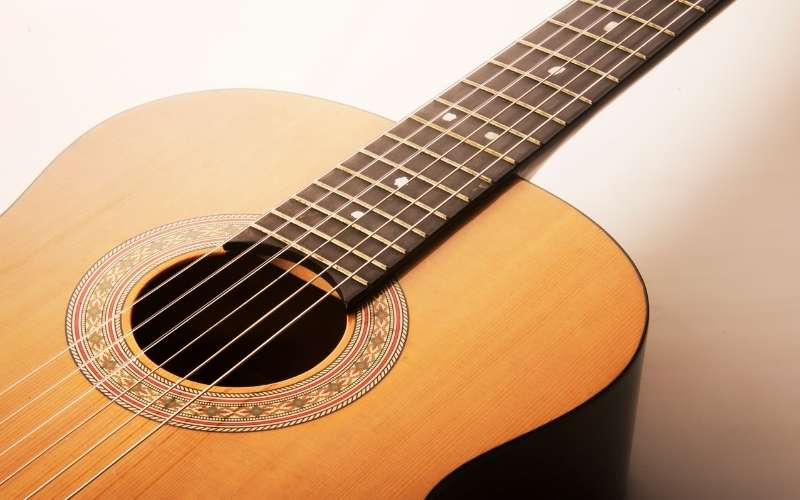 This one's a little more niche than most, but an authentic guitar from Spain makes a cool home accessory in addition to being an ideal gift for any musician.
A flamenco guitar is a little different from a standard instrument. It's similar to the classic guitar, but tends to have less bracing inside and more slimline tops.
The difference in the design is reflected in the sound, which varies from that made by a standard guitar. It's a little more spirited and grainy, reflecting the energy and color of the flamenco tradition.
If you want one of the world's finest Spanish guitars, look for brands like Prudencio Saez, Ramirez, Alhambra, Raimundo, Camps or Admira Guitars. These are all designed and made in Spain.
31. Castanets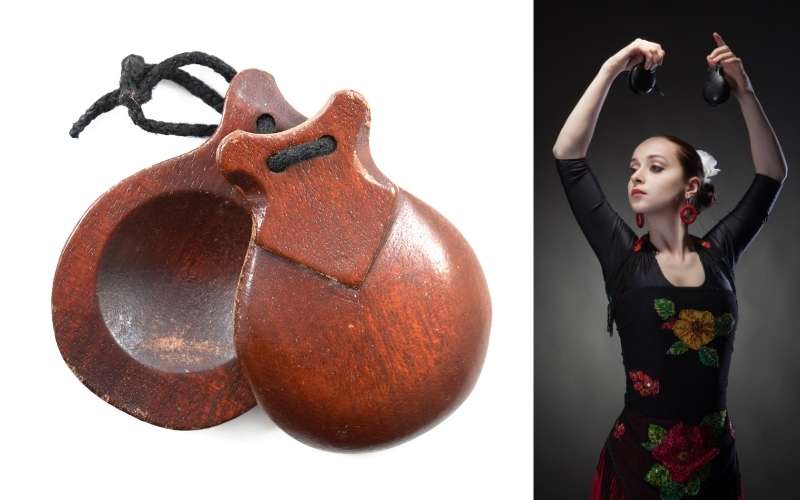 Castanets are quintessentially Spanish and a set makes a fun gift for fans of music or Spain. They are a small percussion instrument that's traditionally made from wood.
If you're shopping for kids or a cheap souvenir, plastic versions are also available. The hand-held instrument is played by knocking the pieces together with the fingers, or castanets can be used for decorative purposes.
Some sets have a plain, polished wood finish, while others may feature more colorful designs. If you want something authentic, go for a more subtle wooden set that was actually produced in Spain.
Spain gifts – FAQs
What are Spain's famous gifts?
The gifts most associated with Spain include food and drinks produced in this part of Europe.
Typical examples are Spanish olive oil, cured meats like Iberico ham, spices such as saffron and paprika, sweet treats and still or sparkling wines or sherry.
Other options include clothing, footwear and accessories made from materials like Spanish leather, musical instruments, Spanish ceramics, jewelry and homeware items.
What type of gifts are given in Spain?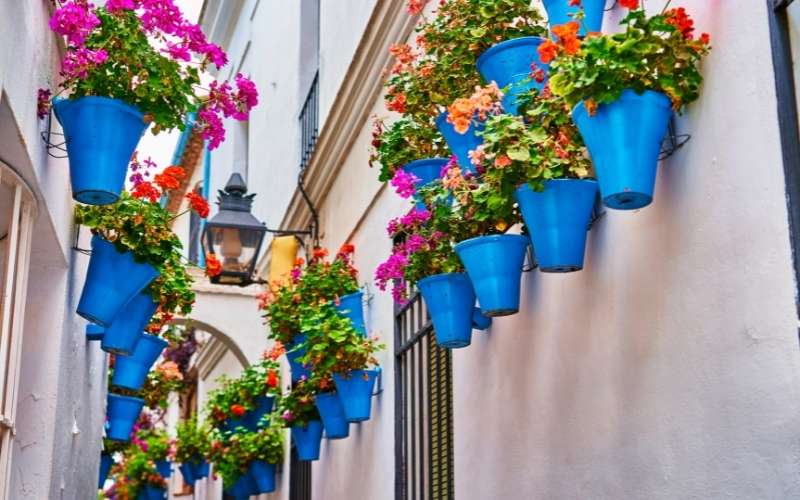 If you want to give a gift when in Spain, good choices that will always go down well include flowers, sweets or chocolates or a good quality bottle of wine.
Items like this can be shared between the family members, and are likely to be opened upon receipt.
For children, souvenirs make good trinkets for them to play with or display. If you can, items from your own country may be a novelty for a Spanish child.
What are traditional Christmas gifts in Spain?
The first thing to know about Christmas gifting in Spain is that children there often receive gifts on 6th January rather than 25th December. Many, however, do open some on Christmas Day as well.
These gifts are said to come from the Three Wise Men, or Three Kings, rather than Father Christmas or Santa Claus. They can be anything really, just as at 'Navidad' across the rest of the world.
What should you not give as a gift in Spain?
Etiquette experts advise against giving anything too extravagant as a gift, as this could be perceived as a bribe of sorts.
Giving a gift when invited to a Spanish home is good practice, however, and safe bets include flowers, food or wine as well as items reflecting where the guest comes from.
What is special in Spain to buy?
Items that you can only buy in Spain are by definition special, as are items that are associated with a particular country, city or region.
While you can order most items online from anywhere in the world, there's no substitute for sampling local wines, cheeses and meats, smelling leather goods as you browse the stalls or seeing for yourself the glossy glaze or colorful patterns on Spanish ceramics.
Gift Ideas from Spain | Final Thoughts
Whether it's delicious local foods, some of the best wines in the world, an item to cook with or something to wear, a visit to Spain gives you a unique opportunity to snap up some one-off goods.
Lots of products available in Spain make great presents – assuming you can bear to part with them, that is!
So make sure you cover the cost of some items for yourself when budgeting for your trip – and don't miss the chance to sample some delicious Spanish food and drinks either. All in the name of research, of course!
Related: