If you've booked an EasyJet flight for a getaway from the UK, we bet you can't wait!
As going away has been limited for so long, we all want to do everything we can to ensure an amazing time somewhere different.
When planning your trip, one of the key things to think about is packing.
When deciding what to take and whether or not to add checked baggage to your booking, one question is likely to come to mind.
Just how strict is Easyjet with hand luggage?
Or to put it another way, how lenient are easyJet with hand luggage? What's your actual cabin bag allowance, and what happens if yours exceeds the set limits?
This post will provide you with all you need to know about easyJet and their hand luggage restrictions.
That way you can pack with peace of mind, as well as knowing whether or not to fork out for checked baggage.
From how strict are easyJet with hand luggage to stowing it in the overhead locker or seat in front to what happens with excess baggage, read on to find out all about the easyJet baggage allowance.
What is the EasyJet Hand Luggage Allowance?
Let's take it from the horse's mouth, rather than third-party sources that might be unreliable or out-of-date.
What does easyJet say about their cabin bag allowances?
Every individual traveling with easyJet can take 'one small cabin bag' onto the aircraft without paying any fee in addition to the cost of the airfare. There are three extra points to note.
Small cabin bag policy
Your cabin bag must fit beneath the seat in front.
The maximum size is 45 x 36 x 20 cm. Any wheels or handles must fit within these measurements.
The weight limit is 15 kilos – and you should be able to carry this cabin bag without assistance.
So if you need a bigger luggage allowance than this, what do you do? There are three options for those who want to take more.
Adding a large cabin bag or hold luggage:
Add a large cabin bag to your booking.
Upgrade to an Extra legroom seat or an Up Front seat. This includes the larger cabin bag allowance, which is a slightly more generous 56 x 45 x 25 cm. The issue here might be that the same 15-kilo weight limit still applies.
Book hold luggage. You can pay for up to three hold bags per passenger, and this includes infants and children. The standard weight limit is 23kg, but you can purchase extra units to take it up to 32kg per bag or less. For hold bags, the maximum size is 275cm in total. This is calculated as length + width + height.
So – how strict are easyJet with hand luggage?
So let's say you've gone away and you took just one small bag as hand luggage. Which was enough for a short trip.
But – you're anticipating problems at the bag drop desk because you have more to bring back home than you took away.
We mean – who can resist the smart shops of Vienna or Geneva, the bijoux boutiques of Ibiza town, the designer stores of Milan or Paris or the bargains to be had in the souks of Marrakech?
What happens to your baggage allowance in this case? Is there any flexibility when taking easyJet flights? Might the staff at bag drop turn a blind eye?
As far as our research shows, your easyJet baggage allowance is pretty much set in stone. If you want to bring back more than that one cabin bag you took away, then you'll need to pay extra for it in one way or another.
If you have extra weight to bring back, then you might need to book a checked bag. Unless you're traveling with someone else who can take part of your load.
Don't forget that extra legroom customers are still subject to a 15-kilo limit, even though they can take a bigger bag on board. The same applies to Flexi Fare customers and easyJet
Plus card holders, who can bring on board two bags including the small and large carry-ons.
EasyJet's website states quite clearly that any bag above the total weight allowance or that exceeds the maximum size must go into the hold. You'll have to pay more for this at the boarding gate or before.
In a nutshell – if you want to take an additional large cabin bag or hold luggage, you'll need to get in touch with the airline before your flight.
Unless you don't mind how much they charge you at the airport, that is!
How Strict are EasyJet With Hand Luggage – FAQs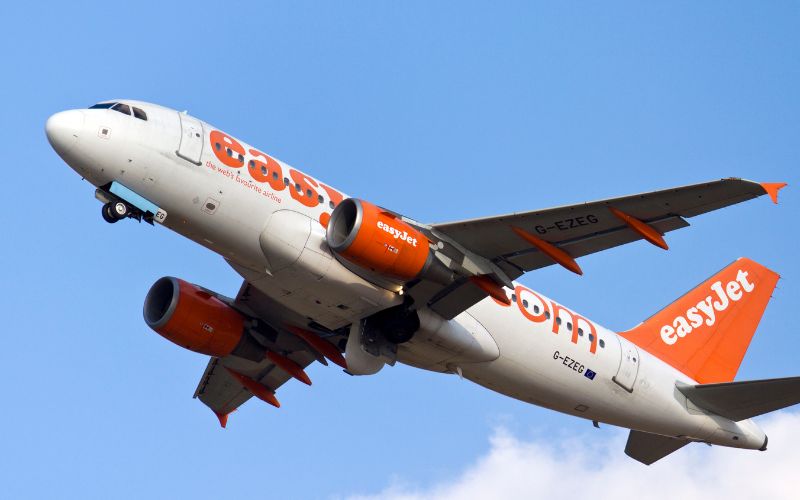 Does Easyjet check bag size?
Yes, easyJet will check the size of your bag before you fly. A small cabin bag with a standard ticket must measure 45 x 36 x 20 cm or less.
Any wheels or handles must fit within these dimensions, or your bag will be considered to exceed them.
If you pay or qualify for a larger cabin bag, this can measure up to 56 x 45 x 25 cm.
Again handles or wheels should be within the limit. In both cases, a small or large cabin bag must weigh no more than 15 kilos.
Does easyJet weigh your hand luggage?
All luggage to be taken on an easyJet flight will be weighed. This applies to hold and cabin baggage.
Your carry-on must weigh no more than 15 kilos – whether the maximum size is 45 x 36 x 20 cm or 56 x 45 x 25 cm.
A standard checked bag can weigh up to 23 kilos, and customers can increase this to a maximum of 32kg per piece. This will mean paying extra.
How lenient is easyJet with hand luggage?
The easyJet customer service team at the airport is allowed no flexibility – with either a hold bag or a carry-on such as a laptop bag.
If the case doesn't fit, it's not going into the cabin. If it weighs more than 32 kilos, it may not be carried at all.
And if you need to carry more, then you should book hold baggage or at least add an extra, larger carry-on to your booking.
You should be able to do this and still take the same flight unless capacity has already been reached.
In that case, it may not be possible, so do book this as early as you can.
Can you take a handbag as well as hand luggage on easyJet?
If you only have a standard fare ticket, aren't an easyJet Plus card holder, and haven't paid for a larger cabin bag, then a handbag would be your one and only cabin bag.
Of course, you may be able to get around this by storing inside your permitted item of easyJet hand luggage
Don't forget that 15-kilo weight limit per piece, though, as putting one bag inside another means it will be weighed and measured as one item. This may also make it bulkier – which could mean it exceeds the size limit.
How Lenient is EasyJet With Hand Luggage – Final Thoughts
All easyJet customers can take a small cabin bag on board. Some who have paid for upgraded or flexible tickets can also take a larger cabin bag.
Both items are subject to a weight limit of 15 kilos each, though the measurements differ.
The good news is that any passenger – including even infants and children – should be able to book up to three pieces of hold luggage.
Subject to availability, of course. If you're prepared to pay, these may weigh up to 32 kilos each.
This means it's possible to take over 100 kilos of luggage, per person, on an easyJet flight.
To avoid unpleasant surprises at the airport, it's always best to book any extra luggage in advance!
Related: