Bagging a cheap flight with Ryanair feels so good! You can enjoy a weekend break – or longer – to spend time with family or friends. Or exploring a new or already loved destination.
As the flight date inches closer, though, it's time to start thinking about the practicalities. Before packing, what you really need to know is this.
How strict is Ryanair with cabin baggage?
If you don't want to find out at the bag drop desk that your bag is too big or heavy to go onboard, then you need to read this guide!
Covered right here is all you should know about taking a cabin bag on a Ryanair flight. Including all sizes from a small personal bag to a larger laptop bag.
While we're on the topic, can you take two cabin bags, perhaps if you pay more?
Or does packing extra stuff mean booking some checked baggage with the airline? How about full-size cabin bags – are they OK to take, or do you need something more compact?
Don't wait till you get to the boarding gate – get ahead by checking out all you should know about Ryanair's hand luggage rules.
Read on so you can avoid paying excess baggage fees. Or say goodbye to your larger wheelie bag at the bag drop desk!
What is the Ryanair Hand Luggage Allowance?
We've checked directly with the Ryanair website to make sure the following information is both current and correct.
What's the bottom line from Ryanair themselves when you want to take a bag on board?
Small personal bag policy
Your bag can be a backpack, tote, or messenger bag.
Whatever the shape, it must fit beneath the seat in front.
The bag must measure no more than 40 x 25 x 20cm (height or width x width or height x depth).
The budget airline specifies that one 'small personal bag' is included with all airfares. This must be compact enough to slide underneath the seat in front of you.
There are some examples shown on the Ryanair site. These include a backpack that measures 40 x 25 x 20cm (height x width x depth).
We recommend a Cabin Max Metz 20l – it's what we use when we travel Ryanair and we've never had a problem.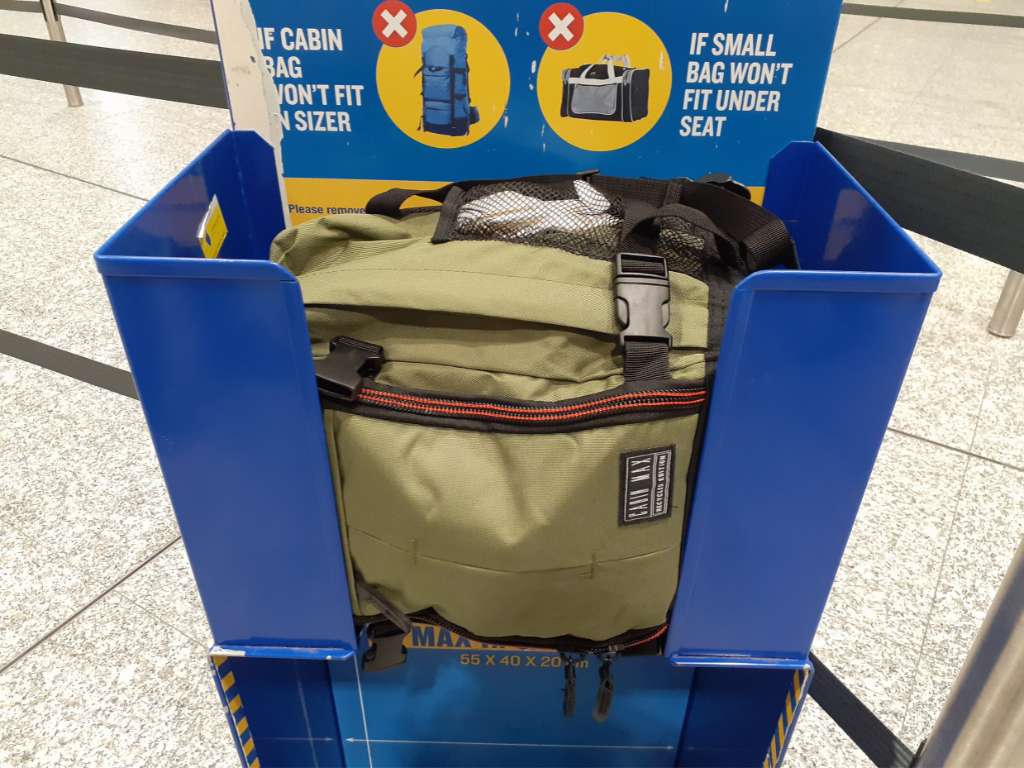 Another example is a messenger-style bag, and the third is a tote or large handbag.
The important point to note is that this measure is exactly the same.
Each is simply spun around so that the height becomes the width and the width the height.
So the bags all measure 25 x 40cm or 40cm x 25cm, with a depth of 20cm each.
Here are the options for those who want to check-in or take a bag on board exceeding those dimensions.
Adding extra hand or hold luggage:
Upgrade to priority boarding + 2 cabin bags. This costs from EUR 8 and includes a 10kg wheeled case as well as the usual small backpack, messenger bag or tote. The wheelie bag must measure 55 x 40 x 20cm (height x width x depth) or less.
Add a 10kg checked bag. You can do this as well of, or instead of, extra cabin baggage. This bag will be left at the bag drop desk before you go through security. Higher volumes of liquid can be packed into this case than into any of your hand luggage.
Add a 20kg hold bag. If you need to pack more, you can double the 10kg to 20kg when flying with Ryanair. Subject to availability, of course. In fact, if space is available, each passenger can pay for up to three checked bags weighing 20 kilos each.
For those who want to carry musical instruments, take medical items on board, or check-in baby equipment, there are additional options available. Check those out here.
So – how strict are Ryanair with cabin baggage?
If you think you can get away with an oversized cabin bag – think again. Budget airlines are all about making a few extra pounds or euros wherever they can.
Is there any chance of Ryanair allowing you to take more hand baggage than the specified limit?
Backpacks, totes, or other luggage that doesn't fit into the bag sizer is subject to a fee of EUR or GBP 69.99.
This charge is also subject to VAT – and yes it is the same in pounds as in euros, even though one may be worth more than the other!
So when it comes to how strict are Ryanair, the answer is very.
So don't turn up at the check-in desk with more luggage than you're allowed to take unless you want to pay for the privilege!
There is a bag sizer for those extra 10kg bags as well. If you'll be joining the priority line because you've paid more for that second larger wheelie bag, do make sure it measures no more than 55 x 40 x 20cm.
How to add two cabin bags or checked baggage to your Ryanair booking
If you want to upgrade to priority boarding plus two pieces of hand luggage, then you can do this at three points in time.
Add it when you book, between booking and your departure date, or when you actually check-in.
You'll need to sign in on the Ryanair app or Ryanair website if you want to upgrade after making the booking.
Go to Active Trip, then Trip Extras, then select Add To Trip.
You can do this via the website up to two hours before your scheduled flight departure time. For the Ryanair app, book more hand luggage up to 40 minutes before the flight leaves.
Ryanair extra baggage charges
So what does Ryanair charge for an extra cabin or hold luggage?
Priority boarding + 2 bags
Charges for priority boarding plus two bags begin at EUR 8 at the time of writing and go up to EUR 32.
10kg checked bag
The price for a 10kg checked bag is between EUR 13 and EUR 36. If bought at the check-in desk or gate, this costs EUR 46. So it's cheaper to book in advance.
20kg check-In bag
A 20kg checked bag costs between EUR 21 and EUR 60. Excess baggage above the 20 kg limit is charged at EUR 9 per kilo – when bought in advance.
How strict is Ryanair with cabin luggage – FAQs
Does Ryanair check hand luggage?
Yes, absolutely. Every check-in desk should have a bag sizer, and if your bag exceeds the limit when you'll need to pay for it to be carried in the hold.
This means you cannot take it on board with you – nor access the contents. You'll also pay more than if a hold bag or an extra cabin bag was booked in advance.
Can I take my handbag as well as my hand luggage on Ryanair?
You can take both a handbag, backpack, tote, or messenger bag, and a wheeled 10kg case – IF you upgrade to priority boarding plus two bags. Otherwise, you are strictly limited to one bag only. This should be a small personal bag that will fit under the seat in front of yours.
How lenient is Ryanair with cabin luggage – Final thoughts
Any Ryanair-appointed representative is extremely unlikely to give you any leeway at all when it comes to exceeding that small bag limit!
The best way is to be prepared before you travel by paying to take more than that small backpack or handbag permitted.
You can book an extra 10 kg cabin bag, a 10kg hold bag, or up to three 20kg hold bags per passenger. This can be booked via the Ryanair app up to 40 minutes before departure.
If you're planning ahead, you can also add these options when you purchase a ticket in the first place.
Related: