If you've heard of a rucksack and wondered what the term really means, this post is for you! Covered is what a rucksack typically consists of, plus the difference between a backpack and a rucksack – and even a knapsack.
You probably already know that a rucksack is a type of bag or luggage. It has two shoulder straps so you can carry it on your back. Hence the mix-up between a backpack and a rucksack.
In size, it can vary a lot, from a hiking daypack to larger rucksacks that can carry enough stuff to keep a traveler going for a year or more.
A rucksack is a term typically used to denote a larger, more rugged backpack or travel bag, such as the type used by the military.
Backpacks and rucksacks have many features in common. They normally comprise a large main compartment and are made from durable materials.
They are often fitted with hip belts and/or chest belts to carry heavier loads more easily.
You'll often find numerous pockets on a backpack or a rucksack. There may also be compartments or loops for carrying sleeping bags and side sections for water bottles.
A hydration backpack may also have room for a water reservoir.
As in everyday use, the terms backpack and rucksack interchangeably apply to very similar items in the broader sense. There can be a subtle difference between a backpack and a rucksack, however.
So – What Is a Rucksack?
The term rucksack rather than backpack may be used to set more rugged backpacks apart from regular backpacks. It's a name often given to the backpacks used by the military, for example.
Rucksacks will normally have adjustable shoulder straps, hip belts, and multiple pockets. This type of travel bag may also be made from materials better suited to carrying heavy loads, such as waxed canvas.
These are unique features that may be used to differentiate between a regular backpack and a rucksack, but in reality, the terms are often used very interchangeably.
Fashion brands, for instance, may use either name to describe a smaller backpack for everyday use, while companies specializing in outdoor gear might sell a large rucksack capable of carrying a heavy load. Or vice versa.
The difference may also be down to where the terms originated. It's said that the name 'backpack' comes from the US, while 'rucksack' is a word of European origin.
'Der rücken' in German translates to 'the back', so if you take this literally rucksack would mean 'back sack'. Or backpack!
Whether you purchase or use a backpack or a rucksack, this type of travel bag is designed for carrying heavy loads comfortably. Ergonomic designs mean less strain on the spine, muscles, and joints of the body.
What Is a Rucksack Used For?
A good backpack or rucksack can be used for multiple purposes. They vary in size from a tiny child's backpack that may be used by a preschooler to a heavy-duty rucksack capable of carrying a 70-liter load – or much more.
What constitutes the perfect backpack or rucksack depends on the intended purpose. You might buy the right bag while out shopping in town to use as a child's schoolbag or for carrying a laptop.
Or you may go shopping online to pick out the right rucksack for an extended round-the-world trip or as a daypack for hiking.
Rucksacks and backpacks are typically designed to make carrying lots of items or heavy loads more easily.
There's normally the main compartment plus various additional pockets or several compartments for miscellaneous or specific items. An example of the latter is an integral laptop or tablet sleeve.
Whether it's school books, your water bottle, or heavy objects like camping gear, backpacks and rucksacks are made to spread the load without placing strain on the body.
That's why larger packs tend to have a hip belt and perhaps a chest strap too. This helps to distribute the weight evenly.
A rucksack may also be used by members of the military during training or selection exercises and while carrying out operations. In fact, the term is often used by the armed forces, or when referring to a Navy, Army, or Air Force.
Rucksack vs. Backpack vs. Knapsack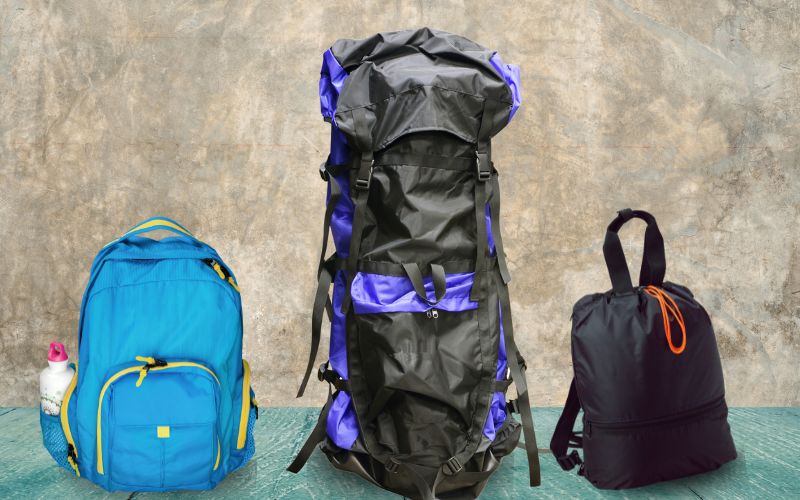 So when the terms are used to describe different types of bags, what does each mean? This is often down to where you live, as each term is more popular in certain areas.
It may also vary by bag manufacturer or retailer. Here's an outline of what each typically means, though it depends very much on the context.
Backpack
A backpack is often a smaller bag used on a daily basis or perhaps for short trips – like a child's sleepover or a one-night stay away from home.
Many backpacks have one or two water bottle pockets on the sides, and the vast majority will have adjustable shoulder straps for a secure, comfortable fit.
The term backpack is said to come from the US and is often used there.
Rucksack
A rucksack is often a larger and more rugged version of the backpack. Bigger packs with a capacity of 60 liters or more are likely to be described as rucksacks rather than backpacks.
The main compartment is often accessed from the top, and it may have additional features and sections to the outer for carrying extra items.
These may range from a pair of hip belt pockets to a daisy chain with loops for attaching items like camping cookware or a sleeping bag.
The name rucksack is German in origin, and literally translated means 'back sack. It's a term often used in a military context.
Knapsack
The term knapsack is typically used to describe the type of bag that's more of a backpack than a rucksack. A knapsack will thus often be smaller than a rucksack.
It's usually used when you want to carry a load over short rather than long distances, such as on a daily basis or for a brief weekend trip.
What's the Difference Between a Backpack and a Rucksack?
In reality, there is often no difference between a backpack and a rucksack as the two terms are used interchangeably. Both have shoulder straps and are carried on the back, and may have extra pockets inside and out.
Where differences do exist, a rucksack may have more interior space, be more rugged, and be designed for carrying heavier loads.
It's more the type that might be used – ironically – for extended backpacking trips. The military often refers to their backpacks as rucksacks too.
Benefits of Using of a Rucksack
Using a backpack, knapsack, or rucksack has many benefits including:
leaves the users' hands free as it's carried on the shoulders.
It's designed to distribute the load evenly to avoid stress and strain on the spine, joints, and muscles of the body.
A rucksack or backpack is far more ergonomic than a suitcase, thus some fans prefer them even for the type of trips that many would use a soft-sided or hard shell suitcase for.
It's multi-purpose product, as it can be used daily, for a weekend trip, for hiking, for luxury travel, or for backpacking.
Final thoughts
'Rucksack' is a term used to describe a bag with shoulder straps that's carried on the back. Another two words used to describe the same sort of item are 'backpack' and 'knapsack'.
When an item is called a rucksack it may be more rugged and have a larger capacity than a backpack or knapsack. This isn't necessarily the case, however, as the terms are used interchangeably.
When choosing a backpack, knapsack or rucksack to buy, it's more important to focus on what you want to use it for than the name it's been given by the retailer or manufacturer.
Related: