It may seem futile to write a post about beaches in Spain, as there is simply no way I could ever cover every beach in this great country.
Instead, I decided to reach out to my fellow travel bloggers and ask them to share their top Spanish beach and why they love it. I hope you'll get some new ideas for Spanish beaches to visit on your next holiday in Spain.
Don't leave home without these essentials – check out our Ultimate Spain Packing List.
10 Incredible Beaches in Spain
1. La Rijana Beach, Costa Tropical

La Rijana beach is located on perfectly clear water and is known for its snorkeling and scuba diving. This beach is actually part of a conservation area that supports the local wildlife both on the cliffs and in the sea.
The cliffs that surround the beach make it feel much more isolated than it is, and it's great for visitors that like to get away from the crowds. The main draw of this beach is the fantastic cliff scenery around the beach and the teal blue sea that is within it.
La Rijana beach is the perfect beach to visit if you want to fit some relaxing swimming or snorkeling into your southern Spain vacation.
It's located on Spain's Costa Tropical near Castell de Ferro. This lesser-visited coast makes for the perfect stop if you are driving between Malaga and Granada or as a day trip from Granada as it is only about an hour drive.
To get to the beach, you park on the opposite side of the road from the beach and walk down under the highway to get to it.
There is a shop on the beach that is open only during the summer that sells drinks and snacks.
It's worth stopping at some of the viewpoints above the beach to take in the dramatic coastline here before heading down to La Rijana.
– Brianna, Curious Travel Bug
2. Tamariu, Costa Brava
The gorgeous beach of Tamariu on the Costa Brava region north of Barcelona is definitely one of the best beaches in Spain.
It's a small, quiet little cove surrounded by pine-covered cliffs and has stunning aquamarine water that's got a 'blue flag' cleanliness rating – exactly what you think the perfect Costa Brava beach should look like.
Located only 130km north of Barcelona it makes for a great day trip, but you really should stay longer to experience the best of it. The beach is lined by great restaurants selling local fish and seafood specialties.
It's perfect for visiting with young kids because they're right next door to the beach – they can be busy playing on the sand and building a sandcastle while you enjoy a relaxing drink or meal, a total win-win for everyone!
It's a year-round destination too, it was early January when we visited but most of the restaurants were still open and there were plenty of locals around.
Like all the best beaches we hear it gets very busy in the summer months, so try for shoulder and low season if you want it mostly to yourself!"
– Kylie,  Visiting Dordogne
3. Poniente, Benidorm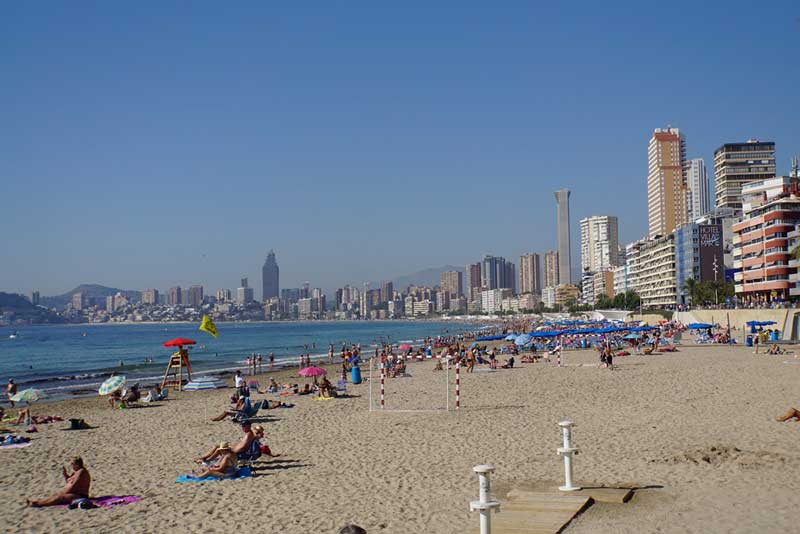 Poniente Beach in Benidorm is a lovely choice for travelers seeking a quieter, more Spanish beachside location than the main Levante Beach but still with the convenience of organized sunbeds and parasols and a collection of bars and restaurants.
Whether you're a family, group of friends or a couple travelling together, you're sure to love Poniente Beach.
The coastline is clean and clear, there is a long relaxing promenade and the warm, shallow waters with sand underfoot are ideal for swimmers of all ages.
The beaches of Benidorm are cleaned daily, the quality of seawater and sand are checked and there are regular lifeguard stations dotted along the beach, all of which work to ensure that Poniente is a safe and serene place to be.
It is worth noting that sunbeds cost €5 each and parasol are €5 each too, which can add up if you use them every day, but there are also large stretches of sand available for those who want to sit for free.
– Chrisoula, Travel Passionate
4. Playa de la Costilla, Rota
Playa de la Costilla in Rota, Spain is the most beautiful beach you've never heard of.
It extends for more than 2 kilometers along Spain's Costa de la Luz and is lined with a beautiful promenade full of restaurants, tapas bars, and colorful apartments. The beach itself has soft, golden sand and is very wide, even at high tide.
The town of Rota is not widely known outside of Spain; most of its tourists are Spanish families who come to escape the heat of inland Spain in July and August.
Rota's low profile is part of what makes it so magical; for nearly 10 months of the year, you can enjoy Playa de la Costilla with no crowds.
Even during the winter when it's too cold to swim, the Bay of Cádiz sparkles in the sun, and the beach is impeccably maintained.
The top place to stay is at the iconic Hotel Duque de Najera, the only hotel in Rota's historic centre that is directly on Playa de la Costilla. The hotel restaurant, El Embarcadero, is also one of the best in town.
If you don't have a car, you can get to Rota by taking a ferry from the city of Cádiz (35 min) or a bus from Sevilla (< 2 hours).
Rota is slightly off the beaten path, but one look at Playa de la Costilla and you will know that it was worth the effort!
– Stephanie, Poppin Smoke
5. Tossa de Mar

An old fisherman's village, Tossa de Mar is on the northeastern coast of Spain on the rugged Costa Brava.
The beauty of the beach lies in the ancient fortified walls perched atop the hillside next to it, making for a remarkable scenery for beach-goers.
The 12th-century walls are the only surviving medieval fortification in Catalonia, and it's impressive to see how intact the walls and towers have remained.
Behind the walls is the Vila Vella, or "Old Town", a place to wander its bumpy streets, catch views of the Mediterranean Sea, and visit the city's museum. Near Tossa de Mar is the Roman Villa of Ametllers, where you'll find a Roman mosaics, stuccos, and thermal constructions.
The town of Tossa de Mar also has several beaches and coves, including the main beach Platja Gran (next to the Vila Vella), the wide Platja Mar Menuda, and the intimate El Codolar.
The town of Tossa de Mar is a relaxing beach town that draws many families and couples, although it gets busy and crowded with a few party-goers in the summer. You can get there from Barcelona via car or train in about 1.5 hours.
– Justine, Latitude 41
6. Platja de Ses Illetes, Formentera

Platja de Ses Illetes is probably Formentera's most well-known beach, and it's certainly the most popular!
Beloved by day-trippers from Ibiza, and Formentera locals alike, there's plenty of room for everyone to find a slice of sand to lay their towel.
Located on the northern tip of the petite Balearic Island, Platja de Ses Illetes spans the entire western edge.
It joins forces with its neighbour, Platja de Llevant in the east, and the two Formentera beaches merge to create one long sandy peninsula.
To get there, you have to pass through a tollgate (tip – electric cars are free!), and parking is limited, so you'd be best to get in early.
At the southern end of the beach, you'll find a couple of bars selling beachside treats (beware, they're not cheap), but once you head further north, the conveniences dissipate along with the crowds.
This is a beach worth spending the day at – sunbathing, swimming in crystalline water, and beach hopping around the bay – so bring everything you might need with you.
– Nadine, Le Long Weekend
7. Las Arenas, Valencia
Las Arenas beach in Valencia is just a short bus journey or a bike ride/walk from the centre of Valencia's old town.
Its glorious white sands are vast and plentiful, and the perfect place to relax, enjoy the water sports or splash around in the warm Balearic Sea.
While the beach itself is the main attraction here, there are plenty of shops, bars and restaurants lining the promenade (including the famous La Pepica paella restaurant) to keep you entertained once you peel yourself away from your sun lounger and parasol.
One of my favourite things to do on any Valencia itinerary is to stroll along the boardwalks from the yacht club in the south to the north, admiring the sand sculptures and fountains along the way.
As you walk north, you'll eventually arrive on Malvarrosa beach – another of the must-visit beaches in Spain. The beaches are now almost indistinguishable, but at least that means there's even more sand for you to play with!
– Anna, Would Be Traveller
8. Monsul Beach, Cabo de Gata Nature Reserve
Monsul beach is one of the most beautiful beaches in Cabo de Gata Nature Reserve in Southern Spain. It is one of the most astounding and popular virgin beaches along the coast west of the little town, San Jose.
The desert blends into the beach and meets the crystal clear Mediterranean Sea. It's the perfect place to relax with your partner, a group of friends, or alone with a good book.
You can hike across the rugged coastline from the village past the immense Los Genoveses beach and past numerous secluded beaches where you otherwise can only get to by boat.
The hike takes a couple of hours and you need good footwear as the trail is steep at times.
The other option is to drive along a dirt road. During the summer months, you have to pay 5 Euros to drive through there, but police block the road once it is full.
The best time to go to Monsul is before or after the season as it is free to enter with a car and it is not too crowded (though it never gets extensively crowded in Cabo de Gata even in the high season).
There is no place to buy food or drinks at the beach, so make sure you bring a lunch pack, snack, and a reusable water bottle in your backpack.
If you have a parasol for some shade, I recommend you bring it as there is not much natural shade to find at midday and the little shade the rocks bring throughout the day will be packed with people.
-Linn, Brainy Backpackers
9. Barceloneta, Barcelona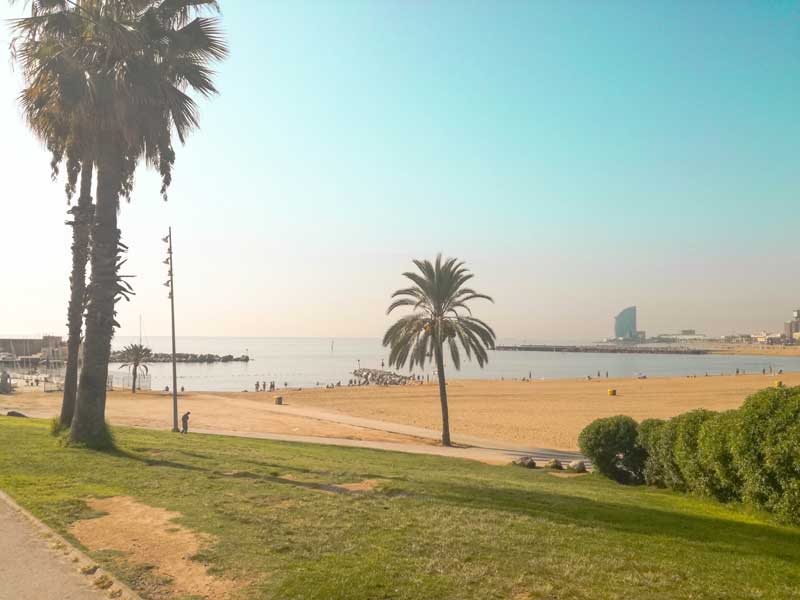 Barceloneta Beach (Playa de la Barceloneta) is one of the best things to see in Barcelona. Located on the northeast coast of Spain, there are plenty of hours of sunshine all year round.
Easily accessible from anywhere in the city, Barceloneta is a must for anyone visiting the Catalan capital. There are two metro stations and various bus stops nearby.
You can walk along the beach on a promenade while enjoying the view of the Mediterranean.
Here you will also find a wide variety of bars and restaurants where you can stop by and enjoy a few delicious Spanish tapas or an ice-cold beer.
In summer, Barceloneta beach is perfect for swimming. The water temperatures are very refreshing, but not too cool to enjoy the water. There is also a lifeguard who makes sure that nothing happens.
Another popular activity on the beach is to rent a bike and ride along the coast. You can not only visit the two neighbouring ports but also take a look at the adjacent beaches of the city.
There is always a lot to discover while strolling along the beach. Many creative artists come here every day to surprise visitors with their unique and innovative sand sculptures.
It's a highlight, especially for the smallest visitors and is one of the best things to do with kids in Barcelona.
(Editors note: Barceloneta is a great place to discover if you are spending time in Barcelona on a short trip to Spain. It's the perfect combo of beach meets city.)
– Vicki, Vicki Viaja
10. Sant Feliu de Guixols, Costa Brava
Sant Feliu de Guixols is located on the Costa Brava Coast about an hour and a half north of Barcelona. It is the perfect destination for beach lovers who want to be close to the amenities of town.
There are a few beaches in Sant Feliu de Guixols within walking distance. However, the main beach in Sant Feliu de Guixols is Platja De La Badia.
This sandy beach has turquoise waters and fabulous views. It is flanked by a large jetty and the beach is extremely calm and somewhat shallow so it is popular with families.
It's easy to stroll into town from the beach for a bite to eat or to enjoy the nightlife.
Alternatively, there are a number of walking trails that extend from the main beach and which explore the stunning coastline.
The trail passes by granite boulders and Spanish holiday homes. This is one Costa Brava beach you should not miss!
– Oksana and Max, Drink Tea and Travel
I hope you've discovered a new beach to add to your list. Which is your favorite Spanish beach? Why do you love it?
Related: