With its sunny weather, rich marine life and the warm waters of the Mediterranean sea, parts of the Spanish coast provide the perfect conditions for exploring underwater life.
Those who want to go snorkeling in Spain have plenty of spots to choose from too.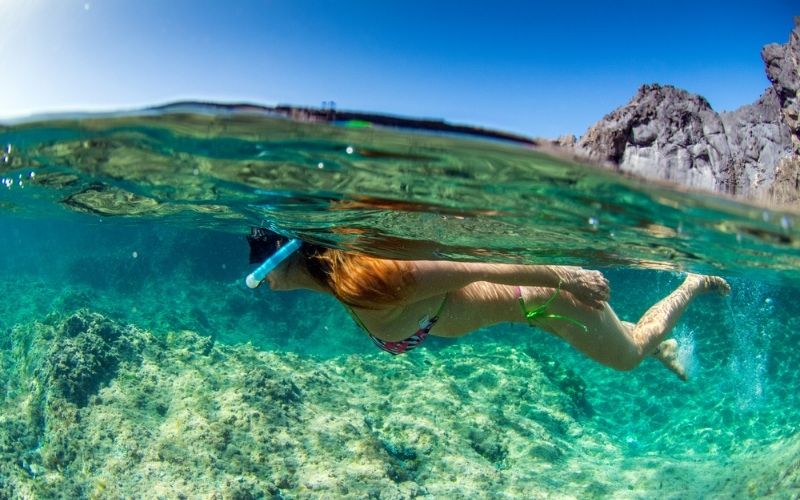 As well as the sandy beaches on the mainland, there are the Balearic islands, the Medes Islands and the Canary Islands to discover.
If you think you'd like to do some snorkeling in Spain, this article will tell you all you need to know before you go.
The best snorkeling spots with colorful sea life are listed, and also covered are frequently asked questions about snorkeling destinations on the Costa Brava, Costa del Sol, Spanish islands and other parts of the country, including the Mediterranean coast.
10 Best Places to Snorkel in Spain
There is some excellent snorkeling in Spain, so read on to learn about the secluded beaches, tiny islands, natural caves, underwater life, seagrass meadows and more you could explore when you go snorkeling in Spain!
Costa Brava
1. The Medes Islands
Located off the Costa Brava, the Medes islands can be accessed from mainland Spain. They can be found off the coast of Catalonia in the east of the country, north of Barcelona.
As such the water can be colder here than in some southerly parts of the country, but it's worth braving the chill for some of Spain's best snorkeling.
As the Medes islands were designated a marine reserve during the 1980s, they are now abundant in colorful sea life.
The water surrounding the seven small islands is also rich in nutrients, encouraging the growth of both corals and fish species.
What you can expect to see when snorkeling around the Medes islands may include red and yellow sea fans, shoals of Mediterranean fish and larger creatures such as dolphins, barracuda and grouper.
For some, the Medes islands are one of the best snorkeling spots in Spain. As well as big fish, species typically seen here include seahorses and starfish.
You can easily reach this area via an organized boat trip from L'Estartit.
Due to the lower temperatures some snorkelers do wear wetsuits in this area – if in doubt check with your tour operator.
2. Cap de Creus Natural Park
The Cap de Creus Natural Park is located in the north of the Costa Brava. This is an incredibly scenic region with an abundance of marine life.
This is a protected marine reserve with great water clarity.
As well as fish and other sea creatures there are colorful corals and seaweed meadows to be seen here. You may also spy sea anemones and starfish.
On land, this most easterly point of the Iberian peninsula features a most scenic, unspoiled coastline, including secluded coves, rugged cliffs and dark, brooding rocks.
3. Costa Brava resorts
Resorts on the Costa Brava offering good, easy opportunities include shore snorkeling spots close to the popular towns of Lloret de Mar, Platja d'Aro, L'Estartit, Sant Feliu de Guíxols and Tossa de Mar.
Costa Daurada
4. Masia Blanca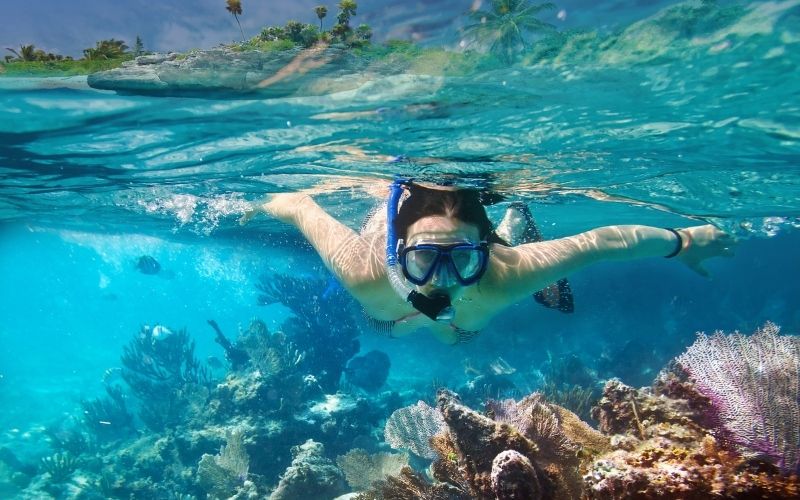 The Costa Daurada is also situated in Catalonia to the south west of Barcelona.
Here, the most popular snorkeling place is Masia Blanca, which has a broad beach backed by sand dunes and lapped by warm, shallow waters. It lies to the north of Tarragona.
This part of the coast is close to the Brisamar spring, and the thermal waters from this help to ensure that marine life here flourishes.
In addition to colorful corals and sea creatures, there are underwater seagrass meadows to see in this area.
There is a combination of shallow waters and deeper ones, and the latter is where you can expect to see coral formations.
Among the species native to this area are octopi and eels, as well as cuttlefish, sea bass and red mullet.
Costa Calida
5. Cabo de Palos
Cape Palos – or Cabo de Palos – can be found in the province of Murcia on the Costa Calida.
As this area is known for its micro-climate, it is drier and hotter than other parts of the country.
This results in warmer waters for those who choose to go snorkeling in this part of Spain – and plenty of marine life to see beneath the surface.
Broadnosed pipefish are among the more unusual species that have been spied by eagle-eyed snorkelers.
You may also see hard and soft coral formations, starfish, octopus and sea cucumbers.
There are lots of secluded beaches and rocky coves along this stretch of coastline where you can snorkel from the shore.
Often there are very clear waters, enhancing visibility. Picking a quieter spot like Cala Tunez, Cala Reona, Islotes del Descargador or Cala Fria may also help to enrich your experience.
Heading for the north of the peninsula in the Cape Palos area is recommended, as it has more protection from sea swells. This means visibility is improved and that sea life is less disturbed here.
You may also be able to take a boat out to the Islas Hormigas Marine Reserve from the Cape Palos area.
This is widely regarded as one of Spain's top snorkeling spots, and is also very popular with scuba divers.
If you do visit the Hormigas islands, you may spy rainbow wrasse, sea urchins, flying fish, moray eels, starfish and more.
Andalusia
6. Cabo de Gata
Cabo de Gata is a large marine reserve found in Andalusia.
This is one of Spain's top snorkeling spots and there is a variety of things to see including rocky coves, high cliffs and lots of underwater rock formations and outcrops.
As one of the hottest parts of Spain, Cabo de Gata is suitable for snorkeling during more months of the year than elsewhere.
Although permission is required to scuba dive here, snorkeling is allowed without having to cross this hurdle.
The area is well known for the Posidonia meadows, where the native sea grass grows underwater.
This may be known as Mediterranean tapeweed, Neptune grass or by its Latin name Posidonia Oceanica. Balls of this seagrass often wash up on the shores of nearby beaches.
This seagrass is ecologically important because it is capable of absorbing high amounts of carbon dioxide.
It is endemic to the Mediterranean sea and its fruits are known as the 'olive of the sea' in Italy.
You can access the water fairly easily from the beaches of Playazo de Rodalquilar, Playa de los Muertos, Los Escullos and La Isleta del Moro.
Balearic islands
7. Mallorca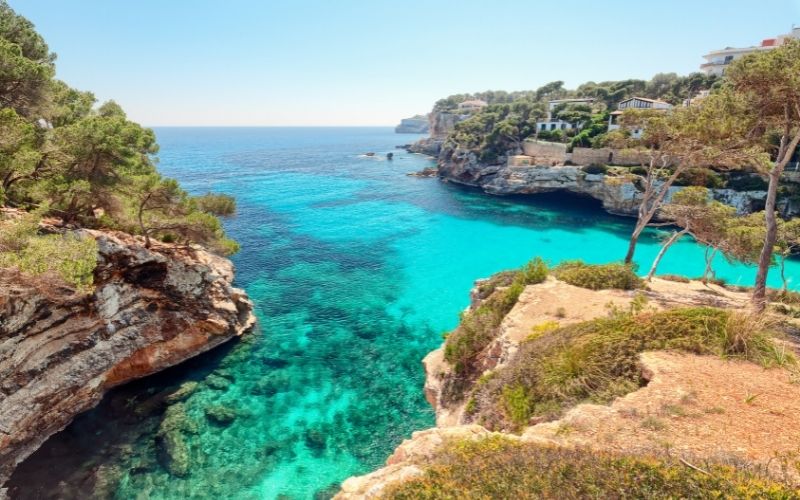 The south east coast of Mallorca is considered by many to offer some of the finest snorkeling in Spain. Marine life here is colorful and includes lots of fish as well as octopi.
The small rocky coves and sandy beaches of southeastern Mallorca make great snorkeling territory.
With warm, clear waters, the Balearic sea is a pleasant place to snorkel.
Mondrago Natural Park is one of Mallorca's underwater highlights, and some of the little bays in this area are best accessed by swimmers from the water.
On land, there are dunes, ravines and lots of native flora and fauna to discover in this area, too.
Calo des Moro can be tricky, but tracking down this beautiful white sand cove can be worthwhile.
The water here is very calm, and the best place to go to is the headland.
Species often lurking beneath the surface here include sardines, scorpionfish, and seahorses.
Cabrera National Park is a paradisiacal part of Mallorca and offers some of the finest snorkeling in Spain.
The waters are clear and warm, and taking a day trip to this area by boat is something many visitors do.
Not least to see the Blue Cave, where the sea seems ultra blue when viewed in sunlight.
You can also see Posidonia seagrass meadows here, plus species like eels, groupers and turtles.
Cala Santanyi also has a glorious beach and is a very popular place for scuba diving and some of the best snorkeling in the Balearics.
The waters lapping the Blue Flag beach are warm, shallow, clean and safe, making this an excellent spot for beginners or younger snorkelers.
Cala Mitjana is another place drawing snorkelers from all over Europe and beyond.
This pebbly beach is framed by high white cliffs, and the best snorkeling areas – to the east and west of the cove – are easy to access directly from the shore.
Here, you can expect to see the likes of small caves underwater as well as marine species.
8. Menorca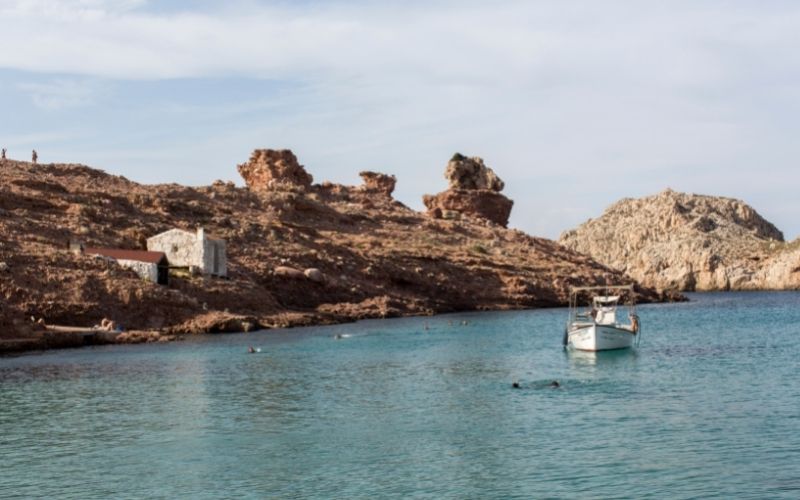 Cala Morell on the northern coast of Menorca is a small but perfectly-formed cove on the island's coastal path.
The waters here can be teeming with colorful marine life such as sea sponges, mussels and aea anemones.
You may also spot tunicate, otherwise known as sea squirts.
This area also has seagrass beds beneath the surface, and when you venture deeper you are more likely to spot species such as bream, damselfish, sea bass including painted combers and the almost-neon Mediterranean rainbow wrasse, which change color as they mature.
Calo Fondo is a little semi-circular cove located on the southern side of Menorca.
It's a little rocky cove popular with snorkelers who come to spy several sea bream species and damselfish swimming over the white sand of the sea bed.
Binimel-La beach on the island's northern coast is also a Menorcan highlight for snorkelers.
This rocky cove has a clean sweep of golden sand. As part of the Minorcan Northern Marine Reserve, it is a relatively undisturbed area which is home to a number of native species including gilt-head bream and sea bass.
The bay at Macarelleta and Cala Macarella lies to the south west of Menorca and is quite well concealed among the rocks and forests of the area.
It can be reached via a moderately difficult walk – so don't wear flip-flops – and is a tranquil little cove with azure waters framed by white cliffs.
There isn't a huge amount to see at this beautiful little beach, but you may spot flounder, salema porgy or flatfish among the seagrass beds.
S'Escala is another Menorcan highlight. Here, you may see species like sea cucumbers, clams and sea urchins, as well as fish.
This cove with shallow water is near Favaritx lighthouse, on the east coast of the island.
The sea beds here vary, including sandy and rocky bottoms and seagrass meadows.
Canary islands
9. Lanzarote
Some of the best snorkeling in Spain can be found on the Canarian island of Lanzarote – though geographically this group of islands is located off the coast of north Africa rather than the Spanish mainland.
Due to warm weather all year round, Lanzarote is one of the best snorkeling destinations for all seasons.
The island is a UNESCO-listed marine reserve.
Favorites among snorkelers include the beaches of Papagayo and Playa Chica in Puerto del Carmen.
The latter can be reached via a short stroll from Puerto del Carmen's promenade.
Playa Chica also has lovely warm waters, making snorkeling here a more pleasant experience.
Due to calmer conditions, the top places to snorkel in Lanzarote are mostly found on the south to south west coast of the island.
10. Fuerteventura
The largest resort in Fuerteventura, Corralejo, actually offers some pretty decent snorkeling, although currents here can be strong so it's best to consult a local lifeguard before taking the plunge.
If the water is calm, this is a good place for shore snorkeling and you may see yellow barracuda, red mullet, canary damselfish, pufferfish and sea bream.
Snorkeling in Spain – FAQs
When is the best time to go snorkeling in Spain?
Summer is the best season for snorkeling in Spain, so the months of June, July, August and September.
In some regions, the water will be cold outside this time of year, although the south tends to be warmer than northern parts.
The sea also tends to be calmer and clearer during the summer months, meaning you have a better chance of seeing some colorful marine life such as corals and fish. July and August are the busiest months in terms of tourism.
If you want to snorkel during winter, the Canary islands are your best bet. As they're actually off the coast of Africa, this is a winter sun destination known for warm weather all year round.
Does Spain have good snorkeling?
Spain does have some great snorkeling areas, where shoals of fish, colorful corals and larger sea life species can be seen.
Opinions vary as to which area is best, but the Medes islands and Cape Palos are popular picks on mainland Spain.
Menorca and Mallorca in the Balearics and Lanzarote and Fuerteventura in the Canaries also boast some impressive spots.
Are there any coral reefs in Spain?
The Balearic islands have some of the only coral reefs in Europe, particularly around the coastlines of Mallorca and Menorca.
Off the Costa Brava, the Medes Islands are also abundant in colorful sea life including corals, and they may also be seen in the Cabo de Palos area.
Which country is best for snorkeling?
Spain is one of the best countries in Europe for snorkeling, although the continent isn't often seen as one of the top places on the planet to snorkel in.
Many lists will cite more exotic countries such as Australia, Ecuador, Indonesia, Mexico and more as the finest for snorkelers, but Spain offers some of the best opportunities in Europe.
Are there coral reefs in Barcelona?
There is actually an artificial reef positioned out to sea from the beaches of Barcelona. This was put into place to encourage natural marine life.
You can also take a day trip from the city to the beaches of Tangolunda Bay, including Playa La Manzanilla, Playa Ventura and Playa Tornillo.
Can you snorkel in Malaga?
While the Malaga area of the Costa del Sol doesn't offer the best snorkeling in Spain, some parts are good for beginners or those on holiday in the region anyway.
The pleasant temperatures during summer make it a pleasant experience, even if you don't see that much in the way of marine animals.
Snorkeling in Spain | Final thoughts
With crystal clear waters and some of the best coral reefs in Europe, Spain makes a great snorkeling destination for vacationers who want to explore beneath the ocean's surface during their stay.
The Mediterranean sea is home to much more than its fair share of the world's sea life, and you have a good chance of seeing some of this during a shore or boat snorkeling trip.
Neptune grass meadows are also a particular features of the waters around the Spanish mainland and islands.
The best places to snorkel in Spain are spread across the Costas and the islands, so there may well be a decent snorkel spot near you when you're next taking a holiday in Spain – especially if you're heading to the Costa Brava or the Canary or Balearic islands.
Related: