If you're planning a family holiday to the Canary Islands, then you're going to want to know the answer to this question. Which is the best Canary Island for families?
With seven main options within the archipelago, which will suit everyone during a family getaway?
While access to a swimming pool might keep the kids happy for days on end, what if dad wants to hit the hiking trails or mom would like to stay somewhere with a spa, hot tub, and fine dining restaurant?
This guide will go through what each of the Canary Islands has to offer for a family vacation.
From where to find incredible landscapes, luxury hotels, or beaches with the characteristic volcanic black sand, this article outlines exactly what all the Canary Islands have to offer kids and adults.
Read on so you can plan your perfect week, fortnight, or longer stay in the stunningly beautiful, sun-drenched Canary Islands!
An Introduction to the Canary Islands
The Canary Islands – or Canaries – are a group of volcanic islands located off the coast of northwestern Africa.
Though the archipelago is Spanish, geographically the islands are closer to Morocco and Western Sahara than mainland Spain.
The popular Balearic Islands, including Mallorca and Ibiza, are even further away.
There are seven main Canary Islands you can visit: Tenerife, Gran Canaria, Lanzarote, Fuerteventura, La Palma, La Gomera, and El Hierro.
Each has its own unique character. Most holidaymakers tend to head for Tenerife, Lanzarote, Gran Canaria, or Fuerteventura.
That's not to say, however, that these four islands are the only option for a family vacation. Every island is family-friendly in its own way.
That may mean huge hotels with five swimming pools and resorts with golden sand beaches.
Or it may mean staying in a small village with an authentic Canarian feel, or where older kids can try scuba diving alongside their parents. It may, for your family, mean something else entirely.
Whichever you visit, the geographical location of the Canaries means they're a year-round destination.
So we're not only talking about the summer holidays here.
You can spend Christmas in Gran Canaria, for instance, or explore a UNESCO World Biosphere Reserve during the shoulder season when it's a little cooler.
The Canary Islands are for all seasons, and we say they're for all families too.
Whether you want to enjoy lovely sea views throughout your stay, have amazing service at a five-star resort, or bag a much-needed budget break for everyone, this is all you need to know.
Then you can decide which Canary Island might be best for you.
From families with babies, toddlers, or preschoolers to people travelling with teens or even grandparents, here's the lowdown on each island.
So you can decide which one might suit all the family.
Why are they called the Canary Islands?
Fun fact – The Canary Islands weren't named after the little yellow birds. It's said that they were so-called because Canaria is the Latin term for dog.
This moniker may be down to the fact that the first explorers saw many seals around the archipelago. Seals were often known then as sea dogs – hence the name.
The Canary Islands literally means the Dog Islands.
Tenerife
Tenerife is good for luxury hotels, theme parks, large resorts, beaches, nightlife, surfing, cycling, and golfing. 
The island's interior is also home to Mount Teide National Park, a UNESCO-listed site. 
More resorts can be found in the south, while the north is more unspoiled and slightly cooler.
Tenerife is the biggest of the Canary Islands. The first thing to note about Tenerife is that its larger size makes it a land of contrasts.
Tenerife has two airports – Tenerife North and Tenerife South.
As the south coast is more popular and home to more resorts, the southern airport is the busiest and is served by more charter flights.
Destinations like bustling Playa de las Americas and smart Costa Adeje are found in southern Tenerife.
In the north of Tenerife, you'll find places like Puerto de la Cruz and the island capital, Santa Cruz de Tenerife.
The north is cooler, wetter, and more unspoiled than the south.
This area is ideal for those who want to explore the natural landscapes north of Teide National Park, meet locals, and sample authentic Canarian and Spanish cuisine.
For a bucket-and-spade family holiday, the south is the most popular choice. If you want a hotel with, for instance, a children's play area and three swimming pools, then you're far more likely to find it in the south.
While the whole island is good for those who love theme parks, there are more options in the south.
For adventurous teens and adults, though, the north could be a better choice. It's also a little cooler in summer, which is good for those who want to hike, cycle, or explore.
Wherever you stay, you can also discover the entire island by car, or reach many destinations via local bus services or organised tours.
3 Best Tenerife Resorts for Families
Playa de las Americas
For half a dozen beaches, calm waters and lively nightlife, families may enjoy a stay in Playa de las Americas.
The resort is on the southwest coast of Tenerife, and you can sample all sorts of watersports here.
Older teens may love PDLA, as it's also known, as it really comes to life after dark.
For this reason, though, it's not perhaps the best choice for families with young children. Unless you book an all-inclusive option away from the after-dark mayhem, that is!
Costa Adeje
Blue Flag beaches, designer boutiques and luxury accommodations are what Costa Adeje is all about.
The resort is also convenient for the amenities and nightlife of neighbouring Playa de las Americas.
Some of the best hotels in the Canaries are located here, so there are hot tubs, fine-dining restaurants and spas a-plenty.
This resort is well suited to families, as kids are made welcome everywhere you go. The hotels also tend to offer good in-house entertainment.
Playa de la Arena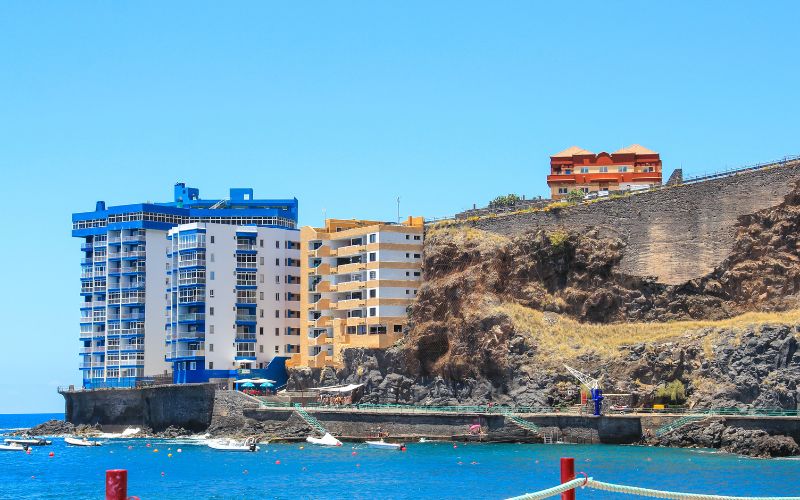 If your idea of the perfect family holiday involves eating good food, wandering around to explore the landscape and winding down, then Playa de la Arena could be a good family choice.
The resort boasts a clean, palm-fringed Blue Flag beach, plenty of cafes and restaurants close to the promenade and easy access to nearby resorts such as Los Gigantes.
Gran Canaria
Gran Canaria is good for golf, shopping, winter sun breaks, and deluxe resorts, and offers 70 kilometres of beaches.
Popular resorts for families include Maspalomas, where there are scenic sand dunes, Puerto Rico which offers good value for money, and Taurito which is compact and home to a water park.
Gran Canaria is also a family-friendly island popular with holidaymakers.
Life here is a little more low-key than in some parts of Tenerife. It's the second most popular Canary Island for a vacation, though it's the third biggest in terms of size.
In most cases, the resorts of Gran Canaria are more laid-back than those in southern Tenerife.
If you want to see a magnificent natural attraction during a family holiday, then don't miss the stunning Maspalomas sand dunes.
Las Palmas de Gran Canaria is on the island's northeastern coast and is the capital, while the dunes of Maspalomas are on the south coast.
If you have teens who want to party, a stay in Las Palmas could please everyone when you're not seeking a beach holiday as such. There are interesting cultural and historic sites here to discover.
Popular resorts in Gran Canaria for families include Playa del Inglés, Puerto Rico, and Playa Taurito.
3 Best Gran Canaria Resorts for Families
Playa del Ingles
Playa del Inglés boasts a broad, dune-backed beach with miles of golden sand – and there are more beaches in neighbouring Maspalomas and San Agustin.
The fact that there's a lot to do here by day makes this a family-pleasing option.
Older kids and adults can try out watersports on the beach here. There are lots of bars, cafes, shops, and restaurants along the promenade behind the sand dunes too.
Puerto Rico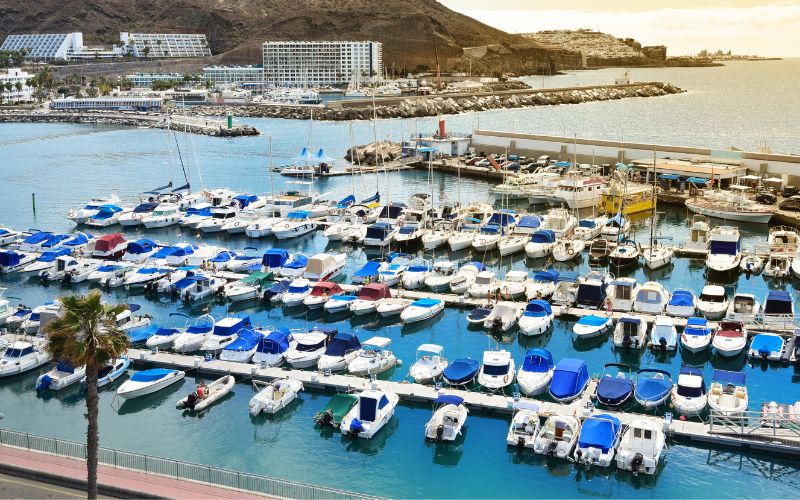 Puerto Rico gets more sunshine than any other Gran Canaria resort – and in the sun-soaked Canaries, that's saying something.
The Puerto Rico Beach in the centre is ideal for families, with a couple of swimming pools, cafes and pretty gardens close by.
This resort is something of a shopper's paradise, with a large two-storey mall housing more than 100 stores.
Decent nightlife for older teens can be had here, and there are family activities like amusement arcades and mini golf too.
Playa Taurito
Playa Taurito is the most low-key of the three resorts. It's not far from Puerto Rico but is more peaceful.
There are plenty of facilities here though, including a lifeguard service.
The beach here has black volcanic sand. Playa Taurito Lido waterpark is a star attraction here, and there are enough water sports and cafes to keep everyone well-fed, watered and entertained.
Lanzarote
Lanzarote is good for some of the Canaries' best beaches, low rather than high-rise resorts, spectacular scenery and lots of outdoor pursuits.
The landscape here is unique, romantic and very photogenic. An Aquapark and family-friendly resorts make this a good pick for active families.
Lanzarote arguably offers the most dramatic landscapes in the Canary Islands, and also offers some of the archipelago's most picturesque beaches.
It's also ideal for active families, as it's great for diving, surfing, cycling and hiking, and there aren't as many high-rise resorts here as on other islands.
Golden sand beaches, the Natural Park of Los Volcanes and the intriguing volcanic landscape give visitors plenty to see and do in Lanzarote.
Ranchos Texas Park ticks the theme park box, and there are lots for foodies, wine fans and culture vultures here too.
Lively Puerto del Carmen, smaller Costa Teguise and upmarket Playa Blanca are Lanzarote's main resorts. You could also base yourselves in Arrecife – the capital – for a more cultural break.
3 Best Lanzarote Resorts for Families
Puerto del Carmen
Puerto del Carmen is the liveliest resort in Lanzarote, but it also has a historic Old Town with good places to sample authentic local food.
The central promenade offers plenty of cafes, bars, restaurants and shops, and backs the three beaches of the resort.
Puerto del Carmen is conveniently placed for visiting Arrecife, as it's just 30 minutes away.
Playa Grande is well suited to families, while Playa Pocillos is popular with windsurfers and peaceful Playa Chica is situated in the Old Town.
Playa Blanca
Literally, Playa Blanca translates as White Beach, and indeed the glorious sands and sea here are the resort's main draw.
This is Lanzarote's newest resort and is located on the island's most southerly tip.
Playa Blanca is now an established resort with an upmarket vibe. Here you can sunbathe, swim, watch the yachts sail by and shop at the market and boutiques.
The lovely beach and laid-back air make this a good option for family breaks.
Costa Teguise
Costa Teguise is a resort with lots to recommend it. There are sandy beaches where you can try out various watersports – including windsurfing. Lanzarote Aquarium is also situated here.
Arty Pueblo Marinero square forms the main hub, and you'll find a range of shops, eateries and bars clustered around this area.
The resort is on the east coast of Lanzarote, and the island's Aquapark is located just to the west of Costa Teguise.
Arrecife is just 15 minutes away, and there's an 18-hole golf course close by.
Fuerteventura
Fuerteventura is good for watersports in particular, and the surfing, kitesurfing and windsurfing scene here is renowned.
The windswept island also offers some of the Canaries' finest golden sandy beaches.
Corralejo is the main resort, and Costa Calma and Caleta de Fuste are also popular with families.
Of the four main touristed Canary Islands, Fuerteventura is the most popular with surfers, kitesurfers and windsurfers.
So yes, it can get pretty windy here, but mainly during the winter months.
Fuerteventura is good for families as long as you select a sheltered resort.
Corralejo is the most popular resort by a long way, with Costa Calma and Caleta de Fuste next on the list.
Corralejo is the liveliest but isn't anything like Playa de las Americas in Tenerife.
Public transport is good in Fuerteventura, so it's easy to explore much of the island even without a hire car.
If you hanker after beach life, Fuerteventura is seen by some as the best Canary Island to visit, and many have golden sand.
For nature, water sports and beaches, Fuerteventura is a solid option.
3 Best Fuerteventura Resorts for Families
Corralejo
Corralejo is a lively Fuerteventura resort on the north coast of the island. It offers a selection of white sand beaches backed by a swathe of attractive sand dunes.
This resort is ideal for families who are into beach life – including surfing – and also offers a vibrant after-dark scene ideal for adults and older teens.
Despite development, the charming Old Town is still at the centre of Corralejo, and you can still see fishermen at work at the pier here.
Caleta de Fuste
Caleta de Fuste is a family-friendly Fuerteventura resort.
It's one of the sunniest spots in the Canary Islands and is ideal for active types who want to try out watersports. A volcanic landscape provides the area's dramatic backdrop.
With good accommodation options, plenty of beaches to pick from and a family atmosphere, Caleta de Fuste is a great family vacation destination.
Costa Calma
Costa Calma also boasts a broad sweep of golden sand and offers kitesurfing, sailing, windsurfing, snorkelling and diving.
The resort on Fuerteventura's south coast is also something of a shopper's paradise.
For active families who want to sample watersports, Costa Calma is a great place to be.
For older kids who want to shop till they drop or hone their watersports skills, this is a perfect choice.
La Palma
La Palma is a relatively untouched paradise for walkers, stargazers and fans of flora and fauna. The capital is also abundant in historic architecture.
This island is off the beaten package holiday path, so it's worth considering if you want to explore somewhere new as a family or simply enjoy a peaceful break.
This fertile island is fabulous for wildlife and hiking fans. It's known as a beautiful island locally and is a UNESCO World Biosphere Reserve.
La Palma's capital, Santa Cruz de La Palma, is also packed with buildings that have architectural or historical significance.
La Palma is more of a place for serious hikers, nature lovers, and star-gazers than the archetypal family holiday. If you're into those things, though, it could be the perfect destination.
Unspoiled La Palma is a world away from the package holiday liveliness of some Canaries resorts.
If walking, wildlife, and gazing at the night skies would keep you all happy, then head to La Palma.
La Gomera
La Gomera is good for day trips or weekend breaks taken from other Canary Islands. There isn't a lot of accommodation or attractions here, but its beauty lies in the remote, untouched feel.
For families, this is one to visit while in the Canaries rather than basing yourselves on.
La Gomera is harder to get to than other islands, but you can access it via ferry from Tenerife.
It makes a great day trip destination for those who want to discover the untouched natural landscape on foot. Garajonay National Park is a big draw, especially for hikers.
This island is far removed from the bucket-and-spade brigade.
You can explore it in a day or two, and if you do try to dine at one of the great restaurants in San Sebastián which serve authentic Canarian cuisine.
El Hierro
El Hierro is good for those who want to escape from it all, as it's the least developed island in the archipelago.
It's ideal for divers, hikers, kayakers, snorkelers, and eco-conscious types in particular, but isn't the best option for families with younger children.
The position of El Hierro gives the island a peaceful, remote feel.
There are no high rises built here at all, and the island is favoured among eco-warriors for its commitment to renewable sources of energy.
El Hierro is a place to meet the locals and get up close to the natural world.
If you want good value for money, flower-filled meadows, pine forests, and good opportunities for snorkellers, kayakers and divers, then it's worth paying El Hierro a visit.
The capital of El Hierro is Valverde, and this is the only Canarian capital located inland, away from the coast.
The Canary Islands for Families | FAQs
Are the Canary Islands good for families?
The Canary Islands are the perfect year-round family holiday destination. There are lots of outdoor and water-based activities to take part in, and lovely beaches to laze around on.
Family attractions such as theme and water parks only add to the appeal, and there are plenty of natural, historic and cultural sites to discover too.
Which is the best Canary Island for families?
Which Canary Island best suits your family depends on what you want to do while on holiday. Tenerife is the biggest island, so it offers the most choice and more to explore.
Gran Canaria is a little more laid-back, with good family amenities. Lanzarote offers the best beaches and most beautiful landscapes, while Fuerteventura is a must for watersports fans.
Which is better for families – Tenerife or Lanzarote?
Tenerife has the edge in terms of popularity, and it's also the largest Canary Island.
Lanzarote offers a more natural landscape and fewer rise buildings, but also a little less choice regarding accommodation and what to do.
Both boast great year-round resorts, so which to choose really depends on your preferences as a family.
Which part of Tenerife is best for families?
Most families bound for Tenerife head to the south. There are more family accommodation options and amenities here.
The climate of the south is also a little warmer and drier. For discovering the Canary Islands beyond the main resort area, though, the north is where to go for fertile landscapes and villages untouched by time.
Best Canary Island for a Family | Final Thoughts
A Canary Islands holiday is a great choice for a family break. The beauty of these islands is renowned, with their climate making this an appealing winter sun destination.
Whether your holiday on a Canary Island is all about the swimming pool, free WiFi and hot tub at the resort, hiking into the interior, shopping till you drop or trying out watersports on the Atlantic Ocean, the options here offer something for every family.
You don't need to limit it to one Canary Island or resort. Many holiday hotspots are within a short walk of one another, especially in Tenerife.
The other island you're longing to visit may also be easy to access by ferry, or you can explore the one you're staying on by car, bus or on foot.
With so much to offer, any family holiday to the Canary Islands is guaranteed to be a success. As long as you pick the island and resort that suits your interests, budget and preferences best!