Whether it's part of a cruise ship itinerary or you're planning a quick pit stop en route to a longer holiday in a seaside resort, don't miss this guide to what to see in Malaga in one day.
From Malaga cathedral and Café Central to the Picasso museum and Alcazaba – home of the Roman Theatre – these are the sights to see and things to experience.
Even during just a short stay in Malaga – a city now capable of rivalling its Andalusian neighbour Granada – you can see several of the main sights.
With new, upmarket developments like Malaga One being built, this Spanish city is also becoming increasingly well-placed to compete with Marbella.
Like its Costa del Sol neighbours, Malaga enjoys a sunny climate as well as plenty of historic and cultural attractions.
As the birthplace of Picasso, it's also a must-see for lovers of art. If you do want to see Malaga in one day, why not take your pick from the following recommended sights?
For ease of reference, these have been divided into categories covering museums and galleries, food and drink, cultural and historic sites, outdoor spaces and shopping.
There are crossovers, however – such as Atarazanas market, which is detailed under foodie experiences but could also be classed as shopping.
So do read the whole guide if you can to help you plan an itinerary for your perfect day in Malaga.
One Day in Malaga: 18 Sights to See
With so many sights to see and experiences to be had, which will make your hot list for a day trip to Malaga?
From great food, drink and retail therapy to Roman remains, palatial structures, fascinating museums, absorbing art galleries and pretty parks, these are the places and experiences you might not want to miss!
Oh, and of course, we mustn't forget Malaga's most famous resident ever – the mighty Picasso himself.
Cultural and historic sights in Malaga
Must-see historic, cultural and architectural sights of Malaga include Alcazaba and the Roman Theatre, the cathedral and Gibralfaro castle.
Fortunately, three of the four are located very close together, making it easier to maximise your visit to each one.
1. Malaga Cathedral
Colloquially known as La Manquita, Malaga cathedral is vast – and as yet incomplete.
The nickname La Manquita literally means 'One Armed Lady', referring to the fact that this imposing structure has just one tower instead of two.
As it dominates the city skyline, you can't really miss Malaga cathedral.
If you can, spend some time exploring both inside and out, and it's worth climbing the sole bell tower's 200 steps for those stupendous views.
You'll see Gibralfaro castle and Alcazaba spread out beneath you, giving a glimpse even for those who have limited time in this city on the Costa del Sol.
The peaceful interior features colourful stained glass windows, a richly decorated ceiling and even an organ with 4,000 pipes, while the outer displays both Baroque and Renaissance influences.
It's a must-see for most of those who spend any time at all in Malaga, Spain. This Malaga walking tour includes a visit to the Catedral and more. See more details below.
2. Alcazaba
A visit to the Moorish Alcazaba in Calle Alcazabilla allows visitors to the city to experience a couple of key attractions in one, including Malaga's Roman Theatre as well as the Alcazaba itself.
Its history dates back to the 11th century, and the palace itself was built on the site of a former Phoenician fortress.
The Alcazaba was constructed to help defend the Muslim rulers of this port in southern Spain from Catholic invasion, and both the fortress and its grounds are astonishingly well preserved.
As well as very attractive.
Alcazaba isn't only about the building – the gardens are also dotted with plenty of pretty courtyards, fountains and patios, while the hilltop location affords visitors a great view over the city.
A small museum also houses some fine examples of Moorish ceramics and pottery. When you are pushed for time, we recommend booking a tour with tickets included. This means you skip the line and get straight to the good stuff.
This Alcazaba and Roman Theatre Guided Tour With Entry has excellent reviews and runs for 1.5 hours, in English or Spanish. The 10.30 am tour is perfect for cruise ship visitors.
3. The Roman Theatre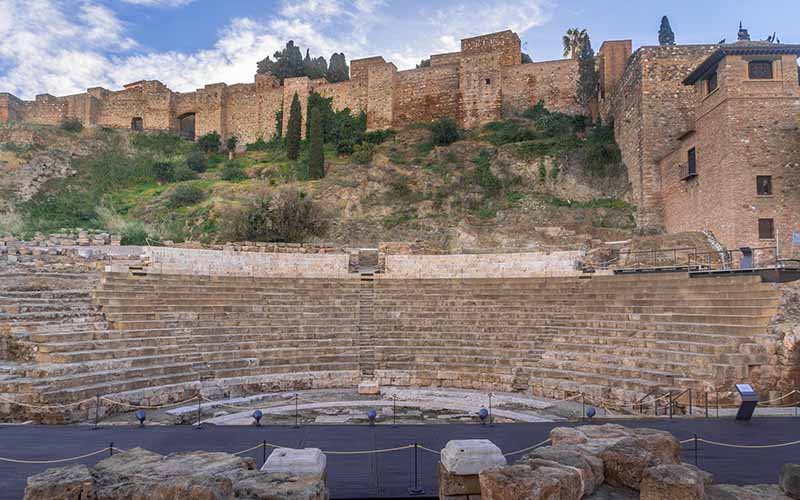 The Roman Theatre can be found at the foot of Alcazaba and dates back even further to the 1st century BC.
This impressive historic structure has now been lovingly restored and is a fabulous example of a typical Roman amphitheatre.
This is the oldest site in Malaga, yet was only discovered as recently as the 1950s, when a structure built over the top was demolished.
Today, it is a favourite among locals and city visitors for its programme of outdoor performances.
Related: 21 Magnificent Roman Ruins in Spain
4. Gibralfaro Castle
It's possible to walk up to the castle of Gibralfaro directly from Alcazaba, although doing so involves a steep uphill climb via the path connecting the two city sights.
The site can also be accessed via local bus route 35, departing from the Paseo del Parque, and the views from the castle across the city are superb.
Gibralfaro castle dates from the 14th century, when it was built to give the Alcazaba added protection.
The barracks on site also provided accommodation for soldiers.
If you're lucky enough to be blessed with clear weather during your visit, you may even be able to see the Strait of Gibraltar.
By night, the illuminated castle also makes a stunning sight.
Art galleries and museums in Malaga
Malaga is an art lover's paradise.
Contemporary art is showcased at the Pompidou Centre, while the Picasso Museum and birthplace tell the tale of one of Spain's most famous sons.
For fine art and a vast collection of archaeological treasures, head for the Museo de Málaga.
The city is in fact home to 30 museums in total.
5. Picasso Museum
The Picasso Museum – or Museo Picasso Malaga – is also a must for many visitors, paying homage to one of the most famous artists ever.
He is certainly one of the most famous Spaniards the world has ever known and was born in Malaga, although he resided in France for much of his life.
Malaga's Picasso Museum is often viewed as playing a key part in putting the city firmly on the cultural map, and was opened in 2003.
As it's housed in a 16th century building with an attractive watchtower, you also get to admire some more of the city's architecture at the same time.
Among the 30 museums Malaga is home to, this is numero uno, and it's all thanks to the Picasso family, who donated around 250 of his pieces to the city.
Visitors really rate the museum's guides, who will walk you through the fascinating story as well as the Spanish artist's works.
These include ceramics, sculptures and engravings in addition to sketches and paintings.
As works are displayed at the museum in chronological order, it's easy to get a feel for how Picasso developed as an artist, as well as seeing how he contributed to the Cubism movement.
Exhibits include short videos and photographs as well as the works of art.
6. Picasso's Birthplace
As well as the Picasso Museum, an art fan's visit to Malaga can include the Picasso Birthplace Museum on Plaza de la Merced at the end of Calle Alcazabilla.
The museum is housed in a 19th century building, and exhibits Picasso family belongings as well as original works.
Picasso was born in this building, and also lived here during the first few years of his childhood, giving those who visit a unique insight into one of the most influential artists ever.
The collection on display here even includes some of the master's baby clothes!
7. The Pompidou Centre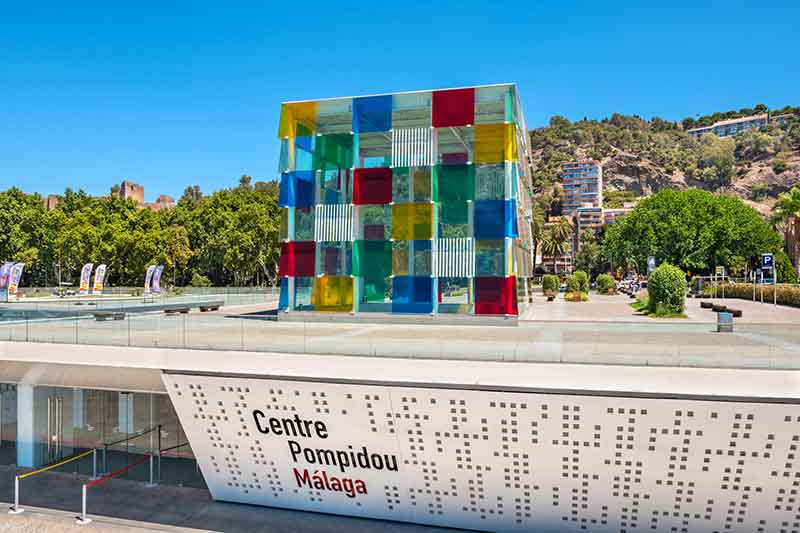 It's Parisian sibling may be more famous, but Malaga is home to the only other Pompidou Centre on the planet.
For fans of modern art, it's not to be missed – not least for The Cube that it's housed in – a colourful landmark in itself.
Simply stroll up Malaga's broad, attractive promenade and you cannot fail to spot Spain's hive of contemporary art.
Seeing the light stream through the square panels of the primary coloured stained glass windows is quite something – even for those who don't find the time to venture inside.
Insider tip: The Pompidou Centre is included with the Malaga Pass.
8. Museum of Malaga
The Museo de Málaga dates back to 1973 and houses an incredible collection of fine art, including a range of 19th century Spanish paintings.
There are also around 15,000 archeological artefacts exhibited here.
The museum can be found in the tropical style Paseo del Parque area.
Food and drink in Malaga
With more bars per head than any other country in Europe, Malaga in Spain is a great place to sample tapas, pick up picnic supplies at the market, savour a coffee break and sample dinner and nightlife combined.
The port is also a lovely place to stop for a bite to eat with a sea view.
9. Cafe Central
Whether you arrive in Malaga in the morning in need of a caffeine fix or want to take a seat while you sip in the afternoon, Cafe Central is the place to be.
Its location in Plaza de la Constitución makes it a great place for people watching, and the square also boasts the Genoa Fountain, a masterpiece in marble dating from the 16th century.
This cafe has become an institution among Malagueños, and offers ten different options with varying proportions of coffee and milk – the first being strong black coffee and the tenth simply a glass of frothy milk.
The weakest option actually containing coffee is actually 95% milk.
10. Spanish Tapas
Sampling authentic Spanish tapas is a must do for many on a 1 day itinerary.
Many who visit uncover their own hidden gem when wandering the cobbled streets of the old quarter, and you can also wash down a selection of small sharing dishes with some local Spanish wine.
11. Atarazanas Market
This authentically Spanish market is housed in what was once a shipbuilder's yard.
Everything sold here is fabulously fresh, so if you're feeling peckish during your one day in Malaga this is a must see – and sample – among the city's 15 or so markets.
With arched stained glass windows it's a joy to behold, but sampling local seafood, olives, meat, fruit, fish, cheese and more at Atarazanas Market – aka Mercado Central – is definitely the highlight.
Octopus, goat's milk cheese, 'boquerones' (local anchovies) and Serrano ham are particular favourites among those on a day trip, as well as local people.
12. El Pimpi
To dine at El Pimpi is as much about the showmanship as the food.
Huge barrels scribed by celebrities such as film star Antonio Banderas and former British Prime Minister Tony Blair sit by the entrance, preparing you for the party that's invariably going on inside.
El Pimpi's menu includes cured and cooked meats, seafood dishes and 'Ligeritos' – a soft-centred, sandwich with a crusty outer that's a house speciality.
As the restaurant is close to the Picasso Museum, it can make an ideal lunch stop.
The night time entertainment inside the 18th century building may include a flamenco show or live music, but be warned – audience participation is often part of the spectacle.
Booking is essential, so plan ahead if you don't want to miss the party!
Shopping in Malaga
There are shops all over Malaga, but the most popular destinations for day trippers include Calle Larios and El Corte Ingles.
If you are shopping for a gift or souvenir of your day in this Spanish city, local wine, flamenco dresses, olive oil and Andalusian pottery are among visitor favourites.
13. Calle Larios
If you're a fan of shopping till you drop, don't miss Calle de Larios, Malaga's upmarket retail thoroughfare.
Stores are open during the evening as well as by day, so there's plenty of opportunities to slot a little city centre shopping into your itinerary.
For a coffee break while in this part of town, city institution Cafe Central can be found nearby in the Plaza de la Constitución.
Lepanto cafe is also a popular spot, and can be found on Calle de Larios itself.
Specialising in sweet treats like cakes, pastries and chocolate confections, it's a great place to take a coffee break.
14. El Corte Ingles
El Corte Ingles is a much revered Spanish department store, and allows you to find all the clothing, accessories, homeware or souvenirs you could need in one place.
You can also grab lunch here if you like.
Outdoor spaces in Malaga
This sun-drenched Spanish city on the Costa del Sol has some beautiful and interesting open spaces, including a vast tropical park, a contemporary style promenade and even a beach.
Tracking down art that's tucked away among the streets of Soho and the waterfront is also a pastime that's growing in popularity.
15. City Promenade
It's well worth taking a stroll along the wide open spaces of the attractive promenade during your one day in Malaga.
Wandering along the sleek waterfront path takes you past the Alcazaba and Roman amphitheatre, as well as seeing the sunshine glinting off the stained glass windows of the Pompidou centre for contemporary art.
A selection of boats, yachts and even cruise liners can also be seen at the port.
16. La Malagueta Beach
Experience city centre beach life at La Malagueta. Located right by the promenade, you can also see Malaga's landmark lighthouse here.
As well as the stretch of sand and the sea, there are bars, shops, restaurants, cafes and ice cream parlours to be found here.
17. Paseo del Parque
These spacious tropical gardens are a very pleasant place to relax – or enjoy an impromptu picnic after shopping at Atarazanas Market.
Paseo del Parque took over two decades to complete and is home to over 500 plant species from all over the globe.
There are some impressive buildings to admire here too, including the Palacio de la Aduana or Customs Palace, which is home to the Museum of Malaga.
Other notable structures include the Bank of Spain, Post Office, City Council and University buildings.
The Paseo del Parque is a delightful place to spend some time, featuring children's play parks as well as the various sculptures and fountains that are dotted among the tropical flora.
18. Street Art
Wandering the back streets of Soho can be an intriguing experience – and despite the adult nature of some of the shops, this is a fairly safe area.
As the street art scene is ever-changing, there's little argument for pointing you in a particular direction.
Why not just explore the side streets to see what sort of Insta-worthy images you might stumble upon?
In Soho, street art has transformed a once run-down area into a creative hub; in fact some refer to the area as the 'art district' of the city.
As well as the huge artworks, the area is packed with cool bars and eateries and a range of unique, independent shops and boutiques.
There is also some street art to be found near Malaga's waterfront, and the city's showpieces include works by both famous and unknown artists.
One Day in Malaga – FAQs
Here are some of our answers to the most frequently asked questions regarding Malaga.
How do I spend a day in Malaga?
Why do you want to visit Malaga?
As you can see, the pastimes and pleasures on offer are varied, so it's important to consider your priorities.
Do you want to admire a range of contemporary art collections, relax on the beach or in a park, sample Spanish culinary delights, go shopping or soak up the city's history and culture?
What should I not miss in Malaga?
With some careful planning, you don't have to miss much, even when only spending one day on your visit to Malaga.
What would you be disappointed not to see?
Narrow it down to a few key sights, then you can plan your day around that.
Is Malaga worth visiting?
Of course – especially if you're heading to a Costa del Sol resort or want a refreshing change during your beach holiday in Spain.
As you can see, there is lots to do in this appealing, sun-soaked city.
What is Malaga famous for?
Being Picasso's birthplace is one of Malaga's most famous characteristics.
Now, this city by the sea in Spain also boasts the only Pompidou centre outside France, as well as some impressive historic sights such as the Roman Theatre, Alcazaba and the cathedral.
A visit also gives the opportunity of sampling beach life, go shopping, search for street art and taste Spanish delicacies and drinks.
When is the best time to visit Malaga?
When is best to visit Malaga really depends on what you want to do.
This Spanish city on the Costa Del Sol enjoys hot, sunny weather and warm seas during the summer months of June, July and August, while spring is a little cooler (but you should still include sunscreen on your packing list)
If you fancy having the museums, galleries and other sights to yourself, the period between October and February is the quietest.
This gives you more time and space to enjoy the architectural, gastronomic, cultural and historic highlights of the city.
Where is Malaga?
Malaga is located in southern Spain.
It is both within the autonomous community of Andalucia, and on the Costa del Sol.
Famous Mediterranean resorts like Torremolinos, Estepona, Marbella and Fuengirola are within easy reach.
Malaga lies to the southwest of Granada and southwest of Seville.
Gibraltar and its famous rock can also be found by following the coastline in a southerly direction.
Its airport is one of Spain's busiest, and many passengers flying into it are headed for the popular Spanish holiday resorts of the southern coast.
What will your one day in Malaga itinerary include?
Where will you spend that one day of precious free time in Malaga?
From modern art or Picasso to beach life and Roman ruins, you can get a real flavour of this city on the Costa del Sol in just one day.
Whether your day trip includes shopping on Calle Larios, street art, tapas tasting or a picnic in the park, we hope this guide helps you make the most of your visit.
Read next: 23 Things to Do in Malaga With Kids