Sun-drenched Malaga has long been the gateway to the Costa del Sol but is now seen as an attractive destination in its own right. The great news for families is that there are lots of things to do in Malaga with kids.
Family fun is easy to find in this southern Spanish city, whether you have younger children or older kids.
When you're planning a family vacation to Malaga, you really need this guide to all the best things to do in Malaga city with the children! So make sure you read and pin it before you next visit Malaga.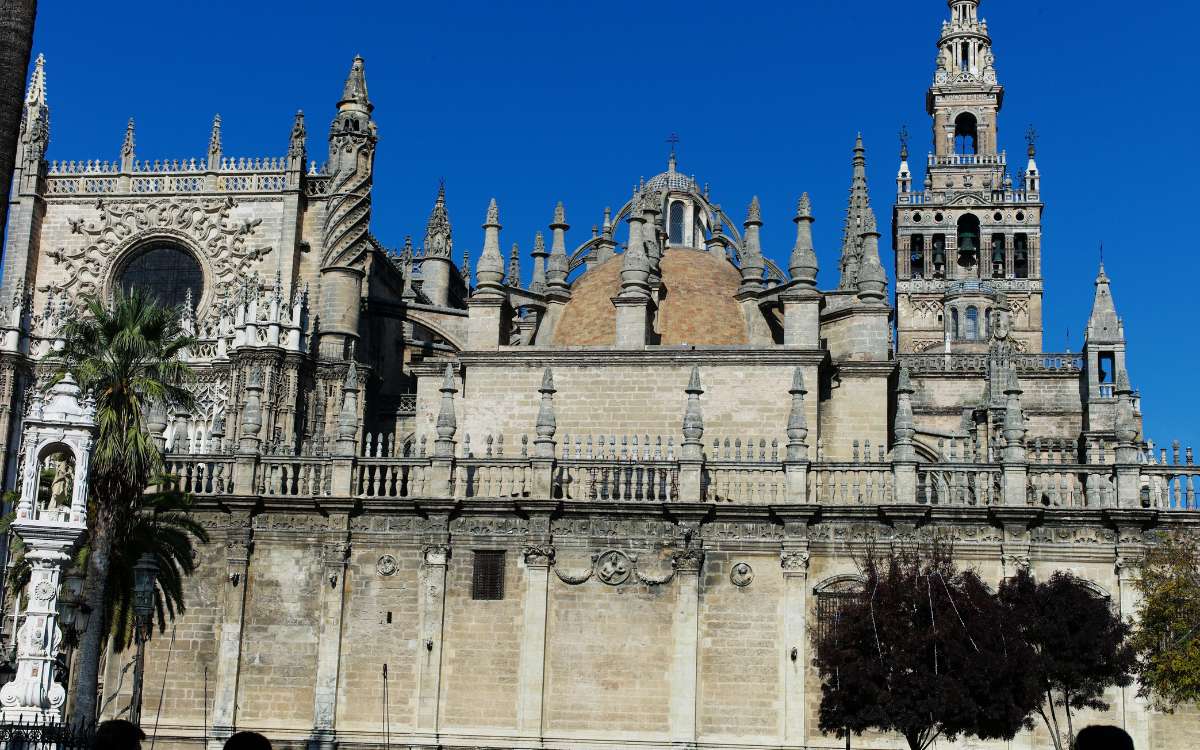 There's plenty here to keep the whole family happy, from man-made attractions like Tivoli World amusement park or Selwo Marina Delfinarium outside the city to natural hotspots like La Caleta beach on the shores of the Mediterranean sea.
This sunny city in southern Spain is the ideal day trip, short break, or longer holiday destination. Plus it's easy to combine with the resorts of the famous Costa del Sol.
23 of the Best Things to Do in Malaga With Kids
Whether you're spending one day in Malaga or are staying for a week, continue reading to discover 23 totally awesome things to do in Malaga with kids!
1. Gibralfaro Castle, the Alcazaba, and the Roman Theatre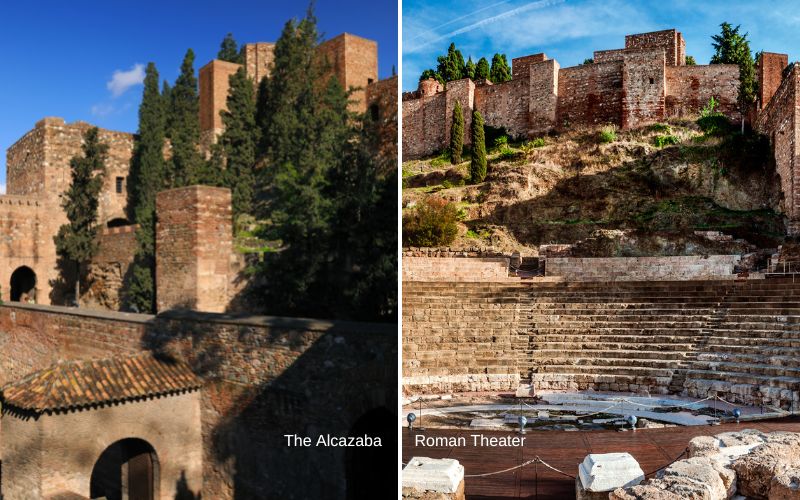 Few kids can resist a real-life castle, and you get to see several ancient sights in one when visiting Malaga.
The Alcazaba, a Roman amphitheatre, and Gibralfaro Castle can all be found within the same historic site.
The Moorish Alcazaba isn't as famous as Granada's Alhambra or Seville's Alcazar.
Frankly, this is unfair, as the Alcazaba is very well preserved and dates back to the 11th century. It was constructed on the slopes of the Gibralfaro mountain, from which the castle takes its name.
There's also the Teatro Romano de Málaga to see in the area. Much of the structure is well preserved, and there's a modern museum here to help kids interpret what they're seeing.
Finally, bribe the kids with Spanish sweets so they'll happily head uphill to Castillo de Gibralfaro. It's well worth it for the stunning coastal views alone, but seeing the fortress up close can also make history come to life.
Admission to the Gibralfaro Castle Interpretation Centre is included with the Malaga Pass, so don't miss it if you have one of those!
2. Plaza de la Merced
Plaza de la Merced is the most popular square in Malaga city center. It dates back to Roman times, and there's a statue of Picasso there.
There are pretty flowers blooming in the square during summer, and you may see local kids zooming around on their bikes and scooters.
It's a fun place to hang out, and there are plenty of cafes to grab a coffee, have a bite to eat or even try tapas in the area.
Picasso Tapas Bar is recommended by some visitors and is located right there on the square.
3. Parque de Malaga
Malaga's central park can be found between the port and the city center. It's cleverly landscaped, with various areas to discover.
You can walk to the park from the centre of town, so why not take a picnic along? (You could stop at the Ataranzas Market to stock up beforehand, which is next on this list.)
Inside the park, you can find fountains, a bandstand, statues, and kiosks selling snacks and drinks.
4. Malaga Botanical Gardens
Jardín Botánico Histórico La Concepción in Malaga is a century-and-a-half old and is located in the north of the city.
The garden is one of just a handful in Europe that's home to the continent's native subtropical plants.
Traditional and exotic architecture and flora co-exist in harmony here, and the site officially became a historical-artistic garden during the 1940s.
As well as all the glorious flora there are some impressive structures to see here.
If you visit in winter, you might also see the gardens transformed into a Christmas wonderland.
6. Atarazanas Market
The lure of tasty treats should be enough to tempt the kids into visiting Mercado Central de Atarazanas.
This centrally located market in Malaga is open daily except on Sundays, and make sure you arrive hungry!
Children love choosing their own fillings for a Spanish bocadillo sandwich.
The covered market itself is also a great example of architecture from 19th-century Spain.
If you want to try authentic tapas, there are several bars to sample at Ataranzas Market too.
6. Spanish Tapas Class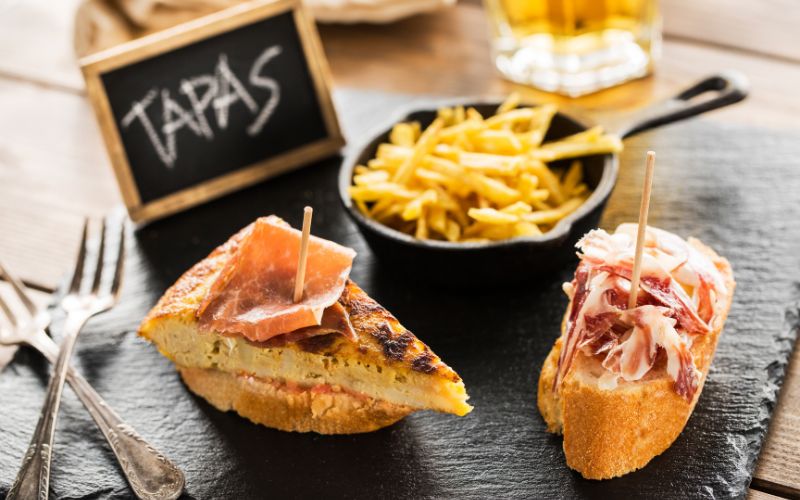 Ramp up the kids' foodie experience a notch by taking them to a Spanish cookery class. Tapas dishes in particular are fun to prepare – and to eat!
Some classes will also include a visit to Mercado Central de Atarazanas, as mentioned above, to shop for ingredients.
There are plenty of classes to choose from via suppliers such as Viator, Get Your Guide and Airbnb Experiences.
7. Segway Tour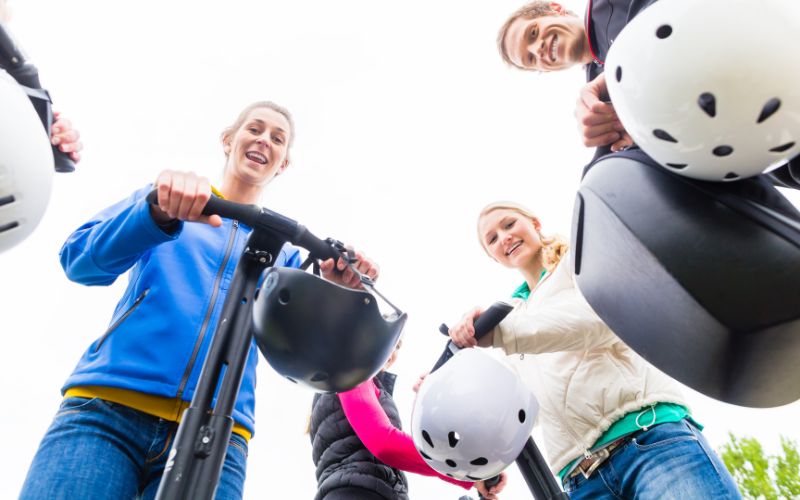 To see a Spanish city from a different perspective, why not take a Segway tour of Malaga?
This is among the best things to do in Malaga with kids who are older.
Even a fussy teen is sure to be impressed by these clever machines that can whisk you around the city in no time.
8. Spanish Flamenco Show
If you want to see an authentic Spanish Flamenco show, then Malaga is as good a place as any in Andalusia.
Whether your kids briefly dabbled in ballet or are committed to practicing dance on a daily basis, they're sure to be entranced by the costumes. Not to mention the moves.
Tablao Flamenco Alegría near the Pompidou Centre is a good bet when you want to book tickets.
9. Interactive Music Museum
The Museo Interactivo de la Música de Málaga (MIMMO) is an especially family-friendly music museum.
What's great is that children can get really hands-on here, trying out various instruments to see what they like the feel and sound of.
There's also a vast collection of musical instruments to see, plus touchscreen displays to enhance the immersive experience.
10. Museum of the Imagination
This fully interactive experience is one of the best museums in the city and one of the top things to do in Malaga with kids.
Even older kids shouldn't roll their eyes at this one, as there are some cool optical illusions to spark their imaginations.
It's worth visiting for the photos alone, as you can capture images that will last a lifetime.
Games involving shadows and a dedicated kids' room also make this the ideal spot to include on your Malaga with kids itinerary.
11. Plaza Mayor
Plaza Mayor is located between the city and the airport. So it's a good place for family fun if you have hours to kill before a late flight.
This is a shopping and entertainment mall rather than a city square, with a large cinema, a games arcade, lots of stores and some outdoor play equipment for kids.
12. Malaga Airport Museum
Their generation may see air travel as the norm, but a visit to the Museo del Aeropuerto Malaga can transport the kids to another time.
Malaga Airport Museum is interesting for the whole family. It's also close to the airport, so is simple to combine with your arrival in or departure from Malaga if you plan ahead.
You can see old aircraft at the museum. Kids can also learn about past times when air travel seemed an unattainable luxury to most people!
13. Tivoli World Amusement Park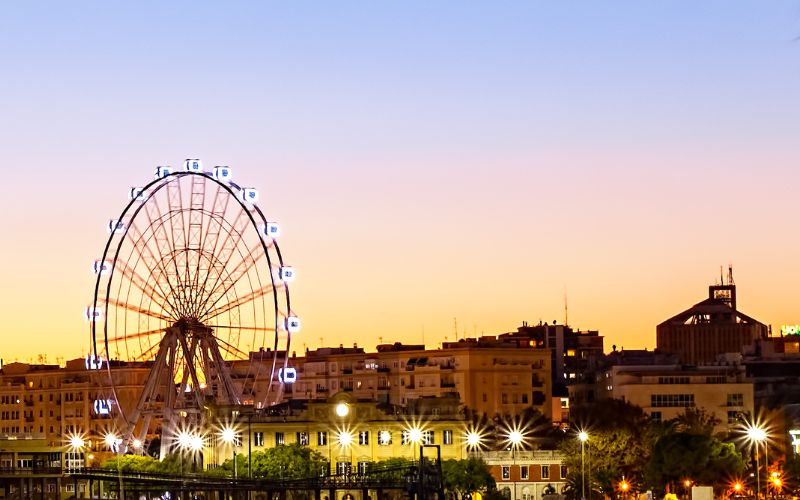 Tivoli World amusement park tops many a kid's wish list and offers over 40 activities and thrilling – or more gentle – rides.
Like other Costa del Sol and Malaga attractions, Tivoli World amusement park is in nearby Benalmádena.
That's no biggie, though, as you can take a 45-minute train ride to Benalmádena, or reach it in around 30 minutes by car.
With shops and eateries on site, you could easily make a day of it here, or combine the park with a visit to Selwo Marina Delfinarium or the aquarium.
14. Butterfly Park
Benalmádena is also home to the Butterfly Park, around half an hour's drive from Malaga or 45 minutes by rail.
It's not only fluttering insects you can see here, but also a Thai temple. This creates some interesting photo opportunities when you remember you're in Spain!
Around 1,500 species call the tropical environment at the Butterfly Park home, and there are plenty of educational displays so kids can learn all about how these beautiful creatures live and reproduce.
15. Sea Life Benalmádena
If you fancy taking a break from the city, can be found in nearby Benalmádena.
It's around half an hour's drive from Malaga city centre when taking the MA-20 north, or you can take a 45-minute train trip.
Sea Life Benalmádena belongs to the group of Sea Life centres in Europe, so it has big-name backing.
You can see some pretty big creatures here too, including sharks and sea turtles. Colourful tropical fish complete the picture.
There's also a hands-on interactive water zone, and coastal creatures such as otters are also residents.
It's good to know that what you spend when visiting helps to fund Sea Life conservation projects such as the Beluga Whale Sanctuary in Iceland.
16. Selwo Marina Delfinarium
Also located in Benalmádena, Selwo Marina Delfinarium offers a truly interactive experience.
Here kids can enjoy swimming with sea lions, meeting penguins, and getting up close to dolphins.
If you want to encounter dolphins and sea lions straightaway, head for the Antillas area. This is one of four zones that are home to marine life from all over the world.
There's no other park like this in Andalusia, and it has more of a local feel than Sea Life Benalmádena.
As they're in the same area, it would be easy to visit both Selwo Marina Delfinarium and Selwo Marina Delfinarium in one day.
17. Aquamijas Waterpark
Family fun at a waterpark can be an unmissable part of any visit to Spain.
Aquamijas Waterpark is under half an hour's drive south from Malaga, and is also conveniently located for the resort of Fuengirola, which is within walking distance.
Alternatively, you can catch a train between the city and the resort, and the trip takes only 48 minutes.
If you do drive, you can combine a visit to Fuengirola with a day at the water park. The Miramar Shopping Centre is also close by, offering a vast array of places to shop, eat and drink.
Aquamijas Waterpark itself has a wave pool, some good slides, and play areas for kids.
A bonus for adults is the presence of sun loungers and snack bars, so you can sit back and relax while keeping an eye on the children.
18. Bioparc Fuengirola
A must for animal lovers, the Bioparc is also located in Fuengirola. So you can reach it via a 48-minute train ride or a half-hour car trip. And of course, there are lots of other things to do in Fuengirola too.
If you're concerned about the youngest kids getting tired, the play area should soon see them through.
There are some pretty special animals and birds to see here too, all in enclosures that replicate their natural habitat as closely as possible.
Whether you'd like to spot a Sumatran tiger in the jungle or a Komodo dragon on an Indonesian island, head to Bioparc Fuengirola to see them living in conditions that are as close to the wild as possible.
19. La Malagueta
La Malagueta is situated close to the port of Malaga, so it's easy to access from the city center. It's a bustling area with lots of shops, bars and eateries along the busy promenade.
La Farola lighthouse marks the end of this locale, and it's also home to Malaga's Centre Pompidou displaying contemporary art. You can also learn about the history of Spanish bullfighting at the Plaza de Toros bullring.
The beach here also has a kids' park, sunbeds, and a yacht club. Despite its central location, the beach also boasts Blue Flag status for cleanliness.
20. La Caleta Beach
Playa la Caleta lies east of central Malaga and La Malagueta and is one of the city's most visited beaches.
You'll find palm trees, grey sand, and moderate swells here, so it's good for sunbathing and taking a refreshing dip.
Amenities at La Caleta include kids' playgrounds, sun loungers, fitness equipment, and pedalo rentals.
21. El Palo Beach
El Palo beach is popular with locals, and good family facilities make it a good choice for those visiting the city with kids.
A shady lawn with palm trees provides some respite from the searing summer heat. There are also some good-value beachfront bars selling freshly grilled seafood.
El Palo also has Blue Flag status and is home to the Feast of Our Lady of Mount Carmel festival every summer, held on July 16th.
22. Las Acacias Beach
If you want to get the kids to try fresh fish and seafood, Las Acacias beach is the best place in Malaga to go.
Not only is the seafood super fresh, it also tends to be great value for money here.
As it's less crowded than other beaches in the Malaga area, Las Acacias also feels like something of a hidden gem.
As it's over a kilometer long, there's also lots of space here for everyone.
23. El Candado Beach
El Candado beach is a compact Malaga beach offering parasol and sun lounger rentals in summer.
There is also an upmarket restaurant on the seafront here. Located within Club Nautico, this is a nice place to go if you want to see the stylish side of life in southern Spain.
Things to Do in Malaga With Kids – FAQs
Is Malaga in Spain good for kids?
Malaga has lots to offer for family fun in the sun! There are beautiful beaches, a nice port, some glorious gardens, fascinating museums, a rich history and of course flourishing food and arts scenes.
A day trip if you're staying on the Costa del Sol is a great idea, but staying longer if you can is highly recommended.
Are 2 days enough for Malaga?
A couple of nights in Malaga will let you see selected sights, and get something of a feel for this appealing Spanish city.
Three days is better, though, as it gives you time to have a beach day as well as visit historic, cultural, natural, and family attractions.
Is Malaga nice for families?
Malaga is great for families. There are historic sites, good museums, great parks, fabulous food and of course lovely beaches. As it's less touristed compared to some other cities in Spain, you can also get a real feel for Andalusian life in Malaga.
Malaga With Kids – Final Thoughts
With fewer tourist crowds than the likes of Madrid and Barcelona, balmy weather, and beautiful beaches, Malaga with kids is a great idea.
From some of the finest Moorish and Roman sites in Spain to a fabulous foodie scene, pretty city parks, and all the family attractions of the Costa del Sol close by, Malaga really does offer something for every kind – and age – of the visitor.