If you want to find things to do in Barcelona with kids, welcome! This city in northern Spain is a fabulous destination for family holidays, as there are so many child-friendly attractions to explore when visiting Barcelona.
The following list could easily keep kids and adults alike amused for a week or more in this beguiling Spanish city.
Whether you're taking a weekend break or a longer Barcelona family holiday, there are both educational and fun things to do in the Catalan capital.
When the kids are tired of exploring the tourist attractions, you can also take a beach getaway without even leaving the city.
In fact, this amazing city is like one large playground, adorned with colorful tiles, dotted with green parks, and situated on the northeastern Mediterranean coast.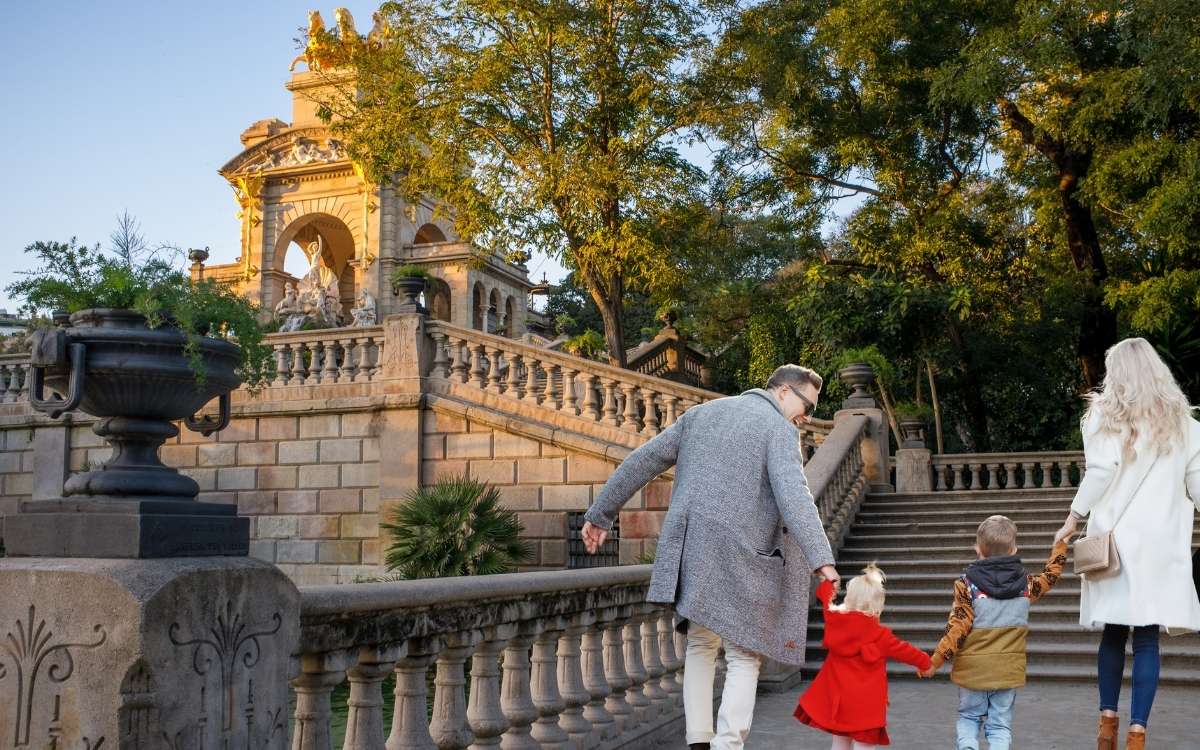 35 of the Best Things to Do in Barcelona With Kids
From locations associated with the renowned artist and architect Antoni Gaudi to kid-friendly sites like Tibidabo amusement park, riding on cable cars, exploring the botanical gardens, or enjoying a beach day, there are so many fun things to do in Barcelona with kids!
Read on to discover all 35 of our top picks so you can plan your perfect family trip to Barcelona.
1. Hop-on, hop-off Barcelona bus
Family tours of this Spanish city don't come more flexible than the jump-on, jump-off bus routes run by local companies.
You can use it as a continuous introductory tour, or get on and off at whatever stops you like.
It's a great one to take at the start of your trip, as seeing the city spread out beneath you from the open upper deck can really help you hone in on the sights you'd like to see.
You can also use it throughout your time in Barcelona as a way to get around.
Buses run regularly and it's easy to get on and off as you wish, though during peak periods you may experience queues at some of the most popular stops.
2. Park Güell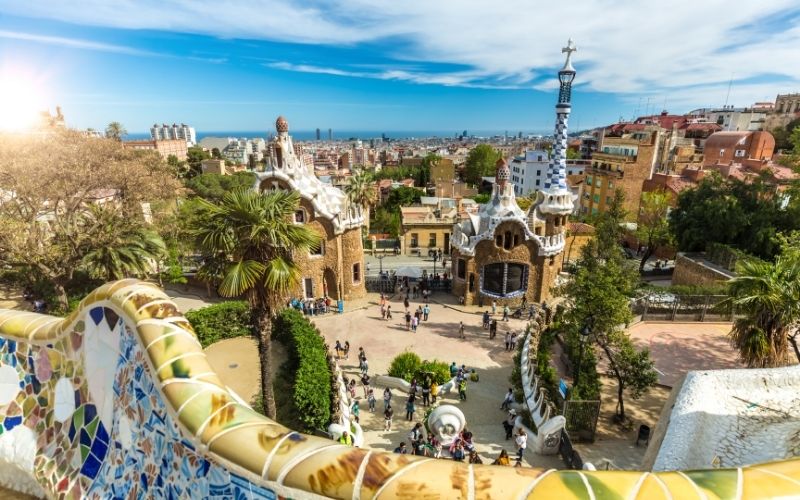 Park Güell can also act as the ideal introduction to Barcelona. You can see over the entire city from here for starters, and it's perfect for kids who need to let off steam after a long journey.
This park is also a great prelude to discovering the works of esteemed artist Antoni Gaudi, as the colorful tiled decorative features will enchant them immediately – getting them interested in his other works in advance of your visit.
The Forest zone at Park Güell is free to enter, but you'll need to pay to explore the Monumental Zone.
Tickets for this are best booked in advance and are well worth the money as the best parts of the park can be found here.
There is a picnic area and adventure playground in this zone, so take your own food along if you want to linger during lunchtime.
3. Gaudí Experiència 4D
Gaudí Experiència 4D is located close to Parc Güell, and like the green space, it acts as a great introduction to the works of Gaudi.
There is a 4D movie theater showing a film about the great artist, plus exhibitions including interactive touch screen displays.
If you or your children are studying modernism or are into art, then Gaudí Experiència 4D is well worth popping into when you're visiting the famous park nearby.
4. Casa Batlló
Casa Batlló is located on Passeig de Gràcia in the center of Barcelona.
It's renowned as one of Gaudi's masterpieces, and older kids in particular will be entranced by the fantastical interior as well as the fully immersive spaces.
You can experience Casa Batlló as an open-air museum from the outside if you like, or buy an entrance ticket venture inside to discover a weird but wondrous world full of charm and color.
Originally designed as an apartment block, Casa Batlló is quite unlike any other residential building on earth. The architect's signature flourishes immediately to make it stand out from the other structures on Passeig de Gràcia.
This is also one of Barcelona's most upmarket streets, so you may wish to browse the designer stores or enjoy an exclusive dining experience while you're in this part of the city. When in Barcelona and all that.
5. Sagrada Familia
Sagrada Familia is Barcelona's number one iconic landmark and you simply cannot miss it off your itinerary!
If you think this structure holds no appeal for younger visitors, then please let us tell you that you're mistaken.
Yes, it's a cathedral, but this is no ordinary church. This one was orchestrated by an architectural and artistic genius – yep, you guessed it, Gaudi himself.
As such it's far more fascinating to kids than your average house of worship.
Whimsical shapes, the clever use of color, and a magical feel mean that Sagrada Familia could well be the most absorbing cathedral on the entire planet.
Don't just have a look from the outside – you need to go inside to fully appreciate this architectural, fantastical marvel.
6. Mosaiccos Barcelona
If your kids would like to try their hand at creating some Gaudi-esque masterpieces of their own, then a visit to Mosaiccos Barcelona is surely in order.
It's a great place to go when you visit Barcelona if you want to have a go at creating some mosaic masterpieces of your own – and of course, you get to take them home as souvenirs too.
If the idea of a relaxing crafty afternoon that might also give you some insight into the mind of a great artist appeals, then a trip to Mosaiccos Barcelona might just be one for your to-do list.
The central location is also a plus point – and it's the ideal rainy day activity.
7. El Rei de la Màgia
If you like to visit attractions that are somewhat off the beaten path, then El Rei de la Màgia holds plenty of appeals.
It's the world's oldest magic store, and the historic interior is like something found in Diagon Alley in the Harry Potter movies.
The owners will happily put on an impromptu magic show for visiting children, and will also demonstrate how to operate any trick kit you decide to buy.
If you do visit, please do support this ancient shop by buying something to take home with you.
Any item picked up here is far more special than any souvenir you'll find in one of the tacky tourist traps clustered around La Rambla.
8. Gothic quarter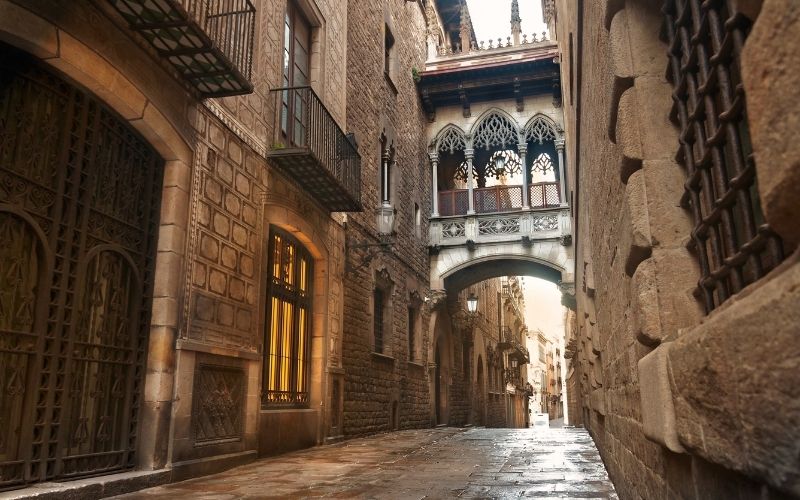 Barcelona's gothic quarter – known locally as the Barri Gòtic – is located in the city center. It's a maze of medieval streets clustered around the La Rambla area.
No visitor to the city can miss it, and there's plenty to charm kids and adults alike.
To wander the narrow, twisting streets here is like taking a real-life trip into history.
There are fun places like an old sweet shop and local restaurants with outdoor tables as well as sights to see such as the Barcelona cathedral and Roman remains.
This part of the city center is a good place to explore early on in your visit, as you may wish to return again to a favorite café or quaint little store you've discovered.
The area is often seen as the beating heart of the Catalan capital.
This is also a very touristy area, however, so do try to duck down some hidden little alley so you have a chance of uncovering a true gem rather than falling into the lure of a tourist trap.
Anywhere the locals stop for snacks or refreshments is a good bet!
9. Churros y chocolate
While you're wandering the ancient streets of the Barri Gòtic, look out for Granja Viader on Carrer d'en Xuclà. For many, this is the home of the best churros in Barcelona.
This classically-styled café also sells sandwiches, pastries, ice cream, and coffee, so it makes for a great lunch spot.
Granja Dulcinea is along the same lines and is also one of the top places for churros and chocolate in the city.
Whichever you pick, morning is the best time to go for these famous deep-fried donut fingers served with hot chocolate for dipping.
10. Tibidabo amusement park
This Barcelona amusement park makes a refreshing change from the usual sightseeing, especially for young ones.
Its hilltop position, meanwhile, offers stunning views to please the grown-ups.
For many visiting Barcelona with kids, this amusement park is a must, though it can be sweltering during summer.
Taking a picnic here is popular among Catalonians, though there are some on-site catering outlets.
Young children love the classic and colorful funfair rides, and each is included once you've paid for admission.
They are also color-coded so you can see at a glance which is suitable for younger or older kids.
11. Illa Fantasia water park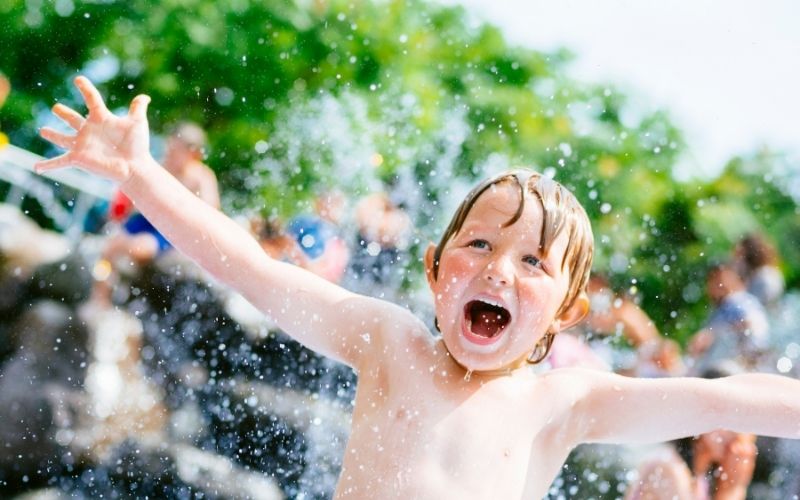 If the idea of tramping around theme parks during summer really doesn't appeal to everyone, then why not take to the water instead?
Illa Fantasia water park makes the ideal day trip and can be accessed via mainline train.
The trip takes around half an hour each way, and to sweeten the deal a free shuttle bus will collect visitors from the station.
The water park is open during the summer months and has 3 giant-sized pools, a large picnic area, 22 slides, showers, changing rooms, food outlets, a souvenir store, and even hammocks to rent.
12. Palau de la Música Catalana
Not every city boasts a UNESCO-listed World Heritage Site as a concert venue, but Barcelona does.
The Palau de la Música Catalana is in fact the only music hall of its type anywhere to be awarded this accolade.
In a city packed with breathtaking works of art and stunning architecture, a visit to this venue makes a welcome change for fans of music of all ages.
The venue was designed and realized in an art nouveau style that is uniquely Catalonian, and its colorful appearance ensures it appeals even to younger kids.
13. Barcelona zoo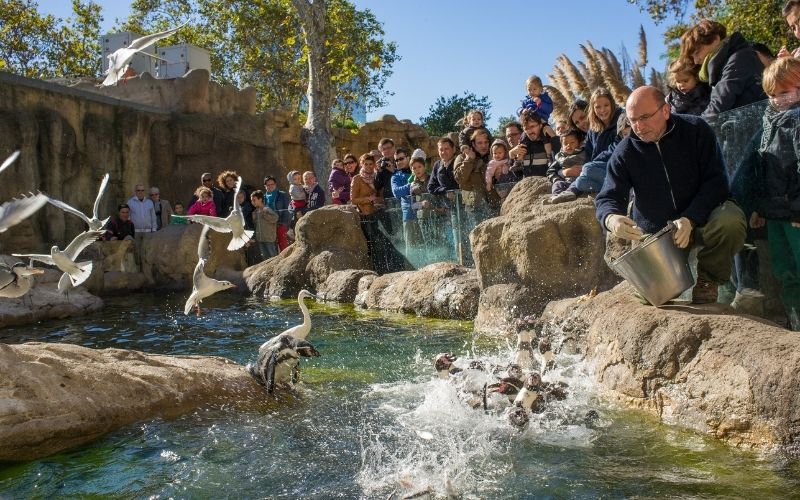 Barcelona zoo is centrally located in the city's Parc de la Ciutadella, and as with all zoological parks is a place young kids find hard to resist.
With open fencing, the zoo animals appear close enough to reach out and touch – although of course this is not recommended!
An interesting fact to share with the kids during your visit is that a longtime resident of Barcelona zoo was the world's only known albino gorilla, Snowflake.
The gorilla lived here until passing away in 2003.
The zoo has a firm focus on conservation and preserving endangered species, so your visit can be an educational experience as well as a fun one.
Other highlights of Barcelona zoo include the electric train, a picnic area, large play parks, and a farm zone offering pony rides.
14. Ciutadella park
If you only have time for one park while in Barcelona with kids, then it could be a tough decision between Parc Güell and Ciutadella park.
This park is a favorite of locals and visitors alike and the shady trees and man-made lake can provide some welcome respite from the heat of high summer.
One of the most fun things to do here is to row boats on the lake, or you can ride around the park on rickshaw-like pedal bikes that seat up to four.
There are some great photo opportunities to be had at this city park too, including the huge woolly mammoth statue and the epic fountain designed by none other than Gaudi.
This dates back to the earlier days of his art career.
Take a picnic along to Parc Ciutadella and you might just end up spending an entire day here.
15. The Museum of Natural Sciences
The Museu de Ciències Naturals de Barcelona is one of the most impressive natural history museums on earth.
Housed in an incredible Moorish-style structure, it's striking from the moment you set eyes on it.
Inside, kids can discover a collection of stuffed animals that look nothing like their pastel-colored soft toys, though they may find the museum's extensive geology exhibits a little dull.
It's a vast, well-kept museum with informative, cleverly thought-out displays, and could easily occupy two or three hours of your time – or more.
There are play parks for children of various ages here too, which can be found behind the main building.
16. Barcelona beaches
No trip to Barcelona is really complete without a beach getaway, and the whole family can enjoy this relaxing escape without as much setting foot outside the city.
The soft golden sands of the Barceloneta neighborhood are easily accessible but can get crowded, especially at weekends.
There are some quieter city beaches too, including Bogatell and Icaria Nova.
Though prices are high, it is handy being able to grab a chilled drink on a hot day from one of the vendors who stroll along the sands to drum up custom.
You can also rent sun loungers with parasols during summer, or take part in various watersports.
17. Barcelona boat trip
A fun activity for the whole family when visiting Barcelona with kids is to take to the seas on a short trip.
Typically these tours from the water last around forty-five minutes to an hour, and you can sometimes take an evening trip for free if you hold a Barcelona Family Card.
Dolphins are sometimes spotted in the ocean here. But be warned – it's one of those family-friendly activities that is guaranteed to prompt requests for ice cream to eat while touring the harbor!
18. Spanish tapas
Sampling Spanish tapas is a great way to try kids out on new foods.
These sharing plates are typically small, so there's not much waste if no one likes it – and the chances are that the adults at least will.
Dishes like tortilla (Spanish omelet), pan con tomato (tomato-topped bread), and patatas bravas (poor man's potatoes) are often a hit, even among fussy youngsters.
There are tapas places everywhere – particularly around the bustling Gothic quarter – or you could ask at any of the family-friendly hotels in the city for a locals' recommendation.
19. Cable cars
Somewhat unusually, Barcelona has not one but two cable car systems for visitors to take a ride in.
Not only do kids and adults experience a fun trip, but everyone also benefits from a bird's eye view of the city.
You can pick between the Montjuïc and Port cable cars – aka the Telefèric de Montjuïc or Telefèric del Port.
The Port cable car takes under ten minutes, while the Montjuïc cable car ride is around five minutes long.
As you might expect, the Port cable car gives you great views over the coastline. While its Montjuïc counterpart whisks you up to the top of Montjuïc hill, where a castle is among the attractions.
20. Barcelona Olympic park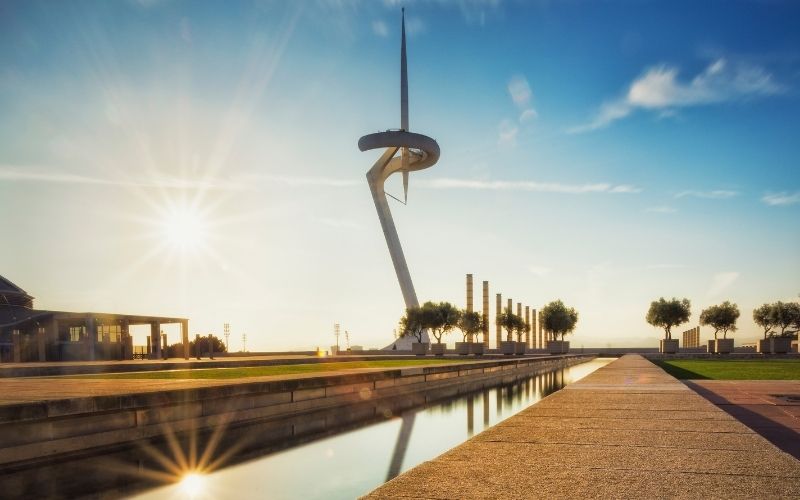 The whole of the Montjuïc area is packed with attractions for the whole family.
Nestled among the foothills, you can find the swimming pools used during the Barcelona Olympics in 1992, as well as an array of other sporting facilities and arenas.
The Olympic stadium here has hosted concerts featuring world-famous artists such as the Rolling Stones, David Bowie, Madonna, Bruce Springsteen, Michael Jackson, and many more.
There is also a museum right by the big stadium.
Other sites that have become major landmarks include Palau Sant Jordi, another large stadium, and the striking Telecommunications Tower.
21. Poble Espanyol
Poble Espanyol is an open-air museum that's also located in the Montjuïc area. It showcases faithful reproductions of Spanish structures and streets from all over the country.
These are life-sized, and wandering around the site makes an interesting architecture and geography lesson for children of all ages.
Regular events and exhibitions are also held at Poble Espanyol, and you can also buy authentic Spanish handicrafts from the stores on site.
Some activities attract an extra charge and must be booked in advance.
22. Montjuïc magic fountain
The 'magic fountain' in Barcelona is a delight for adults and kids alike, so it's a sight the whole family can enjoy seeing together.
This is one of those family-friendly activities to reserve for the evening when the spectacular light show takes place several times per hour.
The colored lights move in time with the music, making the water appear to be dancing.
Check out the latest show times here before you set off – they vary throughout the year and the fountain can be closed off periodically for maintenance works.
Montjuïc magic fountain is best viewed after dark. But if you want to avoid the crowds – or have young children who'll be too tired by then – you can see it in ornamental mode during various times of the day.
23. Barcelona botanical garden
Jardí Botànic de Barcelona can be found in Montjuïc Park and occupies a 14-hectare site filled with flowers and other plants from around the world.
The hilly site can be challenging for those with younger children. But for those aged eight or over the landscaped gardens provide families with a lovely place to wander around in the fresh air.
There are zones dedicated to various locations from around the world such as Chile, Australia, California, South Africa, and the Mediterranean. So it's a great way to see fauna from some far-flung locations.
24. Montjuïc castle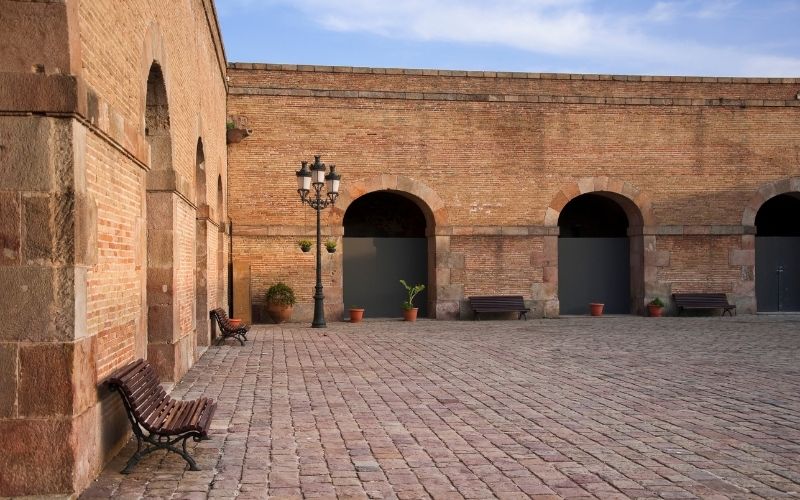 Imagining they're defending their very own fortress can be such fun for younger kids. The vast Montjuïc castle gives them plenty of scopes – as well as lots to discover.
There are incredible views over the skyline from the site too.
The castle is based on a 1600s fortress, but various additions have been made over the years since its original construction.
There are lots of hidden corners for kids to play hide and seek in, and should they get bored of that there's a park with lots of slides just down the hill.
25. Big Fun museum
Barcelona's Big Fun museum is far more diverting than some such sites – it's set up as a museum of illusions and as such is great for creating fun photographic images.
Foodies old and young will love the sweet museum and the food art exhibits, while the topsy-turvy and giant's houses are places of intrigue for every visitor.
Once young kids tire of those – plus the museum of madness and the Alice through the looking glass zone – they can take a play break in the on-site ball pool.
26. Chocolate museum
Open since the millennium, the Museo del Chocolate, Museu de la Xocolata or Chocolate museum makes an interesting diversion for part of the morning or afternoon.
There are statues crafted from chocolate to see, and young visitors can also learn about the provenance, significance and nutritional properties of the popular sweet foodstuff.
While it's not the most wonderful place in Barcelona, it's worth dropping by if you're in the El Born neighborhood – such as when visiting the Ciutadella park or the zoo.
Or of course when you're the biggest fan of the sweet brown foodstuff.
27. La Boqueria market
No foodie's visit to Catalonia is complete without a trip to La Boqueria food market – and it's also the perfect place to pick up delicious edibles for devouring in the city's glorious parks.
It's the ideal place to be on a hot day, with a tempting assortment of fresh fruit juices available to quench your thirst.
Wandering around the market gives every tourist a feel for life in a big Spanish city, as well as the chance to snap up some wondrous foodstuffs.
Make sure you do that if you possibly can, as it makes an important contribution to the local economy.
28. Barcelona aquarium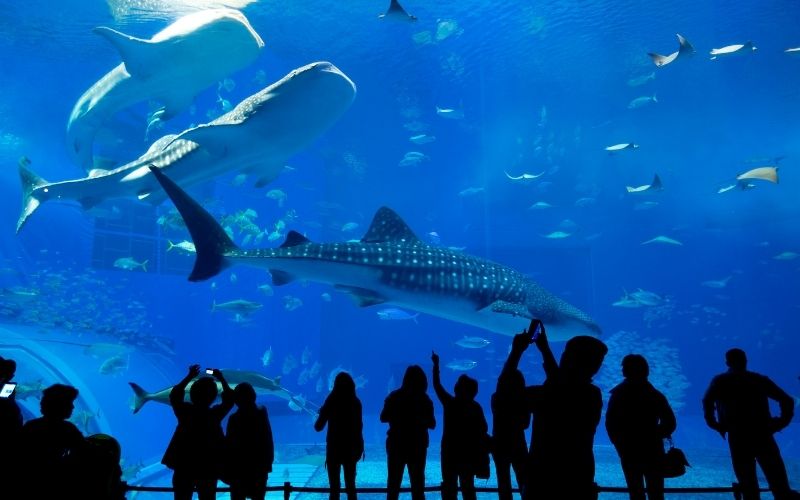 For exotic fish, interactive spaces, and seeing the natural world as it exists under the water, the Barcelona aquarium is the pick of the popular attractions and family activities in the city.
The second-floor play park is also ideal for parents seeking a little respite, as you can enjoy a coffee break while the kids burn off some of that excess energy.
The aquarium is located in the Port Vell part of town, a redeveloped area where you'll also find restaurants, a shopping mall, and even a movie theater.
You can also see the glittering yachts moored in the harbor here.
Kids will love seeing the aquarium's cute penguins, while grown-ups may be impressed by the resident rays and sharks.
Take a look at the feeding times in advance of your visit if you want to witness this entertaining spectacle.
29. Columbus monument
Barcelona's Mirador de Colom or Columbus Monument is centrally located close to La Rambla and the aquarium at Port Vell.
As long as you and the kids have a head for heights, ascending the tower to the observation deck is a must.
The monument is around 60 meters high, and the views from this elevated spot are unparalleled. In one direction there's the ocean, while the city lies to the other side.
30. Maritime Museum of Barcelona
The crowning glory of the Maritime Museum of Barcelona is some spectacle: it's a golden, life-size replica of a Spanish flagship.
Its original was used during the 1751 Battle of Lepanto when the Spanish Armada defeated the Turks.
Housed in an ancient shipyard dating back to medieval times, the maritime museum is also very appropriately located. It's also positioned close to town, Port Vell and La Rambla.
While in Barcelona you can also see Santa Eulàlia, a schooner with three masts dating back to 1919.
For those who love the seafaring life, the maritime museum is one of the best things to do in Barcelona with kids.
31. Labyrinth park
Labyrinth park can be found in the Horta neighborhood to the north of the city and is appealing to both kids and adults.
This historic garden is Barcelona's oldest and includes a romantic garden dating from the 19th century and a neoclassical garden dating from the 18th century.
The Parc del Laberint d'Horta is positioned on what was once the Desvalls family estate, and is now open to the public so they can explore its lovely meadows, woodlands, waterfalls and landscaped gardens.
As the name suggests, a key attraction of Labyrinth park is the hedge maze at the center.
You can also see the Moorish former family home of a Marquis (from the outside) and statues of Greek gods while wandering around this pleasant green space.
32. Science museum
CosmoCaixa was known as the Science Museum of Barcelona in the past but reopened as CosmoCaixa Barcelona in 2004 after undergoing a multi-million dollar restoration program.
The interactive exhibitions at CosmoCaixa Barcelona are very engaging, and in fact, the ethos behind the museum is to make science interesting and accessible to all.
This is one of the best science museums to be found anywhere on earth, and a key highlight is the Amazon rainforest area.
It's a life-size reconstruction of the tropical rainforest complete with native creatures.
For an educational day out in Barcelona, that's fun while being instructive, this science museum is a great bet. It also makes the ideal escape when temperatures are very high or during wet weather.
33. Barcelona Bosc Urbà
If you have older kids who enjoy adventure and adrenaline activities, then Barcelona Bosc Urbà is worth a morning or afternoon of your time when visiting Barcelona.
It's an urban park offering zip lines, high-altitude trampolines, bungee jumps, and challenging climbing and adventure circuits.
The park can be found close to the coast and to the north of the city.
There are activities for all age ranges, including trampolines set five meters from the ground for over fives, a family circuit for everyone aged eight plus, and a sports circuit for those aged eleven or more.
Barcelona Bosc Urbà is an open-air venue but should remain dry during rainy weather as it's covered over.
The Forest Food Truck here can also supply tapas dishes, burgers, crepes, and more to hungry families.
34. Soccer match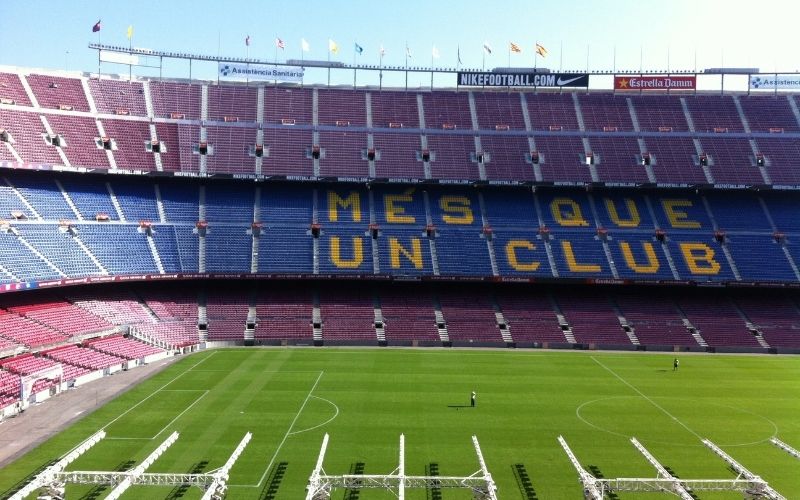 Seeing a real live soccer match while in Barcelona is a must for many families – alas in reality it's not always doable due to the difficulty of getting tickets.
The good news, however, is that you can access the next best thing. Camp Nou is home to a museum and tours of the hallowed ground are available all year round.
This is the biggest soccer – or football – stadium in Europe, and one of the most famous you'll find anywhere.
With seats of almost 100,000, it dates back to 1957 and has been the home of FC Barcelona ever since.
If your heart is set on live-action, you could try to secure tickets to see Reial Club Deportiu Espanyol de Barcelona (usually referred to as RCD Espanyol) play instead.
As this local club isn't so famous, your chances of securing seats are a little better.
35. Wax Museum of Barcelona
Giving London's Madame Tussaud's a run for its money is the Wax Museum of Barcelona.
Located in the central Las Ramblas area, it's a fun activity for everyone, especially when its hot enough outside to make wax melt or is pouring with rain.
The wax museum was completely overhauled in recent times and now counts a Star Wars zone among its attractions.
Visitors of all ages will have fun spotting their favorite movie or music stars, and you can also look out for cultural and historic figures.
The cafe here is a must, as it's set in a fantasy forest straight from the pages of a fairytale.
Essential for any fans of fairy stories such as Enid Blyton's Magic Faraway Tree series.
Things to do in Barcelona with kids – FAQs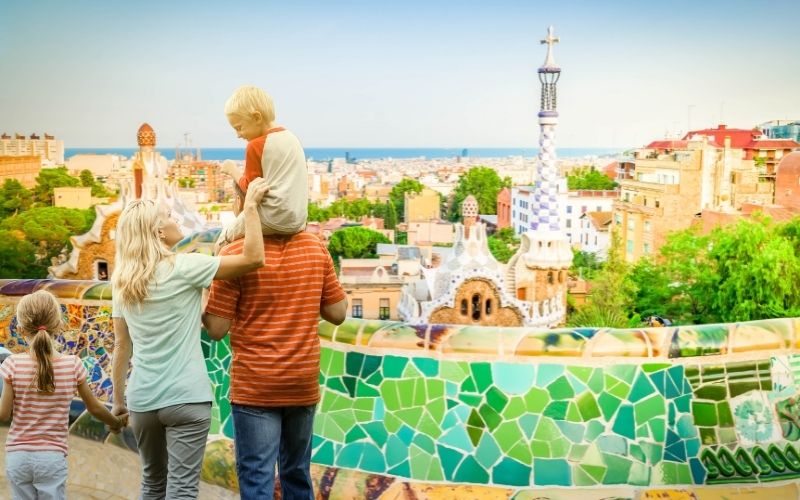 What is there to do in Barcelona with kids?
There are so many fun things to do in Barcelona with kids – the only problem you may have is fitting it all in.
With plenty of interactive museums, colorful architecture, glorious parks, and a wealth of other wonderful sights to see and things to do, highlights could include a boat trip, enjoying churros with chocolate in the Gothic quarter, picking up a picnic, or taking the tourist bus around the city.
And that's before we even get to Antoni Gaudi!
Is Barcelona a good family holiday destination?
Kids love Barcelona – and so do their adult companions. This city has it all – Catalonian culture, Spanish food, amazing artworks, and more – plus a plethora of fascinating museums and fabulous parks.
From taking a cable car ride to a hilltop castle, sampling tapas at the local restaurants, lazing on the beach, or exploring the aquarium or zoo, there is so much to do in Barcelona that everyone will be spoiled for choice.
Is Barcelona safe for kids?
As with any big city, Barcelona has its share of criminals but is generally a safe destination for families.
Pickpockets and other petty thieves tend to operate on the beaches and busy areas like La Rambla, so keep your valuables where you can see or feel them when visiting the most touristy parts of town.
Keep your kids close too – it's a large city and they could easily get lost among the crowds when wandering off.
What should I avoid in Barcelona?
When in Barcelona, there are certain faux pas that it's best to try and avoid.
Don't assume everyone speaks English – or even Spanish, as Catalan is the local lingo for many residents.
Not all restaurants in Barcelona will serve paella, and when they do it may not necessarily be a rice dish.
The regional version is actually made using thin noodles and is the one we recommend you try when in this northern city.
Drink in moderation and from small glasses as the locals do, and do try to support the local economy by buying picnic supplies or something equally substantial when you visit La Boqueria.
When wandering the city streets by night do try to keep the volume down – those attractive and ancient buildings are real-life homes rather than being just for show!
Explore the city beyond La Rambla and the Gothic quarter, and don't expect to see an authentic flamenco show as this traditional dance is typical of southern Spain, not Catalonia.
When you're away from the shore, do take care to dress appropriately – beachwear is not really acceptable attire for wandering the city streets.
Dress as if you're in Madrid, not taking a vacation on one of the Spanish Costas.
Attracting the attention of petty criminals such as pickpockets isn't good news for anyone apart from the thieves themselves, so give things a helping hand by investing in the kind of pack, bag, or belt that can keep your cash, important documents, and other valuables safe.
Last but not least, don't show up at popular sites like Sagrada Familia without pre-booking – you may only waste time and end up disappointed unless you plan ahead.
If in doubt about cultural norms, do enquire discreetly at your hotel – the chances are they'll be delighted by the fact that you care enough to ask rather than irritated by your uncertainty.
Things to do in Barcelona with kids – Final thoughts
There are so many things to do in Barcelona with kids that the only issue will be fitting it all into a limited timescale. So do plan to stay for as long as you can!
For children and adults alike, don't forget to factor some downtime into your schedule, such as a wander around the market followed by a picnic in the park.
Often these simple pleasures can make for the most memorable experiences, and will also give you the chance to connect with the local population.
Whichever family activities you choose to enjoy in Barcelona, don't forget to look up wherever you go.
That way you won't miss out on seeing the ancient architecture and colorful mosaic-adorned buildings lining the city streets.
Related: