Are you planning to spend a week in Spain? Lucky you! This European country offers an intoxicating blend of smart cities, sun-kissed sands, stylish resorts and unspoiled countryside.
They are just some of the reasons why we love it so!
But how – and can – you do Spain in a week? While we're not pretending that one week in Spain will ever be enough, it is possible to see carefully selected highlights.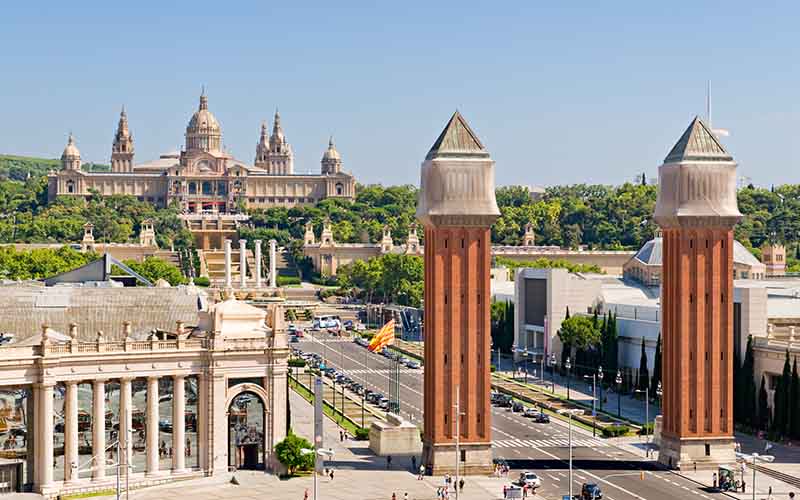 Booking Your Flight To Spain
There are several ways to approach your Spain itinerary, and it all begins with booking your flight. As well as deciding whether to drive around the country or take the train.
If you want to opt for the must-see Spain itinerary that covers as much ground as possible, then ideally you need to fly into northern Spain and out of a southern airport (Gibraltar has many direct flights to the UK if that's your next destination). Or vice versa.
Otherwise you could take the train back to your starting point, but do bear in mind that even a high speed train trip between Seville and Barcelona will take around five-and-a-half hours.
Buying the rail ticket means it will also cost more money as well as time.
So what's known in the trade as an 'open jaw' ticket is ideal. This means flying into one airport and out of another.
Depending on where you're traveling from, these are often offered by scheduled airlines – particularly to students and those eligible for discounted youth fares.
Our top recommended Spain in a week itinerary involves beginning in Barcelona, and spending time in Madrid, before ending your trip to Spain in the southern city of Seville.
This allows you to see the major cities' highlights such as Sagrada Familia, the art of El Greco and Seville cathedral during your trip to Spain.
Whether or not these 'open jaw' flight tickets cost more does vary. Two single tickets can also work, although carrier rules may state that these must be sold together rather than separately.
So this is something to consider when deciding on your Spain itinerary.
Spain tip: If you have trouble booking an 'open jaw' flight online, do consult a tailor made travel consultant. They will be trained and experienced in navigating those often complex airfare rules.
The other option is to fly in and out of the same airport, focusing on one part of the country during your week in Spain.
Popular choices include Barcelona and the wider Catalonia area, including the Costa Brava.
You could also travel between Barcelona and Bilbao in northern Spain, visiting places such as San Sebastian in the Basque country along the way.
Alternatively, southern Spain has lots to offer, and the Andalusia area in particular is popular.
By concentrating on this part of Spain, you could see places like Seville, Granada, Malaga and even Jerez de la Frontera.
Madrid, Spain is a must for many too. It's the country's capital, and is also home to a broad range of historic, cultural, artistic and gastronomic attractions.
If you do want to take in Madrid, then a north to south (or south to north) Spain itinerary will work best, as the city is centrally located. This is why our suggested Spain itinerary follows this route.
Of course you may have already been to Spain and are returning to see more. Especially if all the time you had previously was a day trip.
Other cities like Bilbao in the north, Malaga on the south coast and San Sebastian in the Basque Country make ideal long weekend destinations too, which might give you the option of reserving them for when you return to Spain in future.
The short answer? Spain in one week is not only do-able – it's highly recommended! This guide is here to help you plan your itinerary, so you can make the most of only one week in Spain.
Spain in a week – suggested itinerary
Spanish Highlights | Barcelona – Madrid – Seville
This suggested Spain itinerary focuses on three big-hitting cities located in the north, center and south of the country, with a couple of days or more spent in each.
It's like three memorable long weekends all packed into seven glorious days.
From wandering La Rambla and the gothic quarter and gazing at Gaudi's Sagrada Familia to people watching in the Plaza de Espana and witnessing the might of Seville cathedral, this Spain itinerary offers an explosive historical, cultural and sensory experience.
Coastal Barcelona offers incredible art and architecture as well as a seaside location, and you need at least a couple of full days to appreciate it fully.
In Barcelona, the big sights include Gaudi's art and architecture, the Barri Gotic area and an Olympic park or football stadium visit.
As the city is close to the Costa Brava, spending some time by the sea and admiring coastal views from elevated locations is also recommended.
You'll then move on to Madrid. As well as being the Spanish capital, this is one of the major cities of Europe, and as such this bustling city has that thrilling big-city feel.
Madrid's highlights include the Royal Palace, a delightful city park, Plaza Mayor, shopping and dining on Gran Via and a pair of Prado museums.
The last part of your week in Spain will be spent in Seville, where you'll find what's often referred to as the largest Gothic cathedral in the world.
This city in Andalusia is also the ideal place to take in a Flamenco show, and in which to sample authentic Spanish tapas.
Day 1 – Barcelona
Many flights from Europe, the US and other destinations arrive in Barcelona in the middle of the day, so we'll work on that assumption timing-wise.
Your Spain itinerary can of course be tweaked to suit your needs and preferences – and can also be done in reverse.
So if you prefer, book your stay in Seville for the start rather than the end, finishing up in Barcelona.
How to get from Barcelona airport to the city center
You can take a taxi, book a private transfer, catch the bus or travel by train to central Barcelona.
Of the public transport options, the train is recommended as it takes about 25 minutes.
Line L9 Sud will take you into the central area, where you can change lines if necessary to arrive closer to your hotel.
At around 45 minutes, the bus journey takes around twice as long, but – depending on where you're staying – it may stop closer to your accommodation.
When you're traveling with young kids or a lot of luggage, a private transfer or taxi will be simplest and worth paying extra for.
Where to stay in Barcelona
When you're spending just one week in Spain, it's worth picking accommodation that's close to the central areas as well as public transport.
This saves you time on getting around Barcelona, as well as meaning there are plenty of places to eat, shop and drink nearby.
These are our recommended hotels and apartments in the La Rambla area.
Hotel 1898 – 4* Hotel
Located right on La Rambla, Hotel 1898 is a four star property that couldn't be more centrally located in Barcelona.
Being in the heart of the Old Town can also help you stretch out every precious moment, so you can maximise every Barcelona day.
A highlight of this hotel is undoubtedly the rooftop pool with a sunny terrace that's ideal for sunbathing or cooling off during summer. Accommodation also comes with elegant marble bathrooms.
The hotel occupies a colonial style, fully renovated 19th century building – it's even been awarded Specialty Monument status.
There's a smart, Mediterranean style restaurant and guests can enjoy tapas served al fresco on the terrace during good weather.
Rambla 102 – 4* Apartments
If you're seeking something slightly calmer or want to self cater during your week in Spain, Rambla 102 is located close to La Boqueria Market and Las Ramblas. All apartments here are sound-proofed.
If you plan to eat out, the location is ideal, and you can also prepare snacks or sandwiches to see you though each day trip taken to explore Barcelona.
This air-conditioned accommodation offers loft-style living, as well as outdoor space in the form of a balcony.
The Rambla 102 apartments come equipped and furnished with flatscreen cable TV, a kitchen with hob and dishwasher, and even a washing machine and dryer.
Hotel DO Plaça Reial GL – 5* Hotel and Spa
Also located on La Rambla is Hotel DO Plaça Reial Gl, a five star establishment offering optimal levels of luxury and comfort.
Rooms types range from standard twins and doubles, with city views over Barcelona, to a sizeable suite with balcony and king bed.
A multitude of languages are spoken at this plush property, and it offers a concierge service as well as the spa complex with steam room and sauna. There is also an outdoor pool.
All rooms are decorated in a contemporary style and come with WiFi and a flatscreen TV.
There is even a free minibar included in the room rate.
A Continental or a la carte breakfast is available daily and the restaurant serves refined, Mediterranean style dishes or relaxed tapas.
Afternoon and evening – La Rambla and the Gothic Quarter
You may be tired after your journey, but we bet you'll be unable to resist heading out onto the city streets to catch at least a glimpse of the sights at the start or end of your vacation in Spain!
The recommended first stop on your week itinerary is therefore the famous La Rambla area. This is part of Barcelona's charming and historic Gothic Quarter – or Barri Gotic.
Pleasures to he had here include wandering the medieval streets, browsing the shops and stalls selling everything from flowers to leather goods and jewelry and sampling Spanish street food.
There's plenty of fun to be had by simply people watching and taking it all in, but if you want to you could delve further into history by dipping into the Museum of the History of Barcelona on Placa del Rei while you're there.
Just off La Rambla is Placa del Pei, an appealing city square with an arty, bohemian vibe and a 14th century church of the same name.
The Pablo Picasso Museum Barcelona is also located close by on Carrer de Montcada – and is a must for cubism or indeed any art devotees.
You could easily spend the rest of the day in this part of Barcelona, but if you wish to stretch your legs after traveling, you could stroll down to the seafront to watch the sunset. The walk takes about 15 minutes.
There are plenty of places to grab food and drinks during your Las Ramblas walking tour, from appetizing street food stalls to upmarket eateries and everything in-between.
By night, the lights give the area something of a fairytale quality, and the Gothic quarter is a lively and popular hangout with locals and tourists alike.
Spain tip – Hang onto your valuables while you're in the Barri Gotic. La Rambla in particular is renowned for pickpockets! A neck wallet should be part of your Spain packing list to keep important items safe.
Day 2 – Barcelona
Your first full day in Spain involves heading for the hills. The views from Montjuïc are phenomenal.
Later, explore the park used for the 1992 Olympics before enjoying sea views -alongside Christopher Columbus – from lively Port Vell.
Morning – Montjuïc Cable Car
Montjuïc is a must for many visitors, and you can take a trip on the Montjuïc Cable Car to reach the summit.
Both the ride and the peak offer magnificent views over the city center and coastline.
The cable car takes you between Parc Montjuïc and Montjuïc Castle. To reach it, take the metro to Paral·lel station before following the Montjuïc funicular signs.
It's a great place to absorb the setting of this intriguing Spanish city, before heading downhill to explore what's laid out beneath you.
Afternoon – Olympic Park
Barcelona's impressive Olympic Park dates back to the late 1920 when it was constructed for the International Exposition held in the city.
It was the overhauled for Barcelona 1992, when the summer Olympics took place.
Plaça d'Espanya is the closest metro station to the Olympic Park, though it's also a 15 to 20 minute walk to the site.
You can also get around on your second day by selecting one of the many hop on, hop off bus routes found in Barcelona.
Spain tip – Football or soccer fans may prefer to visit Camp Nou instead – this famous stadium is home to FC Barcelona and is a 10 minute walk from Collblanc metro station.
Evening – Port Vell
Spend your second evening in northern Spain discovering Port Vell.
This area is close to the beach, and there's plenty to see and do. You can also make the most of the refreshing sea breezes to set you up for an early start on day three.
Port Vell's attractions include a 50 meter viewing platform for spectacular ocean vistas, pleasure boat rides and maritime and Catalonian history museums.
Rambla de Mar is a wooden boardwalk that leads to Maremagnum, a large shopping and leisure complex.
There is also a 60 meter statue of Christopher Columbus in Plaça Portal de la Pau.
Day 3 – Barcelona
It's Gaudi day, and the church bells of the Sagrada Familia are calling!
Later on, you can explore more of Gaudi's works at Parc Guell, before heading to Passeig de Gràcia to discover even more artistic showpieces.
Morning – Sagrada Familia
Get an early start if you can, as Gaudi's masterpiece has to be a contender as most popular cathedral in the world.
It's certainly one of the most unusual houses of worship to be found anywhere.
Believe it or not, this Barcelona day trip must is to this day still incomplete. That doesn't make it any less breathtaking, however.
The lavish interior is well worth going inside for, complete with intricate detailing and colorful stained glass windows. Taking a guided tour is highly recommended.
Afternoon – Parc Guell
After a busy morning queuing, photographing and jostling for space, spending your third afternoon in Spain at the park provides the ideal way to wind down a little.
Vallcarca or Lesseps are the nearest metro stations – but be warned, Parc Guell is a good 15 to 20 minute uphill walk from either of them, so you may wish to take a taxi.
Especially if the powerful Spanish sun is shining!
It's well worth any effort, though, as richly decorated Parc Guell is an enchanting place and widely regarded as another of Gaudi's masterpieces.
Evening – Passeig de Gràcia
To the other side of Placa de Catalunya from Las Ramblas you'll find Passeig de Gràcia, one of Spain's most notable streets.
Not least because it's home to more of Gaudi's finest works.
With its multitude of historic and noble buildings, spending time here is something like strolling around an open-air museum. Don't miss Casa Mila and Casa Batllo, both also by Gaudi.
This upmarket area is also home to lots of designer stores, so it's a great and stylish place to flex the plastic if you like to indulge in some retail therapy.
While in this part of the city center you can grab dinner and drinks in the Passeig de Gràcia and Placa de Catalunya area – there are plenty of fast food places, bars and restaurants to pick from.
Or simply wander the streets until you see someplace that grabs your attention!
Day 4 – Barcelona – Madrid
Taking the train between Barcelona and Madrid is the best way to make the most of your time during one week in Spain.
The trip takes as little as two-and-a-half hours, while driving would take over six.
This way you can arrive in Madrid by lunchtime, primed and ready to see the cultural and historic sights of the cosmopolitan capital of Spain.
The train will also deliver you to Puerta de Atocha, the main transport hub in the city center. From here there are connections all over the city.
Where to stay in Madrid
So you can make the most of your one week in Spain itinerary, we're suggesting only the highest rated accommodation, in central locations, for your perfect stay in Madrid, Spain.
CoolRooms Atocha – 4* hotel
Located on Calle Atocha in central Madrid, CoolRooms does just as the name suggests. It offers stylish, contemporary accommodation in the heart of the capital.
The hotel has family rooms as well as doubles and suites, and the decor combines classic and modern touches with bang-up-to-date flair.
Think pale parquet flooring, industrial touches and elaborate chandeliers, along with conveniences like air conditioning and WiFi throughout.
Those who've stayed here are impressed by the location, the service and of course the design, as well as the outdoor pool and patio.
Apartamentos Caballero de Gracia – 4* apartments
Gran Via – Madrid's main shopping artery – is just a matter of meters from these stylish, air conditioned studios and apartments.
Equipped with flatscreen TV, DVD player and WiFi, this luxury accommodation also has a kitchenette with coffee maker, refrigerator, oven and microwave.
As for Madrid's other attractions, Puerta del Sol is just five minutes' walk and The Prado is about 15 minutes away on foot.
Past guests rave about the location, as well as the helpful staff who will happily recommend great places to eat and drink nearby.
VP Plaza España Design – 5* hotel and spa
With a wellness center, gardens and even parking, this design hotel on Gran Via is unbeatable in terms of position, luxury, amenities and style.
There is a range of room categories from standard up to palatial suites, and some come complete with a private terrace.
As a five star property, guests can expect to find deluxe toiletries, bathrobes, free WiFi and flatscreen TVs in all rooms.
A Sky Bar on site offers superb rooftop views across the city and there is also a smart Mediterranean style restaurant.
Afternoon – Royal Palace
One of the key sights in Madrid is the majestic Royal Palace – or Palacio Real de Madrid. It's the largest palace in Europe and is intricately decorated. It also has 3,500 rooms!
Despite the size, it's possible to take a guided tour and see the state rooms in an hour or two. The Spanish Royals are not resident here: rather, they live in Zarzuela Palace on the city's outskirts.
Evening – Plaza Mayor
For food, drinks and people watching, head from the Palace over to nearby Plaza Mayor, where it's easy to find a place for dinner due to the fact that this main square is lined with cafes and restaurants.
After a busy day of traveling and touring the palace, strolling the streets while dipping in and out of shops and bars is just what the doctor ordered.
If you feel like a little wander, you could also head over to see to Puerta del Sol, as it's just a short walk away.
Day 5 – Madrid
Today's section of your week in Spain itinerary takes in more of Madrid's highlights, including the superb Prado Museum, a city park and Calle Gran Via, a well-known shopping and dining area.
Morning – Prado Museum
If you're even remotely interested in art, then Museo Nacional del Prado is a must when in Madrid.
Its column lined façade alone is incredibly impressive, in fact, and the interior of the building provides a breathtaking backdrop for the exhibits.
This art museum in Spain houses a collection of artworks spanning the 12th to the 19th centuries, from famed artists including El Greco, Goya and Velazquez.
Spain tip – If media appeals to you more than art, then tour the nearby Prado Museum of Broadcasting instead.
Afternoon – El Retiro Park
Dotted with ornate fountains, El Retiro has to be one of the finest city parks to be found anywhere on the planet.
The park's attractions include a fragrant rose garden, a glimmering crystal palace filled with modern art, a statue walk and a shimmering lake.
There are several places to buy refreshments within the park itself.
Evening – Gran Via
This is the street to see and be seen in when in Madrid, Spain. It's packed with people, shops and eateries, making it simple to find a place to dine at.
Some of the capital's finest architecture can also be found on Calle Gran Via, so don't forget to look up as well as into those tempting shop and restaurant windows!
Day 6 – Madrid – Seville
While it takes around five hours to drive between Madrid and Seville, the train journey is around half that, so it's once again the best choice in terms of speed and convenience.
Trains also depart from the Puerto de Atocha in Madrid, and will take you to Sevilla Santa Justa station in the center of the city.
Again we're working on the assumption that you'll arrive in Seville, Spain at around midday, ready to start seeing some sights in the afternoon.
Where to stay in Seville
Hotel Gravina 51 – 4* hotel
In an unbeatable Old Town location is Hotel Gravina 51. This four star property in Seville is housed in a renovated 18th century manor, complete with two delightful, traditional courtyards.
There is no restaurant, but due to the position – close to everything – you barely need one. Packed lunches and room service are available via the 24 hour front desk, and there is also a bar.
This hotel is packed with charm typical of Andalusia, and rooms come equipped with modern amenities like flatscreen TVs, work desks, laptop-sized safes and minibars.
People love this hotel for its location, its character and its cleanliness, and there is a two bedroom apartment as well as a range of double rooms.
Aguilas5 Sevilla Suites – 4* apartments
In Seville's historic Old Town area are the Aguilas5 Sevilla Suites, a luxury apartment complex rated incredibly highly by those who've stayed here.
All apartments sleep up to four guests, and range from a duplex to a deluxe one bedroom or penthouse apartment.
Accommodation comes equipped with WiFi, two Smart TVs, air conditioning and kitchenette with refrigerator and microwave.
The interiors combine the traditional and the modern very successfully, and as a result are packed with character.
Hotel Mercer Sevilla – 5* hotel with pool
Also in the Old Town is Hotel Mercer, a luxury property with a five star rating and a refreshing outdoor pool.
Rooms range from deluxe doubles for two to junior suites and suites that can sleep up to five in each. All accommodation comes with a lovely ensuite with a glass-walled rainfall shower and luxury toiletries.
The rooms and suites are also equipped with Nespresso® coffee machines, WiFi, free minibar and a TV showing international channels.
There is a restaurant on site and a pleasant sun terrace by the outdoor swimming pool. With just a dozen rooms, the personal and attentive service is a particular highlight of a stay at the Hotel Mercer in Seville, Spain.
Afternoon – Plaza de España
How does 50,000 square meters and a 500 meter canal grab you? Plaza de España is one of Seville's most impressive sights, yet is also the perfect place in which to unwind after a train trip.
The Plaza has served as a film location for various movies – from the classic Lawrence of Arabia to the Star Wars sci-fi series. It's incredibly photogenic, with plenty of space for everyone.
You can also take a boat trip on the canal – an experience than can be both relaxing and romantic. Aww!
Evening – Tapas
Tapas is a must-do on any Spain itinerary and there is no place is better to sample these delectable, casual sharing dishes than Seville.
Local specialties to try include Salmorejo, a chilled tomato soup; Croquetas that are often filled with cheese and ham; Espinacas con Garbanzos – spinach with chickpeas; Albondigas meatballs and Spanish favorites like Tortilla (Spanish Omelet) and Patatas Bravas (Poor Man's Potatoes).
Ask for a recommendation at your hotel, so local staff can help you avoid those tourist traps that may be low on flavor – yet high in price.
Day 7 – Seville
For many who visit Spain (especially for the first time), Andalusia is essential, and not least when you're doing Spain in a week.
Seville's cathedral is one of the region's biggest draws, and as such it's one of the first sights you're going to want to see.
Today you can also take in the Royal Alcázar – the city's Moorish style Royal Palace.
Morning – Seville Cathedral
A highlight of many a stay in Seville, this impressive Catedral de Sevilla has lots to explore.
Christopher Columbus's tomb is enshrined within, while the bell tower is iconic and very much a local landmark.
The Giralda bell tower is over 10 meters tall and once a minaret stood here. In fact the whole Moorish style heritage site occupies the very spot formerly occupied by a mosque.
As the largest Gothic cathedral on Earth it's impressive enough, but the palm trees out front only add to the air of exoticism and mystique perceived by all who visit.
Afternoon – Royal Alcázar
The grand Royal Alcázar stands in a large park-like setting, which provides a refreshing change while examining Seville's stateliest structures.
There is a Moorish feel to this place too, with lots of colorful tiling dating from the 16th century, while the surrounding gardens are filled with intricate arches and ornate, tumbling fountains.
If you want to grab lunch before or after your visit, you could take a picnic to the park, or head to one of the eateries lining Calle San Fernando on the southern side.
Evening – Flamenco show
As the last night of your one week in Spain itinerary, what better way to go end hour one week itinerary than to witness a spectacular display of traditional, dramatic Spanish dancing?
Southern Spain is famous for this exuberant form of self-expression – as well as the brightly colored, ruffled dresses and shirts that go with it.
Spain in a week – FAQs
Is 1 week enough for Spain?
As we covered in the intro, once week in Spain can be enough. It's a question of establishing what you want to see and do, and planning your Spain itinerary accordingly.
It can also be a matter of being clever with time. Hot Spain travel tips include taking a flight into one airport and out of another – such as flying into Seville and home from Barcelona.
Between big cities like Madrid, Barcelona and Seville, there are high speed rail routes that work out around twice as fast as taking a road trip.
Leave in the early morning if you can, and you could be taking a walking tour of the key sights by lunchtime.
An extra half day in Barcelona, for example, can make all the difference when time is tight. It could mean you get to explore the Old Town properly instead of rushing around.
What can you do in Spain for 7 days?
The itinerary we suggest allows you to take in the key sights of three major cities – Barcelona, Madrid and Seville – so you can get a real flavor of Spain in a week.
An alternative way to approach your one week in Spain itinerary is to stick to one region – such as northern Spain.
That way you can take a day trip to another area that interest you, like the Costa Brava from Barcelona or Granada from Seville.
You could also work your way between Barcelona and Bilbao, via San Sebastian and the Basque Country.
Or take in a triangular route between Seville, Granada and Malaga, for instance.
How many days you need in Spain?
Some people need a lifetime in Spain, so can be is like asking how long a piece of string is. A couple nights is better than a day in Madrid, for example.
A long weekend in a Spanish city is ideal for some, giving enough time to explore Sagrada Familia, enjoy a lazy lunch spread over 2 hours at the Plaza de Santa Ana in Madrid or spend a Seville day just wandering around and taking it all in.
Others who work hard all year may simply want to do nothing but laze on a beach for a fortnight during their trip to Spain, going nowhere near a city at all.
One week in Spain is a good compromise between a weekend and two weeks or more.
A trip to Spain of this duration lets you get under the skin of the country a little, learning all about, and seeing first-hand, some of its history and culture. As well as sampling some delicious food and wine!
What should I pack for Spain?
Packing for Spain depends largely on where you're going, when you travel and what you plan to do while you're there.
As this suggested Spain in a week itinerary involves spending time in the cities, one point to note is that Spaniards are a stylish group of people.
Beachwear isn't really the done thing – even in Barcelona which is by the sea. So reserve those shorts, bikinis, sarongs and flip flops for on the sands only!
You can find out much more about packing for Spain here. This post also contains useful information about the weather in Spain.
What currency is used in Spain?
Pesos, Euros or Pesetas? As part of the Eurozone, Spain's currency is the Euro.
The Spanish used to deal in Pesetas – sometimes referred to as Pesos – but that all changed in 2002. You can find out more about Spain's switch to the Euro here – as well as the other European nations that use it.
If you're visiting the UK as part of a European trip, it's worth knowing that they still use their own currency, spending pounds sterling rather than Euros.
What is the cheapest month to go to Spain?
In terms of accommodation, airfares and eating out, it can be cheaper to visit Spain during winter or early spring – between December and March.
The 'shoulder' seasons of late spring and autumn also tend to be more affordable than summer.
Although it's colder during winter, it is also quieter. There are also some fun festivities going on, many of which are based around Christmas and New Year.
Due to its popularity, though, it's not normally cheap to travel anywhere in Europe during late December!
Is food cheap in Spain?
Compared to much of mainland Europe, food is very affordable in Spain. Whether it's breakfast, lunch, dinner or tapas, it is cheap to eat out in Spain.
Prices do tend to be higher in the largest and more touristic cities, however. In terms of the three locations suggested on this Spain in a week itinerary, Seville tends to be the cheapest.
The Andalusian city is also renowned as a place to try authentic Spanish tapas. This includes local specialties as well as national dishes.
Look for places where the locals eat, or ask for a recommendation from the staff at your accommodation.
Some restaurants in tourist areas also offer good value set menus. If you want to eat at a fine dining establishment, the lunch menu is often much more affordable than the dinner one.
Spain in a week is worthwhile
While one week in Spain may not be enough for many travelers, it's so much better than a day trip while cruising – or a holiday where you don't even leave the comforts of the Costa Brava.
A trip to Spain is all about enjoyment, so don't be afraid make it your own.
Use the above itinerary for Spain in a week as guidance, but sometimes you just need to rip up the rule book and live a little.
Sometimes, sipping a glass of local Cava – while the spires of the Sagrada Familia or Seville cathedral gleam in the distance – is enough.
That's why we've included some laid-back park time on each city itinerary, but it's only a guideline.
If you'd rather take a day trip from Barcelona to Girona than head up to the Montjuïc area – or indeed see Granada instead of Madrid – then you should do exactly that. It is your vacation, after all!
Related: