Spain is the fourth biggest country in Europe, which isn't very big compared to other countries outside of Europe, such as the United States…but it is still a considerable size!
And the thing is, Spain is full of things to see and do, all over the country…so you might not want to stay in one place if you decide to go there on vacation.
Instead, you might want to be able to move around, visiting different regions and spending some time in different main tourist destinations.
The question is, of course, how do you get around Spain? Is it easy to do so?
Do you need to drive for long hours to get from one place to another? What is public transport like? And, how do the locals usually get around?
Don't worry, we understand that when planning a multi-destination trip within Spain, these are things you absolutely need to know in order to plan accordingly.
That is why we are going to answer all of these questions and give you all of the necessary information, so that you can easily get around Spain, enjoying the experience.
Does that sound good? Then let's get right into it!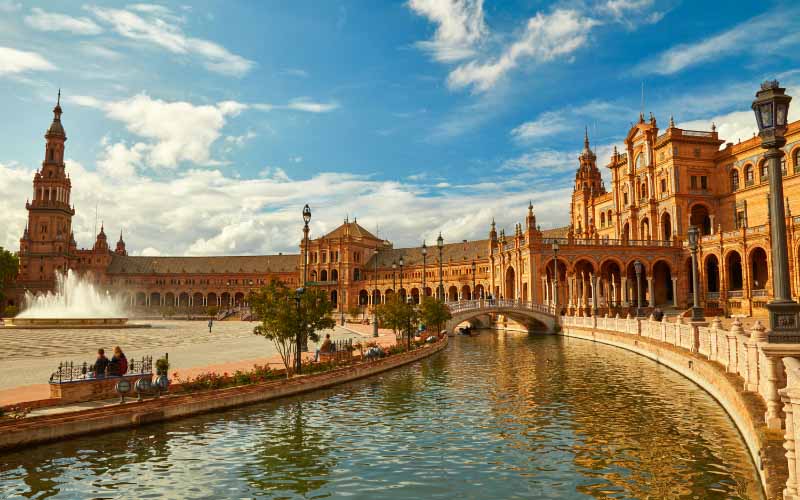 Driving In Spain
If you want to have full freedom of where you go in Spain and when, then the best way of getting around is by driving.
Spain has a great system of motorways and main roads, along with smaller secondary roads, which will allow you to go anywhere you want.
The motorways all connect the main important cities in Spain too, so if you're going from one tourist destination to another, it should be really easy!
When driving in Spain, you can either have your own car or most likely if you are a tourist, you can rent one.
There are car rental services and companies all over the country and if you fly in you can pick up the car at the very airport, for convenience.
Prices will range, so make sure to check and compare.
Here is some key information about the main types of roads in Spain:
Motorways are called Autopistas and are signaled with an A or E, followed by the specific road number.
Toll Motorways are called Autopistas de Peaje and are signaled with an AP followed by a specific road number.
Dual carriageways are called Autovias and are signaled with an E followed by the specific road number.
National highways are called Carreteras Nacionales and are signaled with an N or CN followed by the specific road number.
Country roads are called Carreteras comarcales and are signaled with a C followed by the specific road number.
Luckily, most cars and phones nowadays have full access to a GPS, so you should have no trouble finding the right roads and getting by!
As for driving in itself…here are some of our top tips that you need to remember:
In Spain, you drive on the right side (like most of the world, but a reminder is always good)
The speed limit on motorways is 120km/h
Always use your indicators! (Spanish authorities are harsher on enforcing these rules than many countries)
The speed limit is always a maximum of 50km/h when inside cities and towns
Always have your full driving license, international driving permit (if needed) as well as any supporting documents belonging to the car (such as insurance) on you when you drive, as you never know when you might be stopped!
Petrol prices are a lot more expensive than in the US, keep that in mind!
Public Transport In Spain
If you don't have a car with you in Spain and you don't want to have to rent one out, you can still move around and get to different places with ease. The way to do so is by using public transport!
The main two ways of moving from place to place within the country, especially between major cities, is to use either a bus or a train. So we're going to talk about both of these options!
Using The Bus In Spain
The bus is one of the most reliable means of public transport within Spain and there are plenty of buses that will take you almost anywhere you need, all throughout the day.
Even if you are going somewhere a little more remote, there will be a viable combination of buses to get you there.
You can look up buses online, to book a ticket in advance, or alternatively, you can go to the nearest bus station and get a ticket on the go.
Here are some pros and cons of using the bus:
Pros
The bus is incredibly cheap to use!
Infinite bus combinations to get you anywhere you need to go
It is easy, accessible, and convenient
Cons
The bus isn't always the most comfortable option
The bus takes longer than other means of public transport
Using The Train In Spain
The train is arguably the best way of getting around within Spain. This is because the country has an incredible system of trains that connect all of the major cities to one another, in an easy and efficient way.
The first thing you need to know about the train, however, is that there are two types of train you can get: the normal train and the high-speed train. Let's talk about both.
Normal Train
The normal trains are…well, normal trains. They are great especially for when you are traveling from a major city to a smaller city or town and they will get you into the more rural places within the country.
They are slower, but they are very comfortable. Plus, you can enjoy some fantastic views out the window during the journey! The tickets are also quite cheap, similar in price to the bus.
High-Speed Train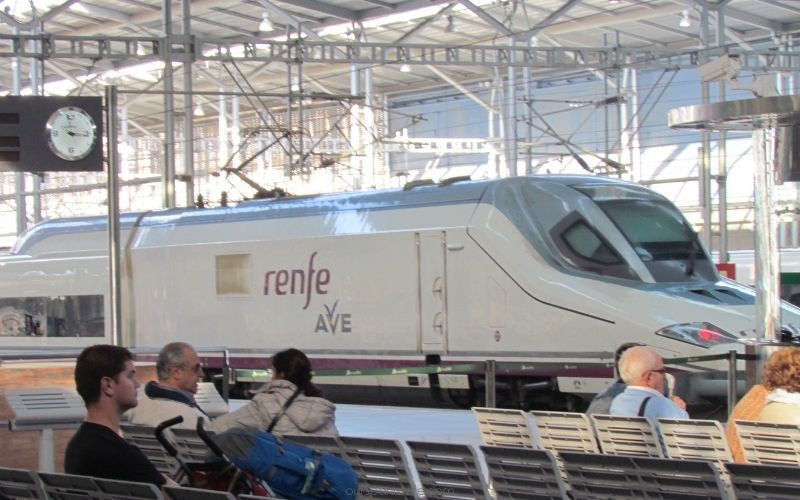 High-speed trains are special trains that have been designed to travel at much higher speeds.
In fact, they can reduce the journey time by several hours, compared to traveling by car, by bus, or by a normal train.
They are the fastest and most comfortable way to travel between major cities in Spain.
For example, taking a high-speed train can get you from Barcelona to Madrid in under 3 hours. Meanwhile, driving there would take you almost 6 hours!
The downside, of course, is that the high-speed trains are a lot more expensive than normal trains or buses.
If you are planning on taking a train or bus to get around, then here are some tips that might come in handy for you:
The main high-speed train companies are AVE, ALVIA, and INTERCITY
The main long-distance bus companies are ALSA, AVANZA, and HIFE
The app to use for booking train tickets is Renfe.com
The app to use for regional trains is Cercanias
Final Thoughts
To sum it all up, getting around Spain is very easy, so you can plan a visit that takes you through different cities and destinations, allowing you to see more of the country.
For many, the most convenient way to get around is by renting a car and driving, as there is no limit as to where you can go, and the timetable is completely up to you.
However, it can also be convenient to use public transport, as Spain has efficient bus and train services to get you where you need to go!
Related: