Spain is one of the most popular countries to visit within Europe, and we would also dare to say, the world. And it's no surprise!
Spain has a lot to offer, with plenty of history, culture, natural beauty, and things to do!
Millions of tourists arrive in Spain every year, and the numbers just keep on increasing, so there simply is no denying that Spain is popular, and a great place to go on vacation.
But here's the question that people planning a visit might be asking themselves: when is the best time to visit Spain?
There are many things to consider when choosing the date of your vacation in Spain, such as the weather, the things available to do, any important festivities or events…oh and peak season.
Because if you go to Spain during peak season it's going to be…crowded.
The truth is, there isn't one specific date that is the perfect time of year for visiting Spain. The perfect time is going to depend on you, your needs, and your preferences. As well as the focus of your visit.
That being said, we have some tips and tricks, and some advice on when you should plan your visit. So let's get right into it!
Factors To Consider When Timing Your Visit to Spain
You can visit Spain all year round, and no matter when you go, there will be plenty to see and do.
That being said, there will be a "best time to visit" the country, specific to you and your needs, and to figure it out, you need to first figure out what your priorities are for the visit.
Here are some of the factors that you should take into account when deciding on the time of year in which you will visit Spain:
Activities To Do
One of the main things you need to think about before you plan your visit to Spain is what exactly you are hoping to do while there.
Spain is quite a big country, offering many different sorts of vacation activities, so what kind of trip are you planning?
For example, if you want to go to Spain in order to enjoy its beautiful beaches, it will be best for you to visit during the summer months when the weather is perfect for swimming in the sea, and all beach activities are open and available.
If you want to go to Spain to enjoy the skiing or the mountain scene, it might be best for you to visit during the winter, or during early Easter.
And if you're simply going over to do some exploration, and to visit different cities, learning about their culture and history, then the time of year really doesn't matter that much, unless you are hoping to experience a specific event or festivity.
You should also then think about where in Spain you are going, so you can check specific conditions to the location, and think about when in the year it is best to go there.
Important Festivities And Events
If you want to experience certain cultural events and festivities while in Spain, then you're going to have to look up the specific dates and plan your trip around that.
Some of the best festivities and events to experience in Spain are the following:
Reyes Magos: the Three Kings is the biggest Spanish Christmas tradition, and festivities take place during the first week of January. The highlight is the big parade, which takes place in all cities around the country, on the 5th of January
Semana Santa: this is the Spanish version of the Easter festivities, and it takes place during the holy week of Easter, with multiple parades and activities taking place all over the country
San Fermin: also known as the bull run of Pamplona, takes place during the first week of July, exclusively in this city within Spain. The highlight is the last day, on the 7th of July.
Tomatina: this is a tomato fight that takes place on the last Wednesday of August, every year in Bunyol (near Valencia)
Las Fallas: this is a big festival of fireworks, fire, and lights that takes place in Valencia every year during the middle of March
The April Fair: this is a month-long fair that takes place in Seville, every year, in which you can experience flamenco dancing, Spanish music, and all sorts of Andalusian culture
Peak Seasons
Spain is a very popular tourist destination, and as such, it is important to consider when peak season is, so that you know whether it will be full of people or not when you visit.
As a general rule, the biggest peak season for tourism in Spain is during the summer months. Specifically, during the months of June, July, and August.
This is when the largest number of people visit, flocking to the coastal areas in order to enjoy the beaches.
It is also the time of year with most children visiting, given that they have time off from school.
This means that during these months you can expect large crowds, longer waiting times, and inflated prices.
Everything will be open and available, but it will also fill up a lot faster. And as it is peak season, prices will go up, making the trip more expensive overall.
The other breaks from school, during Easter and Christmas, are also peak seasons in Spain, with a lot of people visiting. (Although summer still remains in the lead).
If you want to avoid peak season, therefore, you will have to avoid visiting during those popular months.
Instead, you could go to Spain just before or just after a peak season, so that there are fewer people, but you can still enjoy the right conditions.
For example, we would say that the best time to visit Spain is during the spring season. During this time of year, the weather is beautiful, and there is plenty to do and see.
But as it is just before summer, there aren't as many tourists, so your experience is better!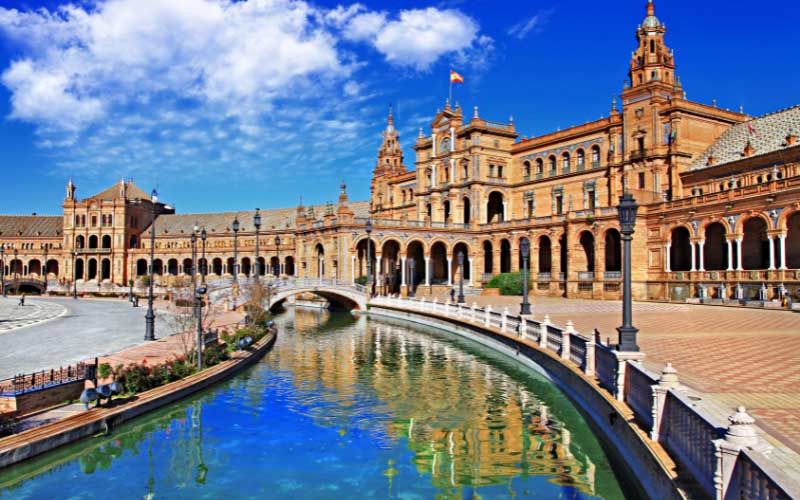 The Expense
Spain isn't an expensive country to visit, which is definitely good news, and something that adds to its popularity.
That being said, if you're on a budget you're going to have to carefully consider when you visit Spain, as the prices will change.
If you visit during peak season, prices will have gone up due to the larger number of tourists, and the trip will overall be far more expensive. If you visit outside of peak season, prices go down, making the trip cheaper (and a lot calmer!)
The most expensive time to visit Spain is during the summer months, although this is the time of year in which you find the most deals and offers if you know where to look.
The cheapest time of year to visit Spain, on the other hand, is from December to March.
The Weather
The weather is one of the main factors that people take into account when planning a trip, and so we've saved the best for last.
The truth is that most tourists go to Spain in search of the sun, the heat, and the beautiful beaches, which is why most people visit during the summer months. But let's be real for a second: the summer months are way too hot.
If you're spending all day at the beach, then sure, it's great, but otherwise, the heat can get overwhelming, and at times dangerous.
Instead, we would argue that you get the best weather right before summer, and right after, during the months of May and September.
These months are still quite sunny, and in coastal areas of Spain you can still enjoy the beaches, but it's no longer an overwhelming heat that you have to hide from. Not to mention that it's outside of peak season, so the trip will likely be better!
During the winter and fall, be warned that it can get pretty cold. Contrary to popular belief, Spain isn't just sunny all year round, and plenty of regions get snow and bad storms. But that might be something that you're looking for!
Overall, we'd say that the most important thing is to check the specific part of Spain you are going to. This is because Spain has a lot of variation in weather, in fact, it is one of the countries in Europe with the most microclimates!
So during the same time of year, it can be snowing in one place, and sunny in another! (As a general rule, coastal regions around the Mediterranean part of Spain are milder and sunnier, and the inner regions of Spain are harsher and more extreme, getting really hot during the summer and really cold during the winter).
Final Thoughts
In conclusion, the best time of year to visit Spain depends on what you want to do during your trip, and what you want to experience while you are there.
If you're unsure, or undecided, then we'd say that the best time of year to visit Spain is during spring, right before summer, as it has amazing weather, and the most versatility when it comes to doing different things.
But ultimately, you need to consider the specific activities you want to plan, along with the possible expenses, the weather conditions, and more. Regardless of the time of year, Spain will be an amazing trip!
Related: