Valencia lies on the eastern coast of Spain, on the shores of the Mediterranean. This appealing city is abundant in natural attractions, including beautiful beaches.
It's also home to some futuristic architecture with top-notch facilities that are ideal for families.
If you want to find things to do in Valencia with kids, then you're in just the right place!
We love visiting Valencia with kids, and there really is so much to do in this destination.
Planning what to do when you visit Valencia is all part of the fun, and this guide is here to help with just that.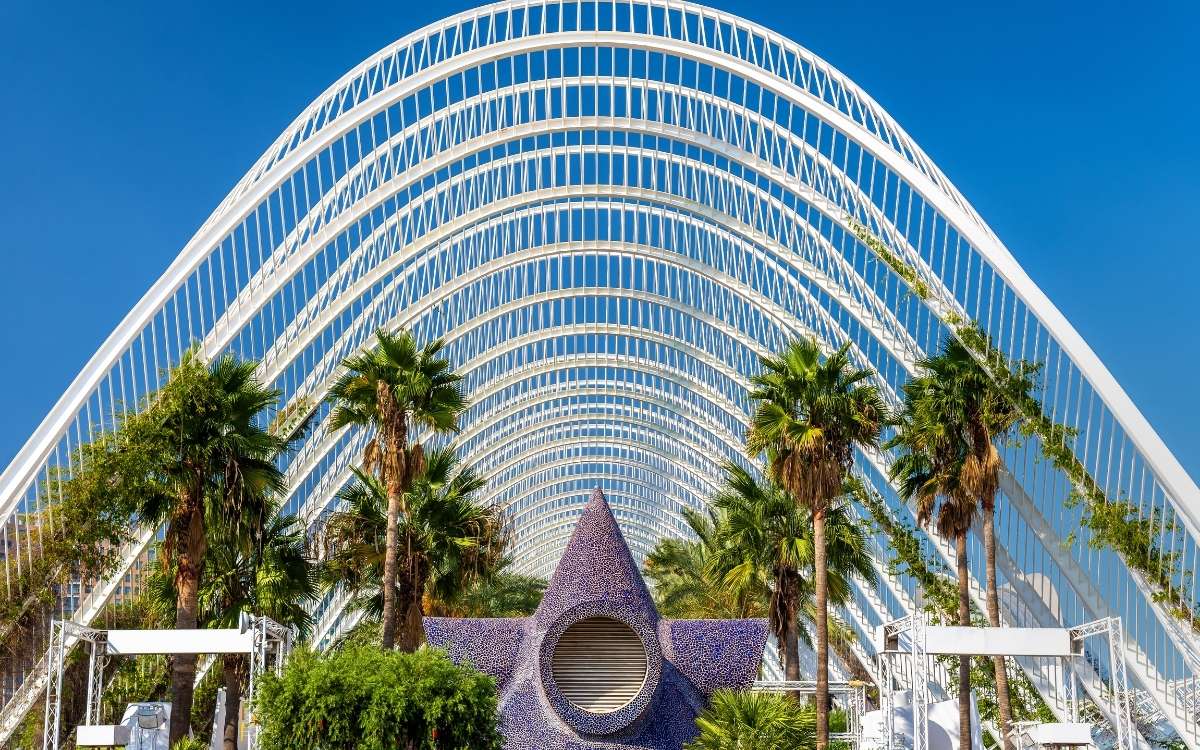 There's something for everyone in Valencia, from city centre attractions like the arts and sciences complex or awe-inspiring historic sites to open spaces and play areas ideal for kids.
Read on to find 29 awesome things to do in Valencia with kids!
Where to stay in Valencia with kids? The absolute best place for families to stay in Valencia is Valencia Flats. It's walking distance to all the major attractions, with a kid-friendly cafe downstairs and the nicest staff you'll ever meet. Plus, it's not overly expensive. We recently stayed for 10 days in a 2-bedroom apartment and will definitely return.
29 Best Things to Do in Valencia With Kids
1. Science Museum
Prince Felipe museum is a museum dedicated to science and can be found within the city's arts and sciences area.
It's been specially designed to appeal to children, so they can enjoy a visit while becoming engaged with the scientific world.
This fine museum has interactive displays and encourages kids to experiment. The idea is to keep them entertained throughout.
As the science museum is undercover, it doesn't even matter if it rains.
Not that you normally need to worry too much about that in the sunkissed city of Valencia.
There are 26,000 square meters of space here to explore.
If you like, you can buy combined tickets for entry to the science museum, the Hemisfèric, and the oceanarium.
All of these can be found at the arts and sciences complex.
2. Oceanogràfic
The oceanarium in Valencia is the largest in Europe, so there's plenty to see here.
It's an all-year-round attraction too, so it doesn't matter if it's cold, wet or windy outside.
There's also an underwater restaurant here for enjoying a meal with a view!
Large sharks, crocodiles, penguins, and a beluga whale family are among the stars of the show here.
A variety of important ecosystems have been recreated to represent the diversity of marine flora and fauna.
It's also worth visiting this aquarium if anyone in the family has an interest in architecture.
The design is very striking, and the result of a collaboration between Félix Candela, Carlos Lázaro, and Alberto Domingo.
3. Hemisfèric
Hemisfèric at the Ciudad de las Artes y las Ciencias is also a major Valencia attraction.
Like the science museum, it's housed in a futuristic building, this time resembling a blinking eye.
There's also a large pool right beside it, giving the area a spacious feel.
Hemisfèric in Valencia offers an outstanding cinematic experience.
It specializes in IMAX and 3D shows, which are projected onto a vast 900-square-meter screen.
Experiencing a show here is a must for any cinema fan!
The show program here tends to focus on the natural world. So themes centre on animals, outer space, or specific parts of the planet.
4. Water Walking Balls
Just outside the Hemisfèric cinema is a large body of water.
While visiting you may well see kids inside large, transparent balls rolling around on the surface of the water.
Kids enjoy this experience of rolling around on the water, a little like their pet hamster on its wheel.
It's a fun activity for all age groups, and where else on earth might they get the chance to try it?
5. The Umbracle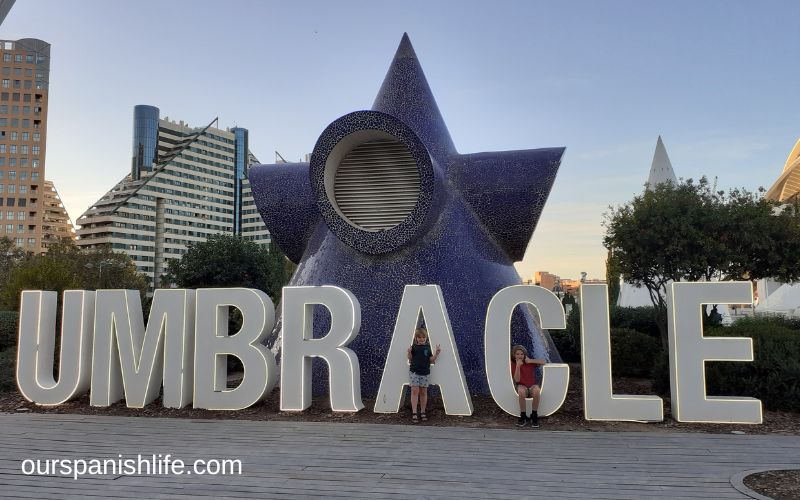 The rest of the arts and sciences zone has even more to offer.
Options include a concert hall and an opera house, while the Umbracle is better suited to entertaining kids.
The Umbracle is an outdoor sculpture park that offers completely free entry.
Unless it's booked out for a special event, it's a cool place to stretch your legs while gazing in awe at the range of artworks.
6. Fun Jump Trampoline Park
The Fun Jump trampoline park in Valencia is ideal for active kids who need to make use of their muscles.
This fun activity centre has soft play areas perfect for young kids too.
You can even bring out the inner child in you by having a go.
Or opt to rest with a drink or bite to eat from the on-site snack bar.
Kids' activities to try here include the Climbing Wall, Jumping Basket, Confrontation Road, Free Fall, Foam Rubber Pool, and Ninja Challenge areas.
Making this place about more than merely bouncing around. Be sure to bring socks!
7. Albufera Natural Park
Albufera Natural Park makes a lovely escape from the city.
As well as seeing wildlife and rice paddies here, you're also visiting the place where some say paella was invented.
Parque Natural de la Albufera is one of the top things to do in Valencia with kids, and you can take a boat trip across the calm water.
This is a favourite destination among those who appreciate boat rides, nature, and tranquillity.
It's also just a short car ride or bus journey from the city. If you can, stay for sunset, which is just magical.
8. Valencia Cathedral
A historic building may hold limited appeal for young kids, we know, but what about one that's said to house the holy grail?
There are also some Renaissance frescoes here with a serious wow factor.
You may never get the chance to see the holy chalice again, so if it interests any member of your family then do seize the opportunity with both hands!
You can also view almost 100 pieces of art here.
Or climb over 200 steps to the top of the Miguelete Tower for magnificent city views.
9. Plaza de la Virgen
Plaza de Virgin in Valencia is one of those open European squares that are a delight to spend time in.
It's located in the Old Town, and as it's car-free it's safe for kids to run around in.
The plaza is fringed by cafes and there's usually something going on courtesy of street performers, and musicians playing live or planned events.
10. Gulliver Park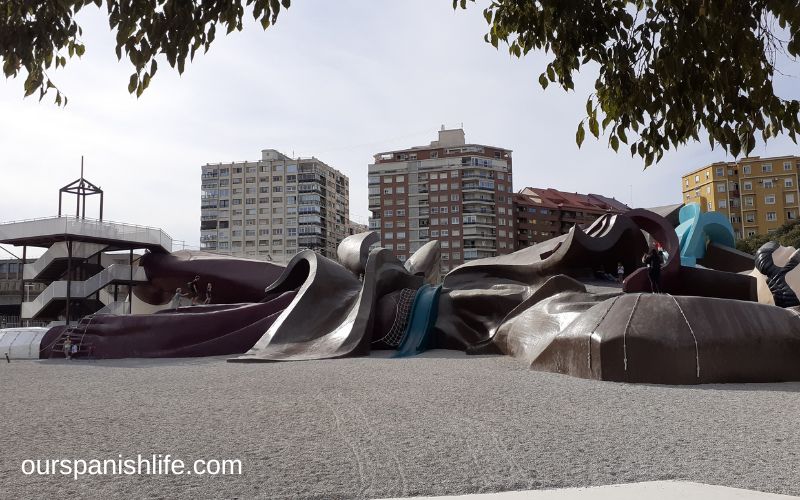 This popular park is great fun for kids and features an oversized Gulliver as he washed up on Lilliput beach.
Children love climbing all over the giant while using the play equipment built into the design.
If you want the kids to burn off some energy, this is the place to do it.
You can also introduce them to children's literary classics at the same time when their interest is piqued by the colossal, supine figure.
There are plenty of green shady spaces surrounding the giant for you to enjoy as they play.
There are also (super-clean) public toilets, staff onsite and an infirmary.
Gulliver Park is open during the following hours:
November – February: 10.00 – 17.30 (closed 25 December and 1st January).
April – June & September: 10.00 – 20.00
July – August: 10.00 – 13.30 / 17.30 – 21.00
March & October: 10.00 – 19.00
We visited in November 2022 and the park was open (even though Google Maps told us otherwise).
11. 'Free' Walking Tour
Follow the city's walking trails under expert guidance with the help of Free Tour Valencia.
Their tours are priced by the customer, who decides what the tour is worth. Set-price walking tours are also available.
Licenced tour guides will show you around the city from a local's perspective.
Free options focus on 20th-century Valencia, major tourist sights and street art. The Fallas tour is a paid one, costing EUR 15, and available in March.
12. Central Market
Valencia's central market feels authentically Spanish rather than being designed for tourists, and it's a cool place to browse.
In fact, Mercat Central de Valencia is Europe's largest fresh produce market.
The building the market takes place in is also well worth a look.
It's a stunning sight, with gorgeous stained glass detailing and grand pillars. Think the Mediterranean meets Moorish with more than a touch of grandeur.
The market operates between 7.30 am and 3 pm Monday to Saturday and has over 1,200 stalls.
Its Central Bar is also perfect for sampling and sharing Spanish tapas dishes with the kids.
13. Valencia Bus Turistic
Taking a bus tour is a great way to get an overall perspective on any city, and Valencia is no different.
It operates daily between 10.30 am and 6.30 pm, with a break between 2.30 pm and 3.30 pm.
Tickets are valid for 24 or 48 hours and you can hop on and off as you please.
The route visits all the city's major sites, so you can get a good view of even those places that you haven't the time to visit in more depth.
Kids love spotting and riding on the distinctive bright red, open-top bus!
14. Patacona Beach
Patacona beach is even more kid-friendly than the average stretch of sand.
This is because you can find a children's playground here, right there on the sand.
The beach is also attractive to adults, not least because of the pretty promenade lined with palm trees.
There's a lively atmosphere here, particularly at weekends when locals tend to descend.
Patacona beach lies east of the city centre and north of Playa de la Malvarrosa.
15. Playa de la Malvarrosa
An alternative to Patacona beach is Playa de la Malvarrosa.
It joins the former on the southern side, and you can rent sun loungers here.
A lively promenade backs the sand, so it's easy to find a shop for beach supplies here or a cafe to eat at.
The golden sands, clear water, and showers make this the ideal beach for a family day by the sea.
16. Las Fallas Fiesta
If you happen – or are planning deliberately – to be in Valencia in March, then you cannot miss Las Fallas.
This festival takes place all over town, and features 'Ninots'.
These are mannequins that range from the sublime to the ridiculous.
It all happens during Las Fallas, from fireworks to live music, parades, and parties.
If you have very young children, then do be aware that it can get very noisy here at fiesta time!
17. Las Fallas Museum
If you're not in Valencia during March, when the Las Fallas festival takes place, then this is the next best thing.
The museum is on the UNESCO List of the Intangible Cultural Heritage of Humanity, so it's pretty important culturally.
At the museum, you can see formerly used Ninots on display, as well as learn how they are made.
It's fascinating for anyone interested in art and design.
There are other pieces of Fallas memorabilia to see as well, such as photos and posters.
18. Centre del Carme
The name of Centre del Carme calls to mind calm, and you will indeed have a peaceful oasis within this former convent.
It's one of the most historic structures in the city, and you can still see the original cloisters and bell towers here.
Step inside and you'll find a great range of exhibits relating to mankind's cultural development, encompassing all the arts.
From books or performance arts to music and pop culture, you can explore it all at Centre del Carme.
A permanent exhibition focuses on early childhood up to age three. So if you're visiting with young kids don't miss this!
19. Turia Park
Turia park – or Turia gardens as it's also known – is ideal for getting a breath of fresh air among all the greenery.
At around seven-and-a-half miles long, it's one of the biggest urban parks in Spain, and it connects many of the city sights.
Turia garden has a great network of bike lanes for kids to enjoy riding around on.
There are also several playgrounds here for kids without wheels. It's a fun place to visit, with plenty of room for everyone.
20. Torres de Serranos
History buffs cannot miss this one – and nor can any child with an interest in castles.
This Torres was specifically designed as a fortress that guarded the walls of the city during past times.
A dozen structures once guarded the city in this way.
The Serranos Gate, Serrans Towers, Serranos Towers, or Serrans Gate dates back to the late 14th century.
You can climb the tower if you want to, for wonderful views over Valencia city centre and the surrounding area.
Entry to do this only costs a euro or two.
21. Spanish Cooking Class
Taking a cookery class is a great way for kids and adults to get hands-on with Spanish dishes.
Places like My First Paella are ideal for youngsters and offer classes in making tapas in addition to paella.
There are three versions of the paella class for vegans, seafood paella and the local type.
Classes can include a visit to Mercat de Russafa to pick up ingredients and get kids interested in the entire process of food shopping and preparation.
At the end of these classes, you also get to enjoy delicious, authentic Spanish paella!
22. Valencia Bioparc
Valencia's Bioparc makes a refreshing contrast in comparison to the average zoo. Here creatures enjoy a natural environment rather than being kept in enclosures.
As for kids, they can take a break at the playground while you make use of the cafe.
The entire family will love wandering around this distinctly different kind of zoological park.
Species to see here include leopards, zebras, giraffes, lions, meerkats, crocodiles, lemurs, and crocodiles.
Valencia Bioparc can be found within Cabecera Park, where the Turia river once flowed.
The park and its animals are divided into various areas, resembling the African savannah, the island of Madagascar, and more.
23. Mestalla Stadium Tour
Taking a guided tour of Mestalla stadium is a must for young football fans. And their parents.
Guided tours here are far more affordable than at other major stadiums, so it's far more accessible.
This is the home of Valencia Club de Futbol, so it's pretty impressive.
The tour is interactive and takes you to the VIP box, changing rooms, press room and exit tunnel.
24. LEGO® Fun Factory
The LEGO® Fun Factory can be found at the Aqua Multiespacio shopping mall in Valencia.
This is located close to many of the city's other attractions.
There are areas here with both classic LEGO® bricks and the larger DUPLO sets for smaller hands.
In total there are 250 square meters of plastic bricks here, and kids can sing, dance and build with their favourite characters from the LEGO® City and Friends ranges.
25. Jardínes del Real
Jardínes del Real – or Los Viveros as they're locally known – is one of the most emblematic places in the city.
This is due to the vast range of plants, sculptures, and fountains to be seen here.
In fact, the site was formerly used as a nursery, and the city's Royal Palace once stood here too.
With palm trees, rose gardens, and ornamental fountains, Jardínes del Real is a true breath of fresh air.
26. Natural Science Museum
The Natural Science Museum of Valencia is located at Real Gardens.
This museum houses an incredible fossil collection.
So it's well suited to kids who are currently learning about prehistoric times.
The exhibits and displays about evolution can also engage kids in learning about the plant's development in an enjoyable way. A must for any young dinosaur fan!
27. Colón Market
Like the central market, Colón Market is also housed in a beautiful building.
This market isn't perhaps what you might expect though. It's more of a culinary hub than anything.
Colón Market is a recognised National Monument and is home to some of the finest restaurants in Valencia.
Sampling some delicious edibles at the outdoor cafes here should not be missed by foodies young or old!
28. Ubik Café Librería
Is it a cafe or is it a library? Well, it's kind of both – you can buy books as well as food and drinks at Ubik.
It's ideal for a rainy day, as there are play areas inside for kids to enjoy.
Staff are very welcoming to both adults and children. Ubik also hosts regular events such as live readings and music.
Don't head here too early, though: it doesn't open until 11 am Thursday to Sunday or 5 pm on Mondays and Tuesdays.
29. Almoina Archaeological Museum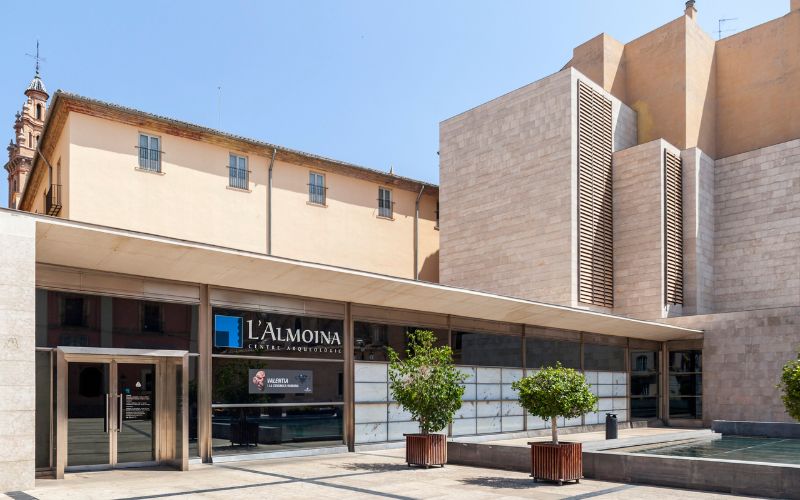 Where else could you experience ancient Rome while in Valencia?
At the Almoina Archaeological Museum, kids can do just that, walking along the glass walkways to explore ancient relics.
This museum was specifically designed to allow people to get up close to these ruins without actually touching them.
It's clever, it's innovative and very engaging.
Things to Do in Valencia With Kids – FAQs
Is Valencia child friendly?
The beautiful Spanish city of Valencia is very family-friendly. There is lots to do for kids and adults, and generally, you'll be blessed with warm, sunny weather.
The food and attractions here are outstanding, there are lovely beaches and lots of natural sites to visit in the area.
Is Valencia Food for the family holiday?
Valencia is a warm and welcoming kind of city that embraces children with open arms. It's easy to find family-friendly things to do here.
The range of attractions is diverse and includes natural, historic, and cultural options for all. There are also spacious parks and sunny beaches to enjoy.
Are 2 days enough in Valencia?
Valencia is the third largest city in Spain. So is two days enough? If you plan carefully, you can see selected highlights in a couple of days.
But there's plenty to keep everyone occupied if you decide to stay for longer.
What is there to do in Valencia if it rains?
Rainy day attractions in Valencia include fine museums, an oceanarium, a popular trampoline park, the Hemisfèric cinema, markets, play centres, and more. So there's plenty to do here if you're unlucky with the weather!
What's the Valencia tourist card?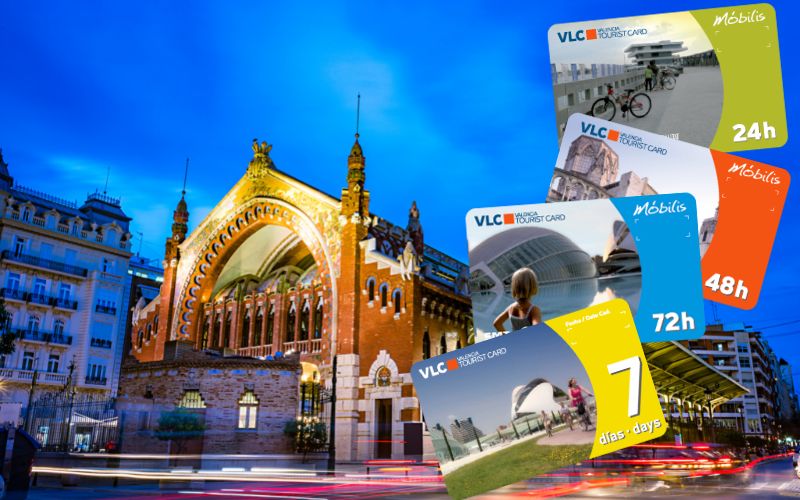 If you'll be spending time in the city, it's worth considering the purchase of a Valencia tourist card.
This gives you free use of public transport, plus complimentary entry to monuments and museums.
Discounts and even some free tapas are also thrown in!
Valencia with Kids – Final thoughts
There is so much for the whole family to enjoy in the famous city of Valencia.
The entire area is practically covered in parkland, and here kids can even feel like tiny people while climbing all over a giant Gulliver!
Whether you prefer museums, paella-making, wildlife, shopping, or beach life, Valencia is the ideal family holiday destination.
Don't forget to check out Valencia Flats for family-friendly accommodation. You won't regret it!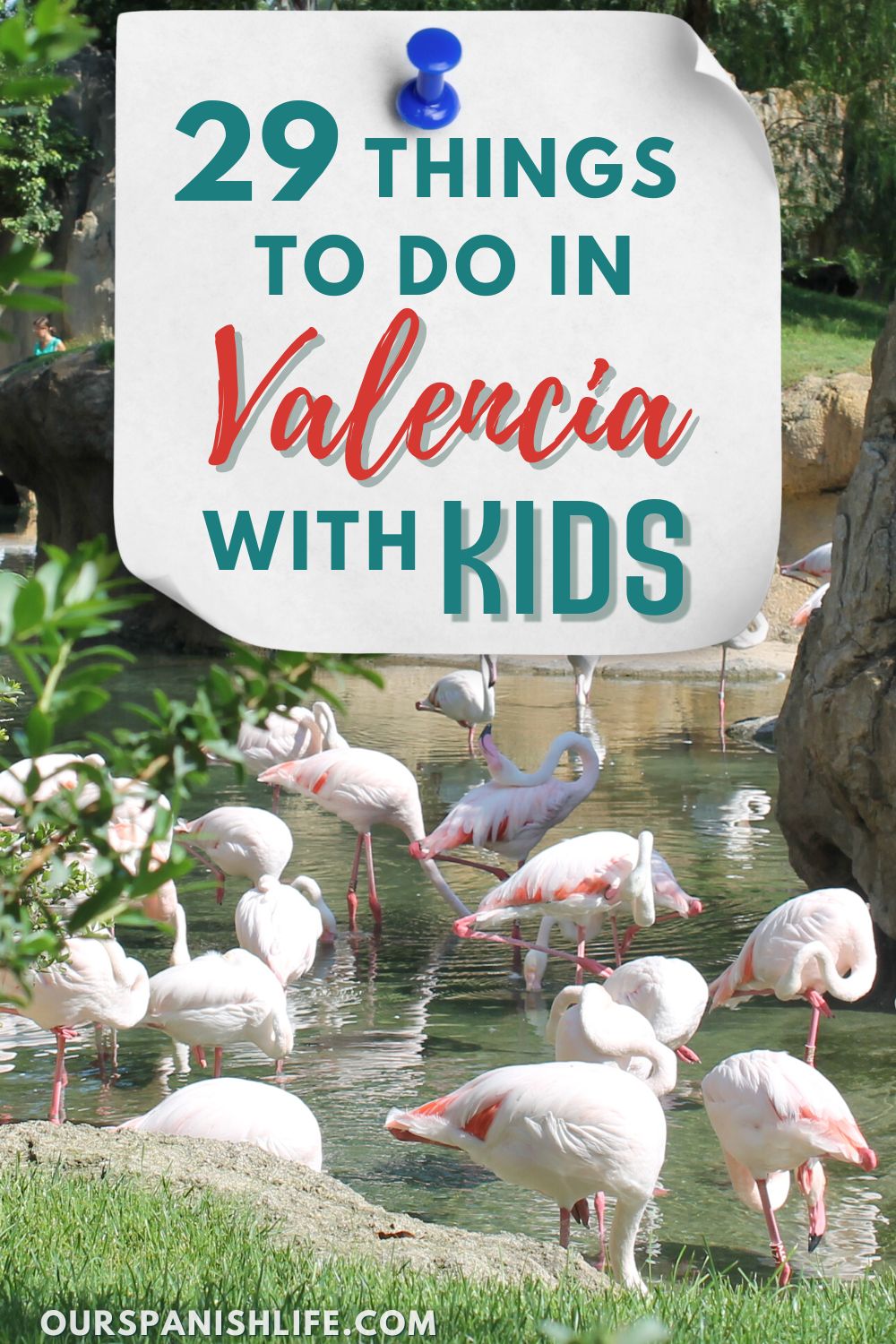 Read next: 21 Fun Things to Do in Alicante with Kids