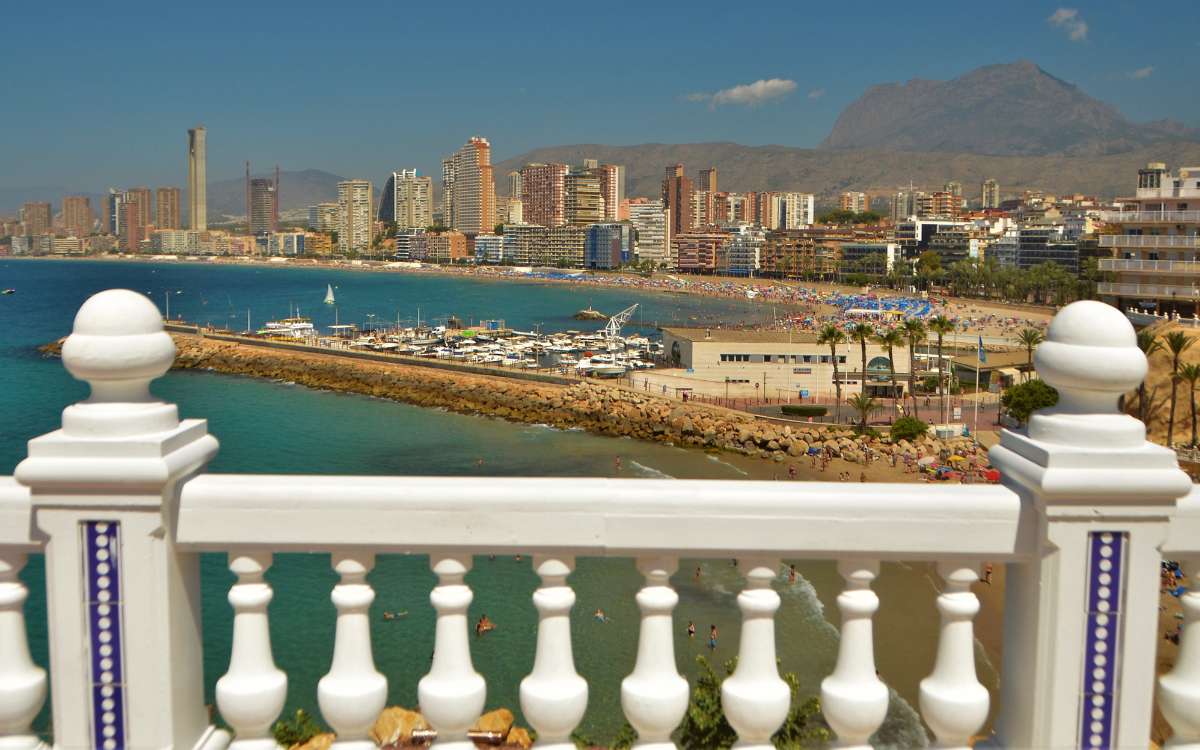 Are you looking for the perfect family vacation destination? Look no further. We can assure you that Benidorm is more than just stag and hen parties!
With its stunning Costa Blanca beaches, exciting theme parks, and numerous options for day trips, Benidorm is packed to the rafters with kid-friendly attractions for an unforgettable family holiday.
15 Things to Do In Benidorm for Families
Read on to discover the top things to do in Benidorm with kids.
1. Terra Mitica Theme Park
Terra Mitica Theme Park in Benidorm is an ideal activity for families looking for a fun day out.
With five themed zones – Egypt, Greece, Rome, Iberia and the Mediterranean – there is something for everyone to enjoy.
The park features over 30 attractions, including roller coasters, water rides and other adrenaline-pumping experiences.
Families can also explore historical sites such as the Temple of Zeus or take part in interactive shows like the Gladiator Show.
There are plenty of restaurants and snack stands throughout the park so you won't go hungry!
Located just outside Benidorm Centro at the foot of the hills it should take no more than 10 minutes to drive there. Buses are also available from the Centro.
Tickets are available from 20 euros for an afternoon pass or 25 euros for a full-day pass.
The park is open from June until September which is the peak season there.
Pro Tip: Consider purchasing a season pass for 53 euros if you plan on visiting more than a couple of times.
Iberia Park
Iberia Park is part of the Terra Mitica complex and tickets cannot be sold separately. Because of this, many visitors feel it is overpriced.
The park offers a wide range of rides, from bumping cars to a Merry-Go-Round, as well as two arenas where you can watch shows.
With its fountains, spa and huge pool with a swim-up bar, you could easily pass the day here.
There are also eight restaurants located within the park, making it an ideal spot for families to spend time together.
Height restrictions are in place for some of the rides here so be sure to measure up your little ones before you go.
Opening hours are from 10.30am-late evening each day.
2. Boat trip to Benidorm Island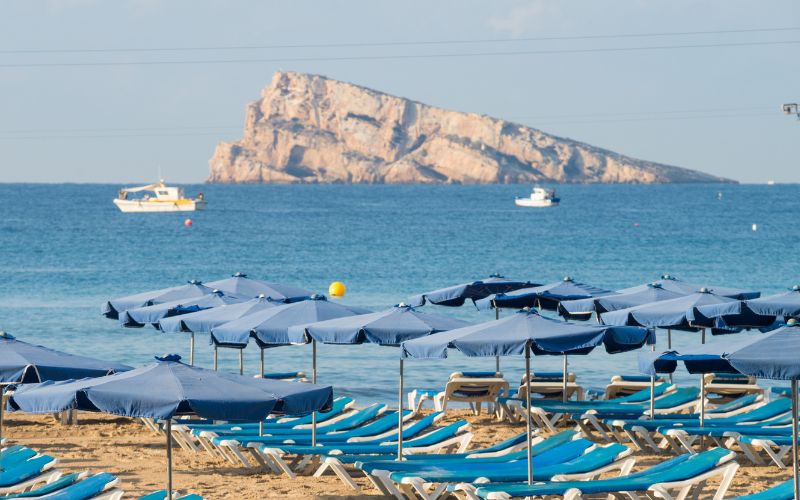 A boat trip to Benidorm Island (also known as Peacock Island) is a great activity for families looking for a fun and exciting way to explore the area.
The island is located about 3.5 km off the coast and offers stunning views of the bay of Benidorm as well as plenty of opportunities to observe some of the rich underwater marine life.
There is a bar and restaurant on the island which offers amazing views of the coastline.
Once off the boat, there is a relatively steep incline so it's not suitable for wheelchair users and buggies.
With boats departing hourly, and only a 20-minute journey, it's easy to plan your own adventure and explore Benidorm Island at your own pace.
Plus, tickets include a free trip on the AQUASCOPE  – a yellow submarine with a glass-bottomed boat that does a loop of Benidorm Island.
Children will love viewing the amazing marine wildlife that inhabits the waters from under the sea.
Tickets cost 18 euros for adults and 12 euros for kids.
Pro tip: It's advisable to check if it is the nesting season on the island before purchasing your ticket as the birds nesting there can get quite territorial when approached.
3. Terra Natura and Aqua Natura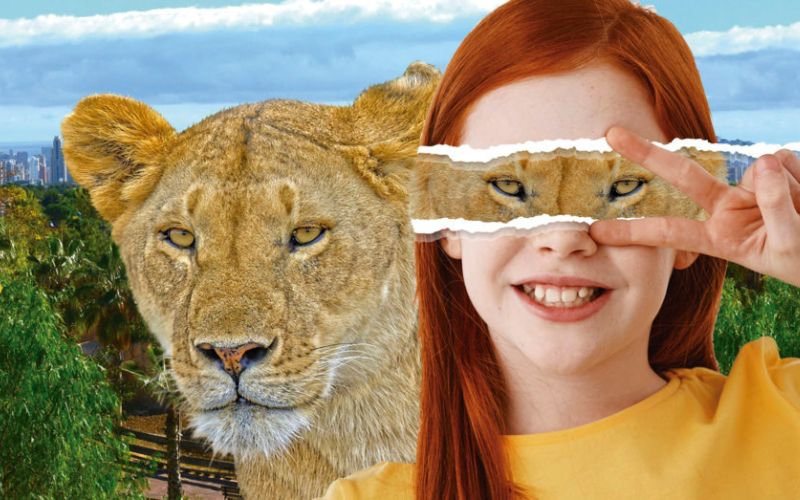 With its unique combination of the Terra Natura zoo and the Aqua Natura water park, this attraction is one the whole family will love.
At Terra Natura, you can find a wide variety of animals, including elephants, lions, tigers, reptiles, exotic birds and more.
There is an exhibition of venomous creatures as well as regularly scheduled educational talks about the different species.
You can also get up close and personal with a contact area and experience birds of prey demonstration.
Additionally, there are over 1,000 meters of water slides for all ages to enjoy at Aqua Natura.
For younger visitors, there are also children's areas such as multi-adventure parks and themed pools with educational demonstrations about sea lions.
A combined ticket for both Terra Natura and Aqua Natura gives the best value for money
4. Visit One of Benidorm's Sandy Beaches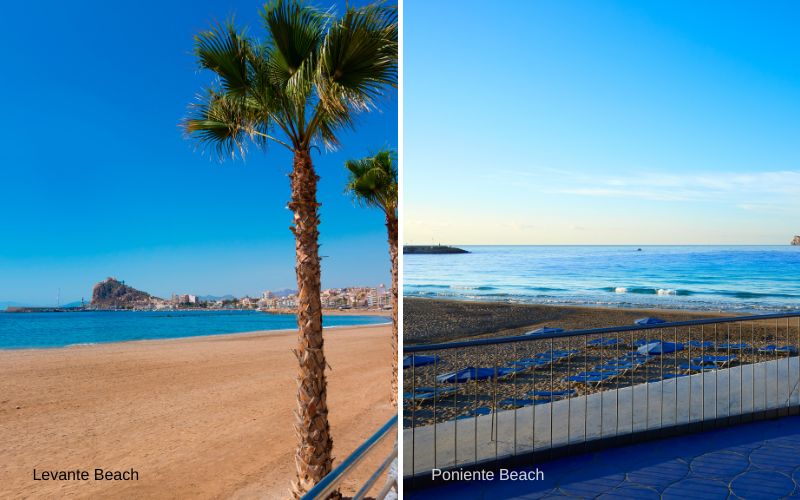 Levante Beach
Levante Beach in Benidorm is one of the most well-known beaches in Europe.
One of the top beaches on the Costa Blanca, Levante Beach stretches for two kilometres and offers golden sand and calm waters.
Popular with locals, it can get quite crowded in the summer months.
There are lots of water sports and activities to choose from here and Kids will love the play areas in the sand scattered throughout the beach.
Sun loungers and umbrellas are available to rent and parking in the municipal car park costs 2 euros per hour.
The Levante Beach area is lined with bars, restaurants, and other facilities and is easily accessible from the city centre.
Poniente Beach
Poniente Beach is a stunning stretch of coastline.
With over 3kms of soft white sand, a clear blue warm sea and great places to grab a drink or ice creams, it's the perfect spot for a beach holiday.
It is not as busy as neighbouring Levante Beach so if you're looking for a more relaxed day at the beach then this one is for you.
Parking near here is quite limited so walking or catching the local bus is the way to go.
There's also a modern promenade with plenty of restaurants and bars to enjoy.
Sun loungers and umbrellas are available for rent and there are also play areas for the kids and exercise equipment for the bigger kids are located here.
5. Day Trip To Villajoyosa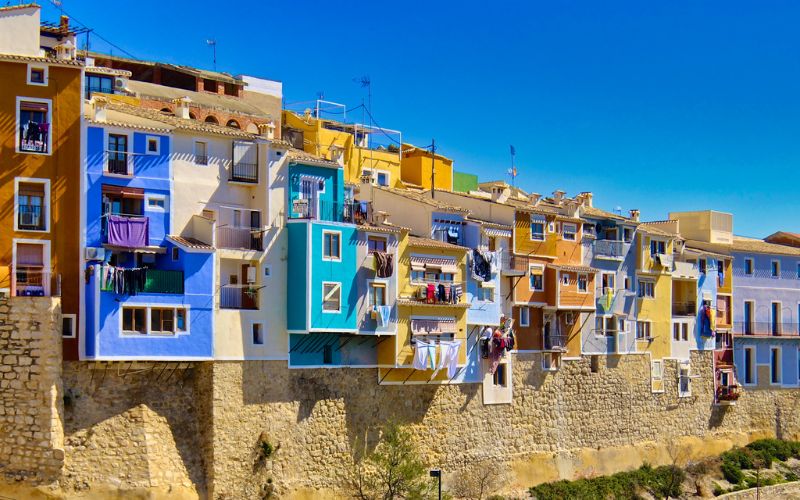 Located 13 km from Benidorm, this charming town is full of activities and attractions that will keep your kids entertained.
From the Valor Chocolate Museum, and the Hanging Houses to its stunning beaches, there's something for everyone.
The Valor Chocolate Museum is a great place to start your visit.
Here, you can learn about the history of chocolate production in Villajoyosa (known as the chocolate capital of Spain) and even sample some delicious treats.
The Hanging Houses which protrude from the rocky cliffs and the colourful fishermen's houses are famous here and once you see them you'll understand why.
The town itself has so much charm with its narrow streets sloping towards the sea. Kids will love the playgrounds here with one even having an escalator running through it.
6. Tourist Train
The ever-popular Benidorm Tourist Train (Benidorm Train Vision) has been entertaining visitors for years on its 45-minute loop around the town.
Pricing was a very reasonable 6 euros for adults and 3 euros for kids.
Unfortunately, this attraction stopped operating during the pandemic and as of the time of publishing, has no plans to resume operations. We will update this article if this changes.
7. Old Town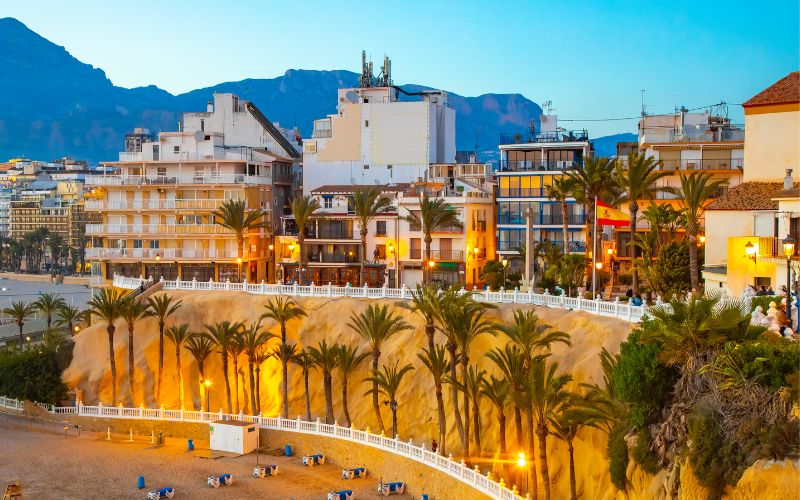 Benidorm Old Town is a great destination for families looking to explore the city's rich culture and history.
The area contains winding streets with quaint shops and traditional restaurants, which offer a great opportunity to sample some of the region's unique cuisine.
The old town is also full of charming churches, historical monuments, and interesting architecture, creating a wonderful atmosphere for families to take in.
There are also plenty of activities available for children such as playgrounds, parks and museums.
8. Sould Park-Festilandia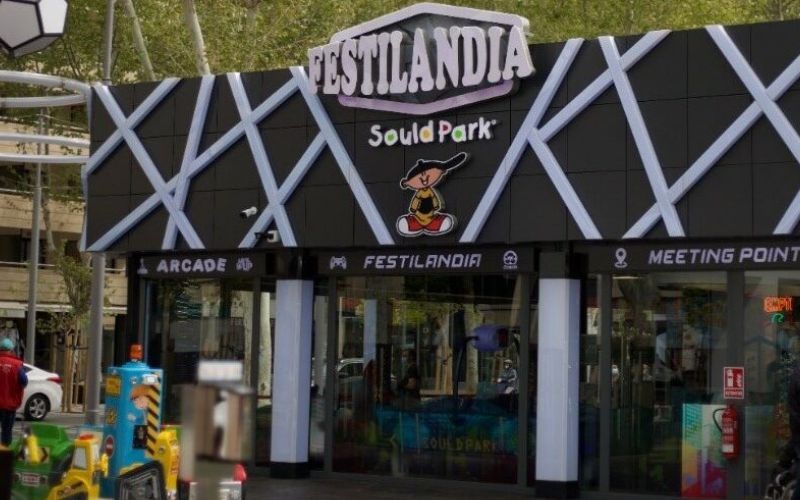 Festilandia Sould Park is a small amusement park with old-school rides and an arcade with redemption games and prizes.
It is suitable for all ages and includes an indoor soft play area for the smaller kids which is always clean and well-maintained.
It is located between the Old and New Towns just off the promenade.
Pricing operates on a top-up card system with each ride costing approximately 2.50 euros.
This card enables you to use the on-site toilets too. Don't feel pressured to use all the credit on the card as it will remain on the card until you use it up.
The surrounding area has plenty of shops, cafes, and restaurants where families can take a break from the fun. Candy floss and ice cream stalls are found here too which are always popular.
Address: Av. del Mediterráneo, 20, bajo, 03503 Benidorm, Alicante.
9. Tapas Alley
Located right in the heart of the Old Town, directly off the main street of Calle Santo Domingo, Tapas Alley is a must-do while in Benidorm.
You will be spoiled for choice as you weave your way through this bustling alley of restaurants with its bright lights, lively music and mouth-watering smells.
Although it is known for its tapas (thus the name) you will also find a wide variety of Spanish cuisine favourites like pinchos, montaditos and paella.
Once you and your kids have made your choices, it's advisable to not order everything at once because they can all be served at once due to the fact a lot of the more popular dishes are pre-made.
Some popular family-friendly restaurants here are the buzzing La Cava Aragonesa and Aurerra Group of eateries with its 7 different restaurants. For a great atmosphere, try Gambrinus.
The majority of the restaurants will open from around midday to midnight each day enabling you to either have lunch, dinner or late-night Spanish dinner.
10. Placa Del Castell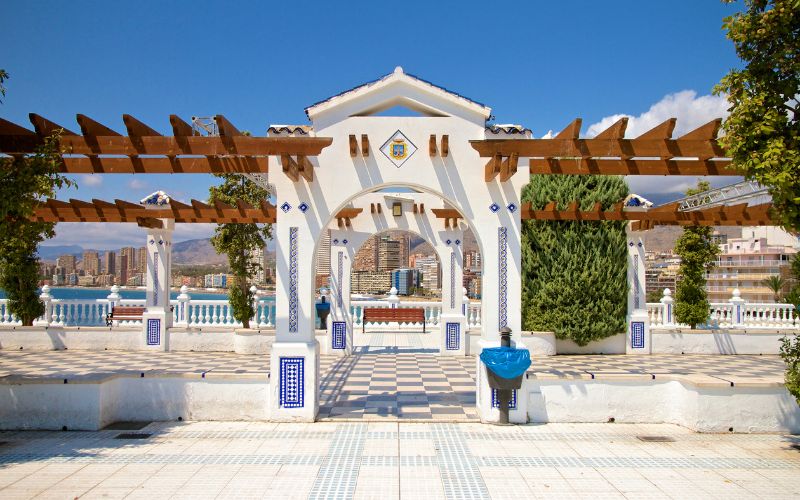 Placa del Castell in Benidorm's Old Town is a stunning beauty spot located on a rocky settlement, exactly where Levante Beach meets Poniente Beach.
The view from Placa del Castell is breathtaking, with sweeping views of the high-rise buildings and bays below.
Visitors can take the steps from the terrace down to the famous Mirador vantage point for 360-degree views of Benidorm's beaches.
11. Mundomar Animal Park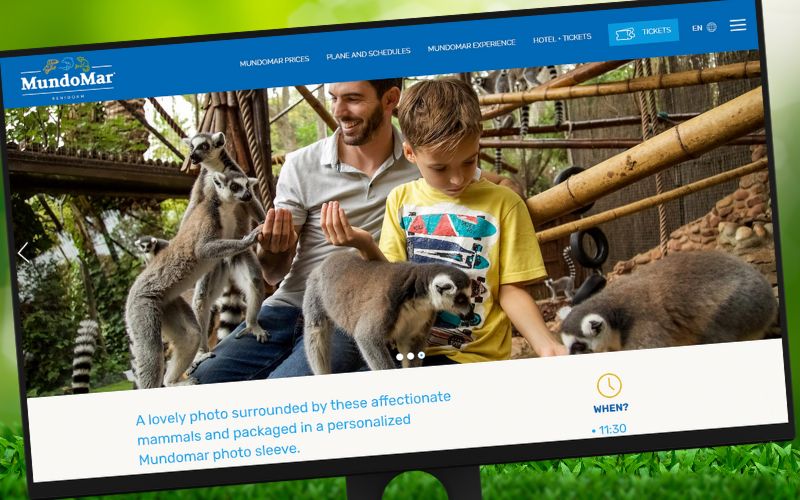 Mundomar Animal Park in Benidorm is located on the slopes of Sierra Helada Mountain, this theme park offers a variety of different animals to explore.
The park has various attractions such as shows, rides, and interactive activities such as the dolphin encounter and swimming with sea lions.
The staff at Mundomar ensure that visitors have a safe and enjoyable experience while learning about the different species of exotic animals in the park.
Additionally, there are plenty of restaurants and cafes with stunning views from which to enjoy a meal or snack.
Open from 10 am daily.
12. Aqualandia
Aqualandia was the first water park in Spain.
The park offers a wide range of pools and slides suitable for all ages, as well as an educational program that uses interactive activities to teach children about marine life. Visitors can also enjoy a variety of restaurants and shops located within the park.
There are plenty of attractions to keep everyone entertained, including a wave pool, lazy rivers, and water slides.
Aqualandia also offers combo tickets which allow access to other nearby amusement parks including Terra Mitica and Mundomar which can offer big savings.
13. Dinopark Algar
View this post on Instagram

Located in a beautiful environment, the Dinopark Algar amusement park combines tropical cactus gardens with life-like robotic dinosaurs to create an unforgettable experience.
On display are dozens of robotic dinosaurs that move and roar, giving visitors the chance to explore prehistory in a unique way.
Kids can learn about the different species of dinosaurs while having fun at the same time.
There are also interactive activities like fossil hunting and dinosaur egg hatching that will keep them engaged and entertained.
In addition to its educational elements, DinoPark Algar also offers other attractions such as a playground, a 3D cinema, a cafeteria and more.
The park is surrounded by an extensive natural area of lush vegetation and stunning views of the surrounding landscape, making it an ideal spot for a day trip.
Open daily from 10 am.
Entry prices are E15 for adults, E10 for kids under 12 and under 4's are free.
14. Karting Benidorm
Karting Benidorm is a great activity for families looking for an exciting day out.
With its unique circuit and fast-paced karts, it offers thrills and spills for all ages.
The track is 1.3 km long and 10 meters wide, making it perfect for both adults and junior racers.
Plus, the cost of admission is only 20 euros, which includes around 10 laps around the track.
The Karting Finestrat track also offers free limousine transport from anywhere in or around Benidorm to make your trip even easier.
There is a bar and restaurant on the premises where you can relax either before or after your race.
Suitable for kids over the age of 4 right up to seniors.
Open daily from 11am-7.30pm
15. Climb La Cruz de Don Juan Viewpoint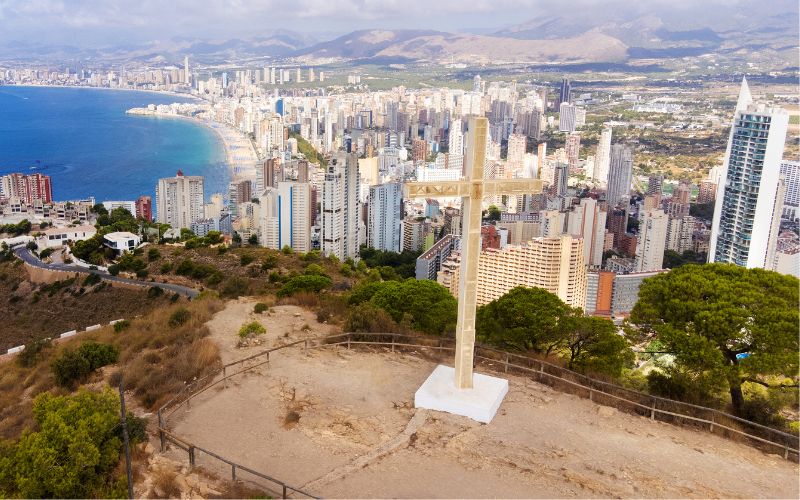 With stunning views of the city, climbing the La Cruz de Don Juan(La Crue de Benidorm) viewpoint in Benidorm is a great activity for families.
The hike to the cross is 438m above sea level and can be completed in a couple of hours.
There is also a spectacular viewpoint at 217m if your little ones can't manage all the way to the top.
The are lots of places to stop along the way to take in the scenery and enjoy a picnic lunch but there are no services. Make sure you pack water and snacks.
At the top of the viewpoint, you'll be rewarded with spectacular views of Benidorm and its surroundings.
From here, you can see for miles across the Mediterranean Sea and spot some of Benidorm's iconic landmarks such as its castle and lighthouse.
Would you visit Benidorm for a family holiday?
We hope we've convinced you Benidorm is a family-friendly destination.
From beaches to glass bottom boat trips to yellow submarines, amusement parks like Terra Mitica and Mundomar Animal Park to DinoPark Algar, water parks such as Aqualandia and Aqua Natura, Karting Benidorm and La Cruz de Don Juan viewpoint, Benidorm is a fantastic place to spend your family holidays.