It's no wonder that Spain's one of the most popular holiday destinations in all of Europe, between its warm sunny weather, beautiful beaches and affordable dining.
Both of the last two springs I've headed to Spain for an early year dose of sunshine and warmth, at the end of a long winter.
And no matter if you're travelling to Spain for a short vacation or for a longer sojourn, if you've wondered 'Can I take my dog to Spain on holiday?' the answer is yes.
It's quite easy these days to take your dog to Spain, but here are some tips to keep in mind.
6 Practical Tips for Taking a Dog to Spain
1. Consult with Your Vet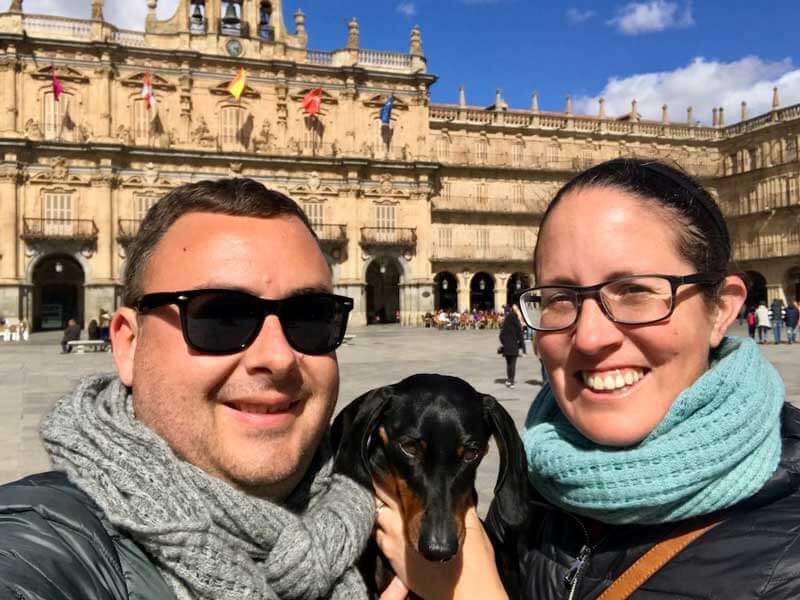 If you're travelling from elsewhere in the European Union, all you need to do to prepare your dog to travel to Spain is to have them microchipped, have a vaccination against rabies (at least 21 days in advance) and have all this recorded in an EU Pet Passport.
Although your passport won't probably be checked on entry, unlike when travelling into some countries such as the UK.
If you're travelling from further afield, check my guide on travelling into the EU with a dog , including whether a rabies titrate test is required.
However, you should also check with your vet whether your dog requires anything else to protect their health in Spain.
In particular, inquire about Leishmania, a parasitic disease that can be fatal to dogs. This disease can be passed on to dogs from sandfly bites and is a risk in parts of Spain in the summertime.
Certain collars and medication (like Advantix) can provide protection, plus keeping your dog inside at dawn and dusk, though a vaccine (requiring three injections) has also recently become available.
Your vet should be able to recommend the best and most up-to-date protection and advice.
2. Carefully Plan How to Transport Your Dog to Spain

While you may be able to easily book and catch a cheap flight to Spain for your vacation, with a dog it's not quite so simple. Not all airlines are pet-friendly, and it's extra difficult if you're travelling to Spain from the UK.
If you're travelling to Spain from the UK with a car, it's easier. If you're crossing the channel via the Eurotunnel or on a ferry, both options allow you to bring along your dog, for a fee.
Then there's just the long drive through France. Alternatively, consider catching one of the Brittany Ferries directly to Spain. Pet-friendly cabins are available but do book out well in advance.
If you don't want to drive to Spain from the UK (or don't have a car), it's slightly trickier.
A few airlines offer the option to fly out of the UK with a dog in the cabin (for small dogs) or as checked-baggage, including Iberia Express directly to Madrid.
However, dogs flying back into the UK can only fly as cargo, an expensive option.
Consider instead flying to Amsterdam or Paris, then catching one of the few ferries that allow foot passengers to bring along a dog.
Unfortunately, Brittany Ferries and many of the channel ferries don't allow foot passengers to bring a dog, plus the Eurostar train doesn't allow dogs (except guide dogs).
For full details of all these transport options, check out my full guide to every transport option.
3. Consider Your Transport Once in Spain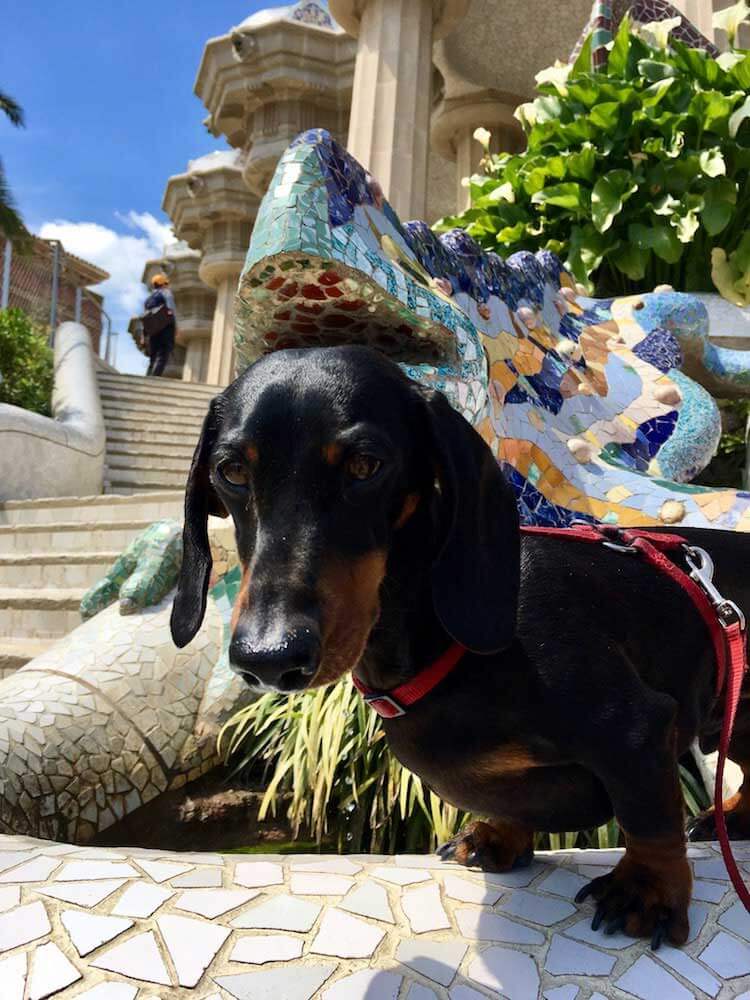 If you're travelling to Spain with a small dog, you can count on using public transport to get around. Long-distance trains allow dogs in carrier bags, plus all of the local trains and metros.
Just don't count on long-distance buses, as you may be required to put your dog in the luggage hold – not something I would be happy to do!
If you're travelling with a larger dog, it may be better to hire a car. For starters, larger dogs are not technically allowed to travel on long-distance trains.
While I have heard reports that often you can get away with it, you could also be denied boarding or be asked to leave the train.
Some cities like Barcelona and Madrid have changed their metro rules in recent years to allow dogs of all sizes, albeit sometimes with restrictions, such as outside peak hour or just in the last carriage.
But other cities such as Valencia still don't allow larger dogs on the metro.
Related article: How To Get Around Spain: A Beginners Guide
4. Plan to Eat Outside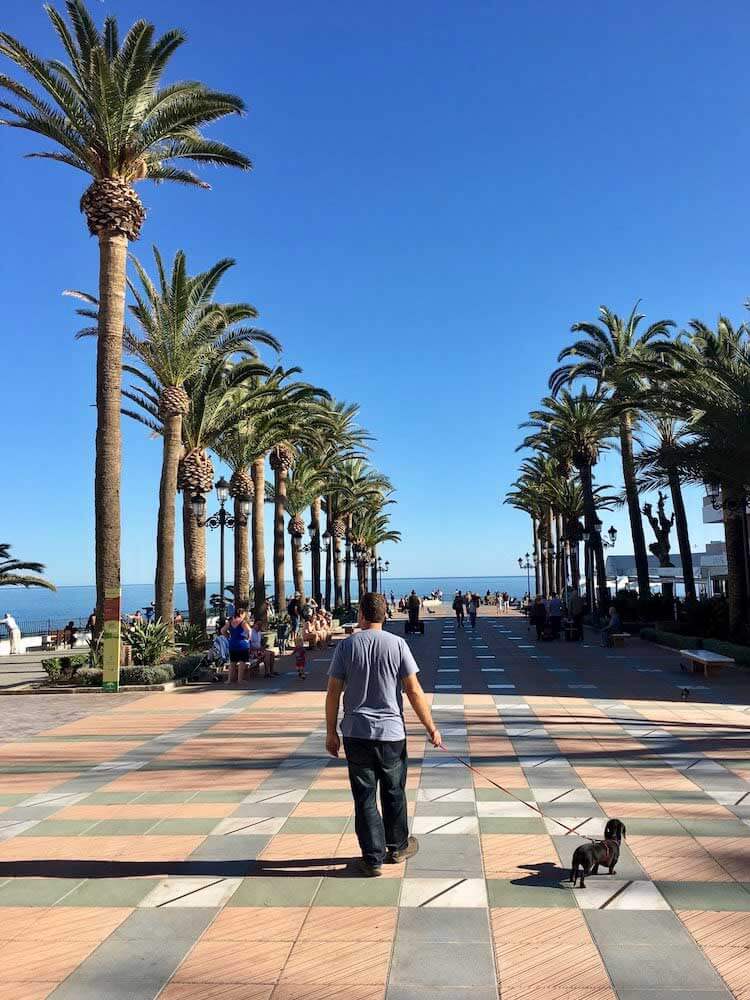 While some restaurants in Spain may allow you to eat inside with your dog, in the majority of restaurants, including many that I enquired at, you will not be able to dine inside with your dog.
Some parts of the country are more likely to allow dogs inside, such as casual cafes and bars in the Basque Country and Catalonia. But always ask!
Luckily then, for most of the year, the weather is perfect for outdoor dining (and it's cheap!), especially in the Canary Islands and southern Spain.
I never had any issues eating on an outside terrace with my dog, even if I had to pass through the indoor dining section.
5. Investigate Dog-Friendly Beaches

Spain has no shortage of excellent beaches, but when it comes to taking your dog to the beach, most of them are ruled out for the summer holidays.
During wintertime, dogs are usually allowed on most beaches. Just check for any signs or check what the locals are doing (which may involve ignoring signs). But come summertime, most beaches prohibit dogs.
To find out what beaches allow dogs, either all day or at certain hours of the day, check out the great list and map at Red Canina.
It's in Spanish, but it'll help give you an idea. Check out the options before finalising your accommodation, otherwise, you may face a long drive to the beach along with your dog.
6. Be Prepared for the Heat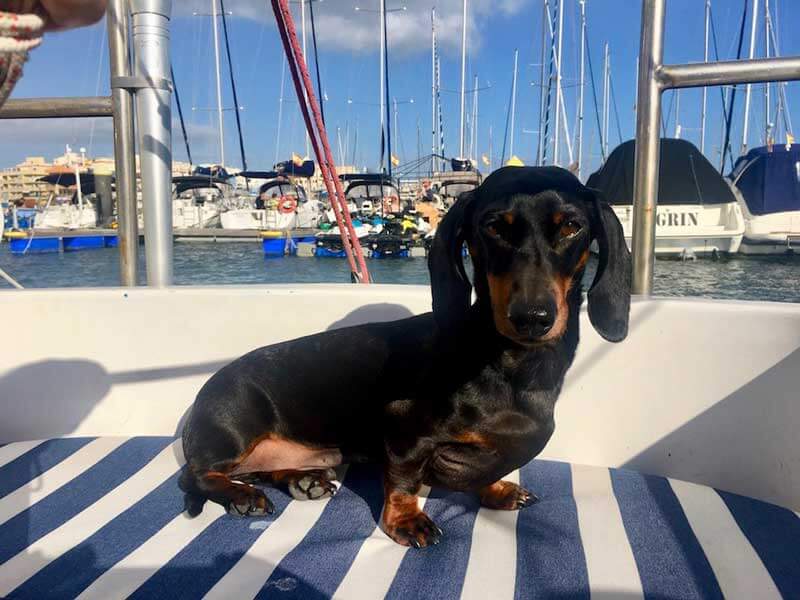 Speaking of summer, be extra careful of how your dog is coping with the Spanish heat in the summertime. They can't let you know if they're uncomfortable or becoming heat affected.
So keep an eye on how much they're panting, how alert they are, and whether they're showing signs of wanting to move to the shade.
In particular, carry a collapsible water bowl and a bottle of water, even outside summertime, and offer it regularly to them when they've been outside or it's hot.
Shandos Cleaver is an Australian blogger who is currently travelling around Europe with her Miniature Dachshund, Schnitzel. She blogs about dog-friendly travel on her blog, Travelnuity
Related: