Update: November 2017: Moving to Spain is clearly a popular topic, who knew my post about our cost of living in Spain would be so popular! I've added some more details and helpful resources to this article about living cost in Spain.
We recently visited our old stomping ground and I made sure to zip through Mercadona to update my list of Spain supermarket prices so it would contain recent numbers. I'm pleased to report that costs seem to be almost the same.
Perhaps you've considered moving to Spain or even retiring in Spain?
Since writing this post (originally published in 2015) I've had emails and comments from various people, including those interested in becoming an expat in Spain to people just wanting to live in Spain for six months (which is what we did) or some just wondering how much to live in Spain for a month.
Living in Spain appeals to many people, and it's definitely the top of my list as a destination to move to (our goal is to make the move back there permanently within three years).
The living costs I've shared below are from our six-month stay in the Costa del Sol.
Please bear in mind we are a frugal family with a toddler so we don't go out clubbing or eat at fancy restaurants. We try to cook our own meals whenever possible.
Rent
€592 per month for a fully furnished 2 bedroom apartment including high-speed internet, 100 metres from the beach. This is on the high side for the area.
If we were staying long-term we could get a furnished apartment for between €400 and €500 per month, however, we would need to organise our own internet and electricity connection.

Our apartment is a holiday rental. We prefer to rent vacation apartments as they are usually fully equipped so we can just bring our clothes and move in.
As we are staying during the low season we are able to take advantage of lower rates. We initially committed to 4 months and extended that by an extra month.

We use Airbnb.  You can read more about my top tips to save money on Airbnb (including how to negotiate a cheaper monthly rate and what to look for in a long-term listing) plus get a FREE $40 Coupon for your first stay. 
Groceries
Our grocery budget in Spain was €500 per month including all groceries, fresh fruit and veggies, nappies, cleaning products and my coffee addiction.
I'm a big clearance shopper and I struggle to find special offers here.
Eroski is the only supermarket I've found that discounts its products when they approach use-by dates.
A Sample of Grocery Costs in Spain
Disposable nappies: €7 for 26 pull-up types nappies
Fresh Milk: €1.80 for 1.5 litres of fresh milk (most locals buy UHT milk which is much cheaper)
Free-range eggs: €1.00 for 6 from the local fruit and veg shop. These are exceptionally cheap as I reuse my plastic egg trays so the shopkeeper gives me a €0.10 discount. Still, €1.10 is a steal for free-range eggs (Huevos camperos)
Beer: €3 for 6 cans of Victoria brand. Cheaper brands can be bought for as little as €0.23 cents per can. Alcohol is very cheap here. I have noticed a large population of expat alcoholics. I suspect their move here was a strategic one.
Lemons: €0.40 per kg.
Oranges: €0.64 per kg.
I've found the smaller local grocery shops are as good as the larger shops, plus the local Baly has a full-service butcher (carniceria) so I can get the cuts of meat I prefer.
Fruit and vegetable shops are almost always cheaper than the market (simply a tourist attraction here) and the supermarket. I only buy dry and frozen goods from the supermarket now.
For a break-down of grocery prices from Mercadona please click here to visit East of Malaga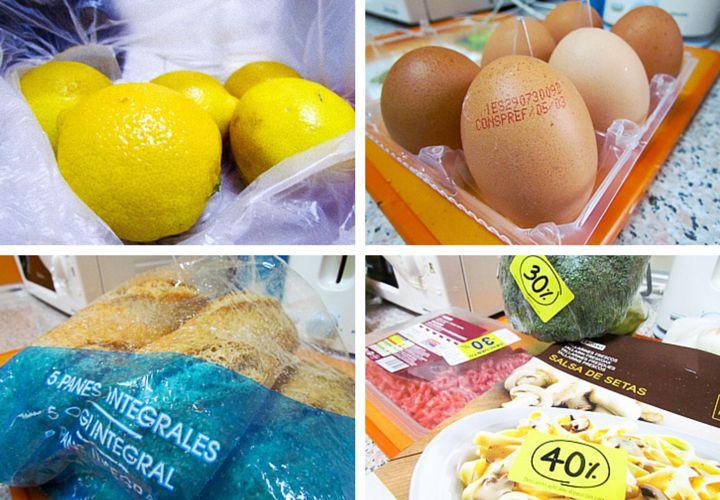 Eating Out/Coffee
Living in the Costa del Sol means we are never far from a greasy English breakfast.
There's also Sushi, Thai, Chinese, Mexican and Indian restaurants in our little town.
As uncool as it is to admit that I don't always fully immerse in local cuisine, I'm not sure I could survive any amount of time without pad thai or sushi so I am grateful.
Tapas: Usually range between free with a drink to €1-€2 per plate.
Pad Thai: From €7 in a noodle bar to €11 in a Thai Restaurant
Sushi: From €3 for Maki Rolls from Carrefour (surprisingly good) to €12 in a Sushi Bar.
English Breakfast: The good ones are around €4 including a cup of tea. I recommend El Bistro in Los Boliches.
Cafe Life
My favourite thing about life in Spain is the general population's appreciation for good coffee.
Every tiny hole in the wall bar or cafe has a huge commercial-grade espresso machine. People go to bars to drink coffee.
It's totally normal to see bars full of people drinking their cafe con leche en vaso (coffee with milk in a glass) early in the morning.
Expect to pay between €1 and €1.50 for your morning dose. I usually have a croissant with my coffee for €1.60.
Childcare
The main reason we came here was to enrol our son in preschool in a Spanish language immersion environment. It took some time but he now loves his 'school'.
His Spanish is really coming along and whenever I get a little bored of being in one place for so long I just have to look at how his language has developed and my anxiety is assuaged.
We pay €250 per month for half-day tuition (8.30-13.00) five days per week. There was also a one-off administration fee of €160. This price does not include food or nappies which we must supply.
Transport
We purposely chose to live in a highly walkable location. We do not have a car.
Everything we need on a day-to-day basis is within walking distance. If we need to venture further local buses cost €1.15 per bus ride.
Train tickets on the Cercanias network which runs between Fuengirola and Malaga is between €2-4 euros depending on destination. The train to the airport is €2.50.
Healthcare
Doctors visit cost between €60 and €80 for a private English-speaking doctor. Our second son was conceived in Spain (there's something about that Mediterranean air:)) and we had the 12-week scan at an international hospital in Fuengirola.
It cost €200 to pay for the scan a la carte, however, had I chosen to remain in Spain for my entire pregnancy we would have paid around €5000 out of pocket for everything.
I don't have a source for that cost as it was just a figure mentioned in our consultation. We don't carry health insurance so we pay out-of-pocket for doctors visits. We carry a long-term travel insurance policy with World Nomads for emergencies. 
Entertainment/Recreation
Gym Membership: €100 for 4 months at a low-cost no-frills gym. Walking or jogging along the paseo and using the excellent workout equipment on the beach costs nothing!
We try to make the most of free entertainment as much as possible. We live 100 metres from the beach and have a toddler so he is usually happy to go digging or play at the playgrounds on the beach.
Did I mention playgrounds are on every corner/plaza? In every possible open space?
We bought a pass to the local zoo for my husband and son. It was €38 for a 12-month pass. (Dylan is free as he is under 3).
My husband and son go to the zoo together at least once per week. Single entry was around €20 so he just bought the annual pass and made it back in 2 visits.
Watching the processions for La Semana Santa (Holy Week) costs nothing at all.
Communications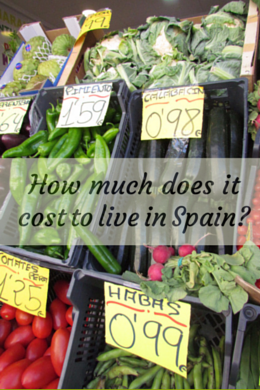 We purchased Jazztel sim cards when we arrived and load €5 on to them each month. This is enough for calls and texts only. We try to stick to Skype/Viber/iMessage for communicating with friends and family.
Total Living Cost in Spain for Family of Three
Rent: €592
Groceries and coffee: €500
Childcare: €250
Recreation: €50
Transport: €20
Mobiles: €10
Eating out: €50
Total: €1472
Our monthly spend ranges between €1472 ($2186NZD/$1648USD/£1089GBP) on a good month to €1800 ($2673NZD/$2015USD/£1331GBP) if we are eating out a lot or taking weekend trips. We're comfortable with both numbers as we still consider this travelling time and it is really nice to have a place to call home.
Cost-wise life here is on par with what we spend to live in New Zealand with a few exceptions. I'm not sure I'll be able to stomach paying $5NZD for free-range eggs again – might be time to get some chooks for the backyard.
Want more? Check out my highly subjective opinion on the pros and cons of living in Spain here.
I've also had lots of questions about how we afforded to stay in Spain and how I earn an income online (which is preferable to finding a job in Spain which can be difficult). I discuss all the details of how I earn an income online in this post.
Do you have any questions? Would you consider moving to Spain?

Like this? Pin it for later.