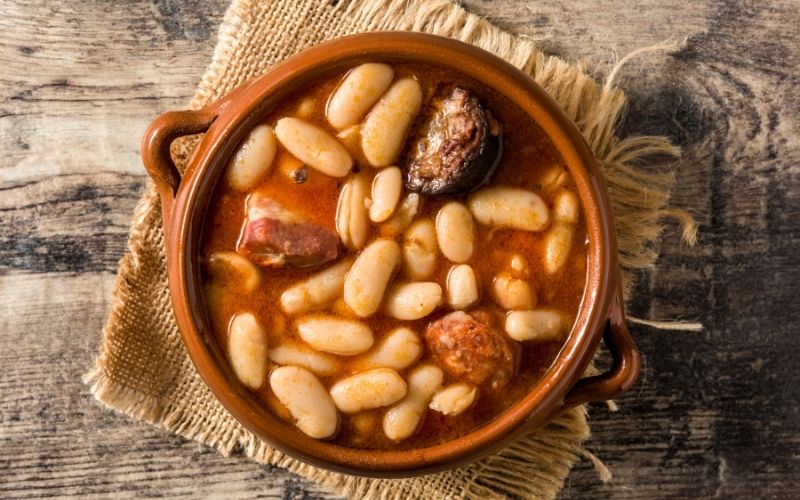 Fabada Asturiana, often better known amongst Spanish people as simply Fabada, is a delicious and rich Spanish bean stew, which originates from Asturias.
It can be found all over Spain, and you can even find it canned and sold in most supermarkets, as it is a highly popular dish.
It is a hot and incredibly filling dish, usually eaten during the winter (it is far too heavy and warm for the Spanish summer season!)
It can be served as a starter, or as the main course of the meal. As a general rule, it should be the biggest meal of the day.
Fabada is also often served with Asturian cider, which is the traditional combination, or with some red wine.
But what exactly is Fabada Asturiana? How did this traditional dish come to be? How is it made? Should you give it a try?
We can answer all these questions and more, by telling you everything you need to know about Fabada Asturiana. And trust us, the likelihood is, you will want to try it for yourself!
Origin And History Of Fabada Asturiana
Fabada Asturiana has its origin in the autonomous community of the Principality of Asturias, within the country of Spain.
The dish was first consumed during the 16th century, or at the very least, this is when the first records of Fabada being planted and consumed date back to!
The variety of beans used in this dish are known as "de la Granja", and they are known for being extra smooth and buttery.
Nowadays, the cultivation of these beans takes up around 2500 hectares within the territory of Asturias! So it really is a popular food!
The ingredients used in the dish as it is known nowadays, are thought to have their official origin sometime within the 18th century (but there is no evidence to prove this).
Scholars believe that although Fabada Asturiana is a rural and humble dish, it was actually first created within cities.
The truth is, there is no written reference to Fabada anywhere, and one of the most popular literary works of the time, 'La Regenta' describes all of the customs of the region but does not make mention of the dish at all!
Some authors that do mention it, do so while comparing it to Languedoc Cassoulet, a dish from French cuisine. So perhaps the Fabada Asturiana took its origin from this?
It could have easily reached Spain through the Camino de Santiago (a famous pilgrimage route that goes from the south of France, all through the north of Spain, until it reaches Galicia).
This route passes through Asturias, so it could be that a pilgrim brought the French dish along, and the locals of Asturias took it as inspiration for their own.
The first ever written reference that we have to Fabada Asturiana, is from 1884 when it was mentioned in an Asturian newspaper called "Gijon El Comercio".
This is why some scholars actually argue that the dish originates sometime within the 19th century.
The truth is, the origin of this Asturian dish is unclear and unknown. We do not have an exact date, and we do not know if it was completely created in Asturias, or if inspiration was taken from France or other places.
What remains important, is that it has become a traditional dish of the region, known all throughout the country, with many variations having spread worldwide!
What is Fabada Asturiana made out of?
So…what is Fabada Asturiana actually made out of? As in, what are the typical ingredients?
As a general rule, Fabada Asturiana is made with the beans de la Granja, which are large white beans that are soaked overnight before being used.
Also used in the dish is Lacon (which is the shoulder of a pig), Pancetta or bacon (also from the pig), morcilla (a type of blood sausage typical in Spain), chorizo, olive oil, sweet paprika, garlic, and salt.
So basically, it is a dish made out of beans, leftovers from a pig, and some seasoning.
It's a pretty humble dish that fits in with rural lifestyles, which is probably why it became so widespread and popular amongst the people of the region!
How To Make Fabada Asturiana
If you want to try Fabada Asturiana, we recommend going to the very source of the dish, and visiting Asturias, in Spain.
However, we are aware that not everybody can go to Spain, so instead, you could try making it yourself by following the right recipe.
To help you out here is a basic recipe on how to make Fabada Asturiana. Remember, however, that it can be done in different ways!
You Will Need
1.5kg of beans (ideally, beans de La Granja from Asturias)
100g of cured pork belly
Asturian chorizo (4 pieces approx)
Asturian morcilla – blood sausage (4 pieces approx)
1 large onion (minced)
200g of olive oil
100g of butter
5g of sweet paprika
1 pack of saffron
40g of salt
Half a liter of chicken stock
Step-By-Step Instructions
The day before, place the beans in water, and leave them to soak overnight
When cooking the dish, start by putting the beans, the cured pork belly, the butter, and the olive oil, all in a large pot. Then fill this with water so that everything is covered.
Wait for the water to boil, and make sure to skim off any unwanted fat as it floats to the surface!
Lower the temperature so that a gentle boil is maintained.
Place the chorizo and morcilla in a separate pot of boiling water, and cook for 5 minutes or so until you can remove the unwanted fat. Then take them out and place them to one side for later.
Fry the onion with the sweet paprika, with some extra olive oil.
Add the chorizo and morcilla to the beans, along with the fried up onion and paprika.
Cook for around 90 minutes, making sure water always covers the beans. Add the chicken stock for extra flavor.
Make sure not to stir while you are cooking, and once ready, serve it in a shallow bowl! You can add some extra seasoning if desired, or cook up some extra chorizo and morcilla to place on top!
Related: