Through some contract work, I found a last-minute cruise deal on the Mediterranean.
In my pre-Mum life, I worked in the travel industry and I know how popular cruise travel has become. And for good reason – your holiday begins the minute you board. If you live near a port you don't have to fly anywhere to meet the ship which means no jetlag and more fun time.
(This is seriously a huge drawcard to life in Spain for us – easy-access to the Med!)
You might visit a new city each day but sleep in the same bed each night. You unpack once.
Almost everything is included in the price, which makes cruising great value compared to the usual fly and flop beach destinations.
Kids often cruise for free if using existing bedding and there is a huge array of activities to keep them happy.
Our typical travel style borders somewhere between complete tight-arse backpackers and dollar-savvy occasional splurgers.
We try to keep total travel expenses well under $100NZD per day. At around $2000NZD for 7 days this trip was a splurge.
Justifying the cost was hard but we've always wanted to try cruising and the date and departure port suited perfectly.
It departed Valencia where we were planning to be for a month anyway so we didn't spend any extra to meet the ship. Our ship was the MSC Musica.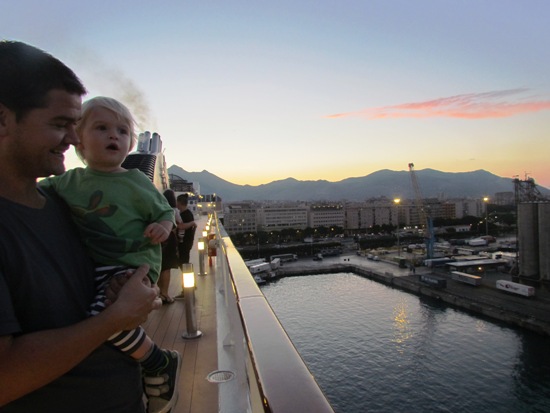 I'd read so many terrible MSC reviews online that I was nervous but from the minute we boarded we knew we were going to enjoy ourselves.
Those online complainers didn't have the same perspective as us, they hadn't slept in a concrete shack with a thatched roof at 4000m above sea level in minus 20-degree Celsius weather wearing every piece of clothing they owned to try to keep warm whilst battling altitude sickness in Bolivia.
They didn't have that frame of reference. They'd probably never left their comfort zone. Ever.
To us, the cabin was like a five-star hotel, with a king-size bed and a private balcony. It had a couch and a desk and a surprisingly spacious bathroom.
Our beds were turned down every night, it was delightful. Waking up with a new view every morning was the perfect antidote for wanderlust, and seriously nothing beats the vistas when you are cruising into a new port.
Getting on and off the ship is easy with your cruise card and we did not need our passports in the European destinations.
The staff was so friendly and affectionate toward Dylan. He must have been kissed at least twice a day, even though one of the wait staff told me they weren't supposed to touch children.
Whilst I can definitely see the allure of visiting so many new destinations in one week, having 5-8 hours in a city is exhausting and you can do nothing more than scraping the surface.
Since we like to travel slow and really get to know a place in-depth, port stops seemed counter-intuitive.
We focused on one small thing in each port – like finding a boulangerie in Marseille for pain au chocolate and eclairs, a coffee in Genoa because Italy = Coffee, and of course seeing the Colosseum and drinking more coffee in Rome (we loved these tips for Rome).
This helped us to feel more like ourselves, and less like typical cruise ship tourists.
I have to admit the dress code kind of pissed me off. We are living out of a suitcase and we try to pack light!
We don't have gala wear. As in evening gown for ladies and a dinner jacket for men. Are you kidding me? The only time we could eat in the official restaurant was the one night on the cruise they allowed casual wear (which translates as our poshest outfit).
That one night was a freaking nightmare, trying to keep a toddler in his seat in a busy restaurant where the five-course meal was served at appropriate time intervals.
I mean if it's just me and Dave we are happy to wait ten minutes for the next course, but this is survivor style commando eating.
Our kid cannot sit still without something in front of him to distract him (like food). Line that food up and hit me in one go, please. The in-betweens are just an opportunity for running and pulling tablecloths and doing all sorts of really fun things in the world of a 2-year-old.
Mummy does not like the in-betweens. So we pretty much ate all our meals at the buffet which did get a little old but ease always wins. We noticed all the other parents of toddlers banished to the buffet by circumstance, there was solidarity in that buffet.
Below is some of what I learnt about cruising from our time on the Med.
My tips for enjoying your cruise without blowing your budget!
1. Be flexible:  Last-minute cruises are often the cheapest. We are travelling long-term so we have a lot of flexibility in our schedule.
2. Check what's included: We couldn't believe water was not included so we did some research and found the cruise line was quite relaxed about bringing on your own water from port stops.
3. Check the age restrictions in pools and kids clubs: Our cruise only had a supervised kids club for kids over 3 years old.
It did have a great baby time playroom sponsored by Chicco where you could take your under 3 to play as long as you were with them.
The pool rules prohibited nappies in the pool (it didn't specify if swim nappies were ok) and children who were not toilet trained were also not officially allowed.
We didn't see anyone enforcing this rule but it's best to be prepared. There was a small kids pool next to the play area however it didn't open during our cruise.
4. You can almost always organise a cheaper excursion than what the ship offers, you are paying the ship for convenience.
For example, the port stop to the Oceanografic Aquarium in Valencia cost 55euro per adult, yet ticket entry actually costs 27euro per adult and the taxi from the port would have cost a maximum of 7 euros.
That's a big markup. We skipped the excursions everywhere except Rome. Although I've visited before, Dave hadn't and we wanted to make the most of our five hours in the city.
We took the coach trip at over triple the cost of the local train from Civitavecchia, however, we were dropped off right outside the Colosseum.
In every other port, we got off the ship and walked around the port area or used taxis/public transport to get into the centre.
5. Beware the drinks package: It may be good value if you are a big drinker but how many budget family travellers really drink over 20 euros per person worth of beverages every day?
Seriously that is our entire days' travel budget in beverages.
We saved by drinking the free water at mealtimes and stocking up in port for water for our room. On the odd occasion, we felt like a beer we'd just buy at the bar and charge it to the cabin.
6. Make the most of the free activities: Our cruise ship had an excellent gym, sprawling kids play area and activities galore.
Our favourite activity was the half-hour Disney character show in the beautiful onboard theatre. Turns out 30 minutes is the exact amount of time a two-year-old can sit through a show.
7. Save big on an inside cabin: We splashed out for the balcony cabin this time, mainly because the price difference was nominal, however, if Dylan was a little older we would take an inside cabin just to get on the ship.
At the moment we spend a fair bit of time in our cabin with naps and time for winding down before bed so the balcony was a wonderful place for us adults to escape after Dylan was snoring.
8. Try not to get sick! Whilst obviously unavoidable when something occurs on board, get any pre-trip ailments seen to by a land-based doctor before you leave.
Dylan had a very high temperature and an awful restless night so we called the ship doctor to check him out. The service was excellent – two female doctors attended our room and although a bit was lost in translation we were confident in their diagnosis.
We were offered a follow-up visit in the clinic the next day which we were not charged for, although the cabin visit came at the princely sum of 160 euro, plus medication costs. Ouch!
This was our first cruise as a family so we have no doubt missed a few things. What would you recommend to parents thinking of a family cruise holiday?