Staying in a hotel should be an enjoyable experience – hopefully, even a wonderful one.
If you're on a tight budget, though – or need access to your funds for the next destination you'll be visiting – then you might need to know the answer to this question. Just how long does it take a hotel to refund your deposit?
How long a hotel deposit refund takes depends on the payment method used and hotel policy. If you paid by credit card, your refund should be processed immediately after checkout and available to use within 24 hours. Cash should also be refunded at check out. Debit cards take a few days and check up to a week.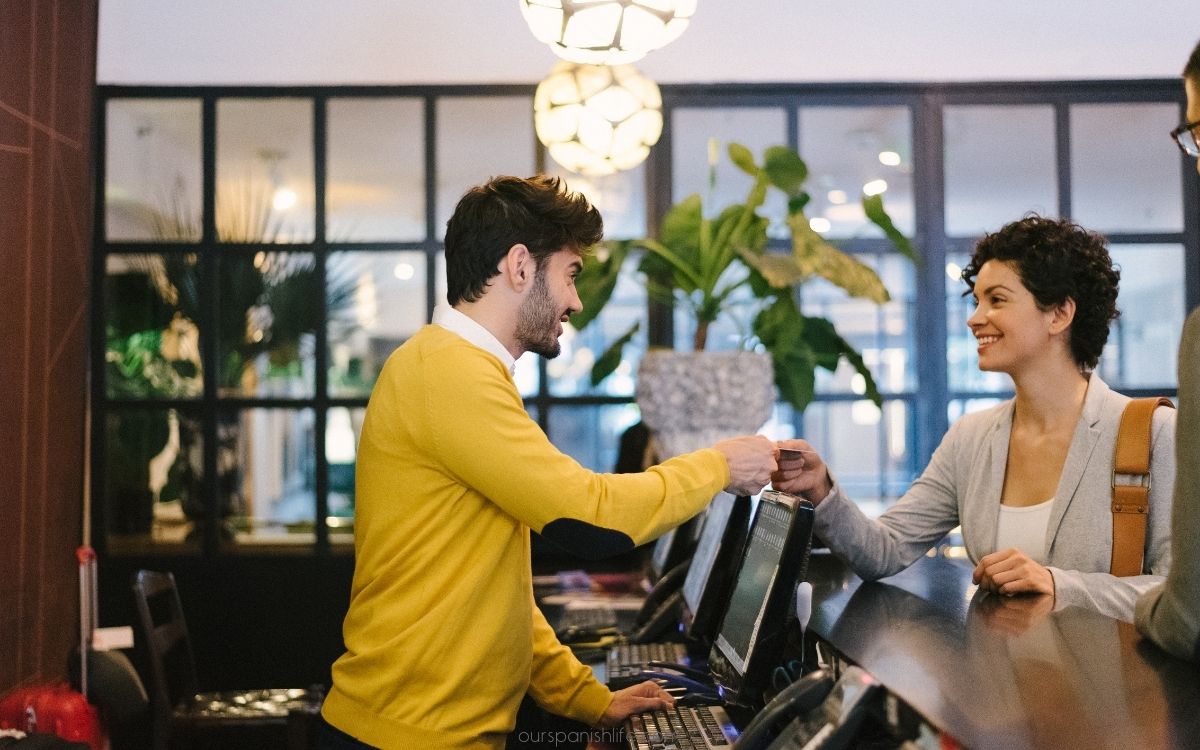 This post outlines all you should know about your money before you book that hotel room.
Covered is how to check the hotel's cancellation policy, as well as why they may ask you for a credit or debit card deposit beforehand – or when you check-in.
Whether you book your accommodations through a third party booking site like booking.com or directly with the company, it really can be helpful to know exactly where you stand before making that hotel reservation.
From making an advance deposit to checking your room service charges or incidental fees upon departure, this article outlines all you need to know about how – and when – most hotels should give you your deposit back.
Why does a hotel reservation require a deposit?
When booking a room, there's always the chance that you'll be asked to pay a hotel deposit.
In short, this is money held by the accommodation provider to cover any costs they incur as a result of your stay.
This may also include any loss they'll make as a result of a no-show or a cancellation.
So the first thing to look out for when booking a hotel room is what that specific hotel's cancellation policy is.
Hotel cancellation policy
All accommodation suppliers have a cancellation policy. This outlines when you can cancel your booking, and what – if any – penalties will apply.
For instance, the hotel may allow guests to cancel up to 24 hours before arrival without penalty. This would be an example of a rather generous cancellation policy, as that is pretty late.
If the hotel is confident that they can resell the room during the time period between you canceling and your planned arrival, then they may have such a policy in place.
Put yourself in the hotel owner's place for a moment, though. If you cancel with short notice, how do they recoup the cash your booking would have brought in?
To do this they may well have to let the room at a reduced rate via some sort of late booking website. During off-peak times, there's a good chance that it won't be rebooked at all.
Either way, they stand to lose money – and they may not be able to afford to do that.
Hotels can make a lot of money, but they also have high overheads such as a mortgage or rent on the premises, staff, maintenance and so on.
Hotel deposits are therefore used to protect the hotelier's interests – whether they're a large international company, a small localized chain or a single, family-run operation.
Many hotels will have a stricter cancellation policy, and you may incur higher fees the later you cancel before the planned arrival date.
Room service & other incidental charges
There is a second reason why hotels retain a deposit from guests. The likelihood is that each person staying will run up some kind of bill during their stay.
If this remains unpaid when they depart, the hotel again has costs to cover.
A guest may charge dinner and drinks to their room, use the minibar, make phone calls, or order room service during their hotel stay.
This may all be chargeable – but if the guest leaves without paying what they owe then the hotel owner will be out of pocket.
Another factor that may be included as 'incidental charges' is when there is damage to the hotel room or other areas of the property.
Whether this is deliberate or caused by due care not being taken, the hotel may have a case for including extra fees on the invoice.
Again, this is something that could leave the hotel seriously out of pocket.
Whether a brand-new bath needs to be fitted, the walls need repainting, the TV screen needs replacing or the carpet requires repair, this could cost the hotel dearly.
What to check when booking a hotel room
So you can see why a hotel needs to charge guests a deposit. It covers losses they might make if you cancel at a late stage, when the hotel room may remain empty or be let to someone else at a cheaper last-minute rate.
The deposit also covers the hotel chain or owner if you leave the likes of bar tabs, the bill for dinner or room service charges unpaid. Or any other kind of hotel bill, such as for minibar or phone usage.
It also covers costs they could incur if guests cause damage to the property that must be rectified. Which does happen!
Are there extra fees and charges?
Another thing to look out for, therefore, when booking a hotel room is whether or not any other kind of hotel charge might apply to your billing statement when you check out at the front desk.
For example, they may charge more if you bring a pet into the building due to added cleaning and hygiene costs. There may also be another valid reason, like a fee for valet parking.
Sometimes self-catering properties in particular may also charge a certain amount for cleaning, or for the use of power or amenities during your stay. This is not normal practice for hotels, but it may happen.
If such charges might apply, then these should be outlined when you make the booking. They are likely to be found within the small print, however. So you really should read that small print at some point before parting with your cash!
Alternatively, ask your travel agent – if you use one – for details of all the booking terms and conditions, including any incidental charges and the cancellation policy.
A third-party booking site should also outline these somewhere.
Does your credit card have enough funds?
As you may notice when receiving a statement from your credit card issuer – there will be a spending limit applied to your card. Is there enough of this limit remaining to cover any hotel deposits you'll need to pay?
If you've flexed the plastic a lot lately, have an outstanding credit card balance or will be staying at a number of hotels during a period of time, then having enough funds to cover all the deposits could be a problem.
So do check this carefully in advance of travel. It may be a dull job, but it would be worse if the hotel refused to honor your reservation due to a lack of available funds!
If you may be approaching your limit, do get in touch with the credit card issuer before you travel. They may well agree to raise this, giving you peace of mind.
When will the deposit request be made?
Do you need to pay a deposit when you book, when you check in or at some time in between?
It's very important to know when a hotel deposit will be due, as that could determine whether or not you have sufficient funds to cover the amount.
How much is the hotel deposit?
You'll also need to know how much the hotel asks for as a deposit. Typically this may be charged per day of your stay, but one hotel chain or owner is likely to differ very much from the next in terms of how this is treated.
A fee of around $100 per day, for instance, is fairly average and shouldn't raise any alarm bells. The amount is likely to reflect the room rate, too – so a five-star property is likely to demand a higher sum than a three-star one.
A typical amount could be in the range of $50 to $200 per day, and applies on top of the room rate.
If you have any misgivings about the amount asked for, do feel free to ask.
Hotel staff – especially those who work on the front desk during check in and check out – should be well-versed in answering this sort of question.
When will the deposit be returned?
Depending on how you're fixed in terms of cash flow, this may be the biggie. How long after you check out from each hotel can you expect the hotel deposit to be returned? Thus, perhaps, freeing up cash for other costs.
Credit card deposits
So you paid the deposit at check-in or perhaps at the time of booking. When it will be returned varies according to the hotel chain, the credit card company and how long it takes them to check or bill you for any extra charges incurred.
When you use a credit card at check-in, the hotel will normally put a hold on a set amount rather than actually charging your card.
This reserves their right to charge you for any costs incurred by your use of extra services or any damage caused.
Credit card companies can verify when this hold has been lifted if you ask them. When using such a card, this should be pretty much instantaneous upon checkout.
Your credit card billing dates may affect this, however. If your account statement is issued between the deposit being taken and it being refunded, then it may show as a charge until the refund comes through onto the following statement.
It's different for cash, check or debit card deposits, however, so let's take a look at those scenarios next.
Cash, check or debit card deposits
We would only recommend using cash for a hotel deposit if they agree to refund this on departure. Make sure you get a receipt, too, so there's some sort of paper trail to follow in the event of a dispute.
If the hotel agrees to take a check, then do ask about how this would be returned. Could the hotel hold it after departure?
If so, then you may prefer to use a card or cash. They may not accept checks in any case, as they could not be honored by the bank when paid in.
A debit card payment normally takes banks no more than a few days to return to your account. Again, make sure you have a paper trail of some kind in case this does not happen as expected. If you haven't received your deposit back a week after checking out, it may be time to query this.
The downside to using a debit card as opposed to a credit card is that the money will actually be taken from your account – so you'll need to have it refunded back.
What to do during your stay
We know it can be hard when you're having fun… but do try to keep tabs on how much you spend.
Get itemized receipts where possible, or make a note of what you used from the minibar. (The next morning is fine, and you should be able to judge by the empties if nothing else!)
Ask to see an itemized bill during check out. If you do have any queries, do make sure to raise these right away, or later you may not have a leg to stand on.
In many cases, it may well be a simple error than can be rectified right away.
Getting your deposit back if you cancel
We're coming full circle now, right back to the hotel cancellation policy. This will determine how much of your deposit you'll get back – and may or may not outline how long this is likely to take.
A property may charge a cancellation fee or withhold your deposit if you cancel, especially if this is close to your check in date.
If you booked via a third-party booking site or agent, you can also ask them about when to expect your deposit back – and how much of what was paid you should get.
In the event of a dispute
Sometimes a hotel doesn't give a deposit back – either deliberately or as the result of a processing error.
Remember that it takes banks at least a few days when paying by debit card, or may be affected by your credit card billing cycle if you pay that way.
If you've waited a week or more, and your debit or credit card company say there's no trace of a payment, it may be time to chase things up.
Alternatively, you may wish to query the amount if the fees deducted were higher than you expected.
The first thing to do is to contact your card issuer. Double check with them that a payment isn't in fact pending, and/or get them to confirm the exact amount of the refund transaction.
They should also be able to advise what, if any, action can be taken at their end of the process.
Next it's time to question the charges with the hotel. Always do this in writing, and keep a copy – plus proof of mailing clearly marked with the date.
Errors are common, so don't panic at this stage – it may well be a human or machine error.
Raise the query as soon as possible. Rules will vary between countries, but do check if any time limits apply where you live as well as where you stayed.
The hotel should then respond – in most places within about a month.
If they don't – or you still disagree – then you should be able to file some sort of formal dispute.
In the US, for instance, the Fair Credit Billing Act gives you the right to raise a formal dispute.
This should be done in writing, and including any relevant evidence is important. Always keep copies of receipts, photos or correspondence.
Remember that different rules may apply, depending where the hotel is located and where you live.
Hotel deposit refunds | Final thoughts
In summary, many properties will take a deposit when you book a hotel stay with them. The best way to pay is by credit card, as the money will only be put on hold rather than being taken from you. When you check out, this hold should be lifted, either immediately or soon after.
In most cases it shouldn't take longer than a week to get a refund. It's always wise to check hotel policies regarding deposits, cancellation and extra fees before travel, and to keep track of spending during your stay if you possibly can.
Hopefully this article has clarified why hotels must take deposits. If you are hit by fees you're not expecting, do ask at the time. The chances are it's just an error. Even if not, then at least you're covered if you do need to take things further.
We hope this post has answered your question of how long does it take a hotel to refund your deposit, and that you have a fun and fuss-free stay!