Denia is a beautiful city in Spain's Costa Blanca with plenty of activities to keep the whole family entertained.
Whether you're looking for something to do on a day trip or an extended holiday, Denia has it all.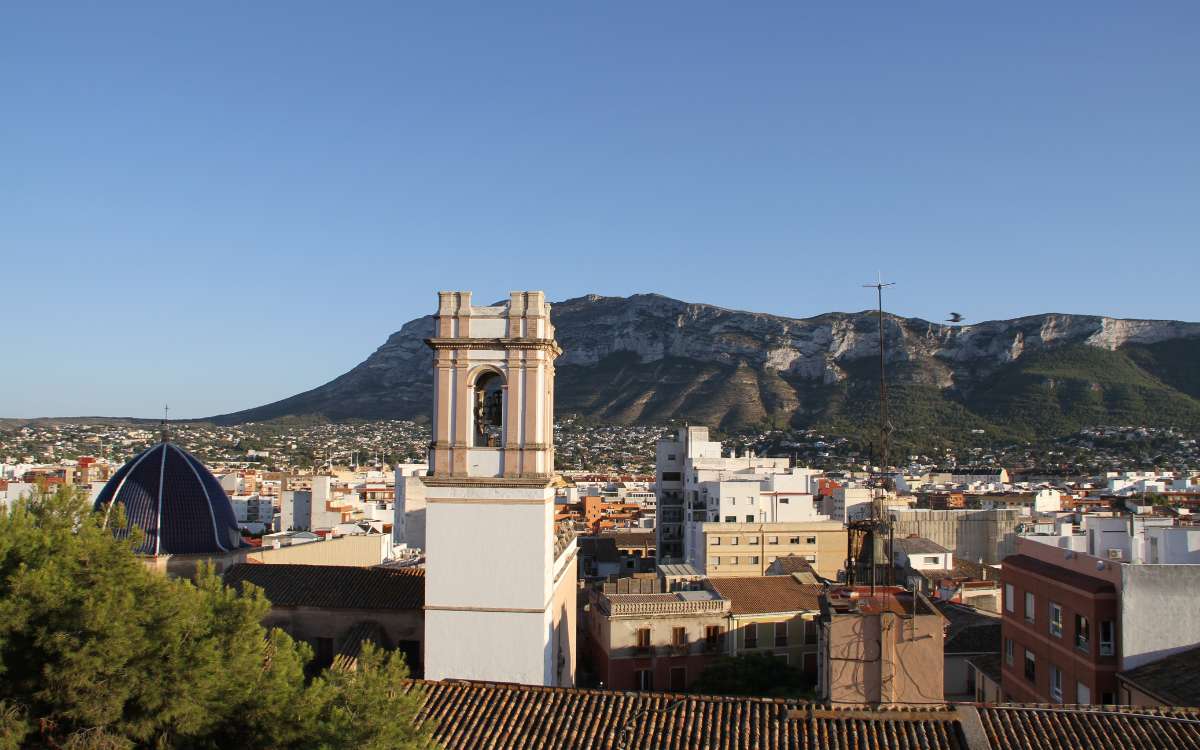 From thrilling waterparks and exciting amusement parks to educational museums and serene beaches, there's no shortage of things to do in this gorgeous Mediterranean town that will make your family vacation unforgettable.
Here are 20 fun things to do in Denia with kids!
1. Spend a Day at Las Marinas Beach
This long stretch of golden sand features shallow waters ideal for swimming and various beach activities.
Lifeguards are on duty throughout the summer.
There are plenty of cafes and restaurants nearby as well as ample free parking for those travelling by car.
2. Explore Montgo Nature Park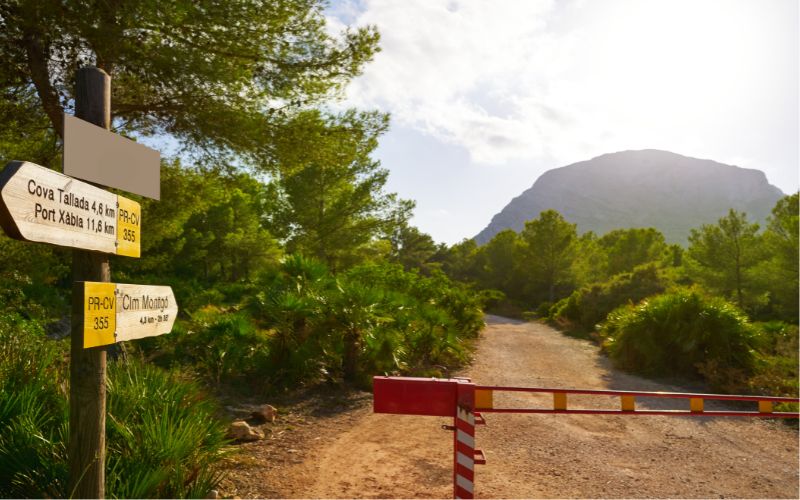 Montgo Nature Park is a 2117-hectare natural park located between the towns of Denia and Javea and is one of the main attractions in the area.
It is home to more than 650 species of flora and vegetation, making it a botanical reference of the first order. The park also includes a coastal section that covers over 3 kilometres.
The Montgo Massif rises to a height of 753 metres between the municipalities of Denia and Jávea, giving visitors stunning views from its peak.
Whether you're looking for a peaceful stroll along established hiking trails or an adrenaline-filled adventure, this nature reserve has something for everyone!
Montgo Nature Park is famous for its spectacular sunsets. Take a guided tour through stunning natural landscapes with beautiful views of Denia's coastline, or go it alone and spot various species of wildlife.
Pro tip: See if you can find any caves which are scattered throughout.
3. Go Kayaking Along Las Rotas Coastline
Set off from the rocky beach of Las Rotas and kayak along the coast to explore hidden sea caves and take in amazing views.
Las Rotas beach serves as the starting point of a memorable kayaking adventure on the Mediterranean with Fun Quads.
Paddling along 600 meters of crystalline waters, you'll soon reach the majestic Cova Tallada – a natural wonder created by man and which was used to extract stones that now adorn various landmarks in the area.
Once arrived at the cave, you can leave your kayaks behind and traverse its insides.
This caving experience gives you an up-close look at its manmade walls (used to mine rock from their interior), as well as explore its fauna and flora.
4. Enjoy an Afternoon Festilandia-Sould Park
Located in nearby Benidorm, Festilandia-Sould Park is a fun family theme park boasting rides, attractions and shows for children of all ages.
Rides include roller coasters, bumper cars and a children's indoor play area.
The park also features a mini-golf course, trampolines, indoor arcade games and plenty of restaurants to refuel after all the excitement!
5. Climb The Rock Of Ifach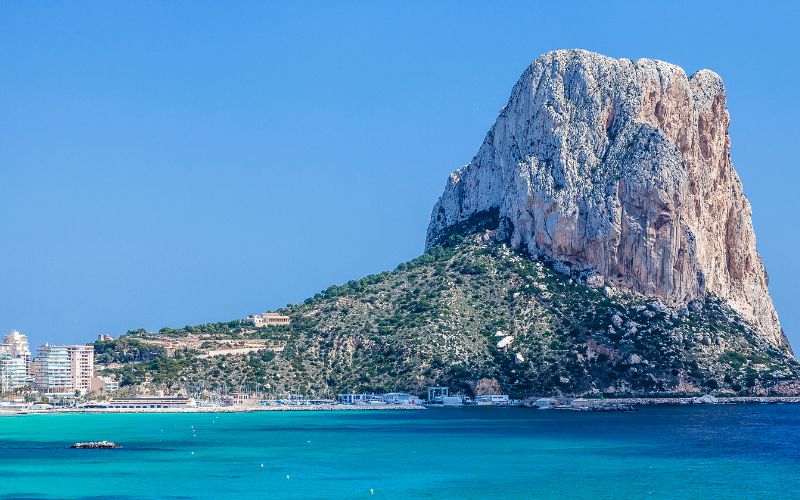 Hike up one of Denia's most iconic limestone landscape features offering breathtaking views over the coastline!
The climb is suitable for all ages and abilities with a variety of routes up the mountain.
Once at the top, take in spectacular views and soak up the sunshine.
Spot rare bird species including falcons, cormorants, gulls, and other migratory birds.
The Peñon de Ifach Natural Park is home to a spectacular array of bird species.
Bring your binoculars and explore the many picturesque routes in search of rare and exotic birds!
6. Have Fun At Aqualandia Waterpark
Also located in nearby Benidorm, is Aqualandia, an enormous waterpark with pools, slides, lazy rivers and more for hours of summertime fun for all ages.
The park proudly claims to have the highest slide in Europe.
Wear a wetsuit or float in a rubber ring for the adventure of your life in Aqualandia's wild water slides and waves.
You may bring your own food and drink into the park (except cans and glasses) which is a good idea because queues for food can be long.
Documentation may be required for children under 4 years to prove their age and be able to enter the park for free.
Buy your Aqualandia tickets online ahead of time and skip the queues. 
7. Visit Zensa Marina
Zensa Marina is the perfect spot to spend an afternoon with family or friends.
The marina is home to a variety of restaurants and cafes, as well as boat trips for dolphin-watching or fishing and other marine activities.
Take a stroll along the marina's promenade and take in breathtaking views of the surrounding coastline.
Enjoy Mediterranean food alongside live music performances while soaking up some sun from the nearby beaches!
Pro tip: The beach club offers amazing cocktails, delicious food, and a full range of activities such as stand-up paddling, sailing, and kite surfing.
8. Explore El Mercat Municipal Market
El Mercat Municipal Market offers a wide variety of food stalls, fresh vegetables and fruits, and arts & crafts.
Open 8 am to 3 pm, Monday to Saturday. and located at Calle Magallanes, 16 Dénia in el Centro, children will love experiencing the vibrant atmosphere of this bustling market.
Spend some time wandering around the market to sample some of Denia's specialities.
9. Explore Les Rotes Marine Reserve
Delight in an array of biodiversity amongst reefs, coves, rocky formations & bustling wildlife.
Take a boat tour and discover the many majestic underwater creatures such as turtles, sea bass, octopus, and more.
The Marine Reserve is also home to vibrant plant life including coral reefs & seagrass beds which makes it an ideal location for snorkelling.
10. Make A Splash At Aqua Natura Waterpark
Float down a lazy river or get wild on exciting water slides, wave pools & rapids all within beautiful natural surroundings at Aqua Natura.
Take a dive into the wave pools or speed down slides like Aqua Snake, Black Hole, and Kamikaze for an unforgettable day out.
Aqua Natura is the perfect place to cool off during those hot summer days!
11. Festival of the Bous a La Mar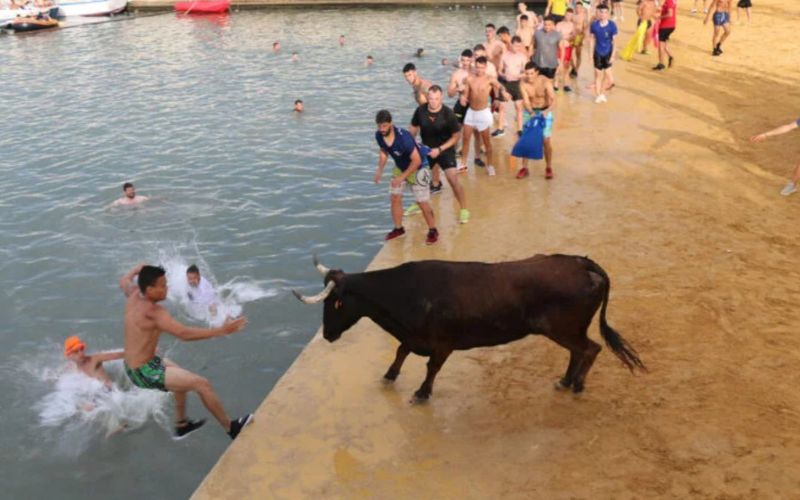 Celebrate the traditional maritime festival of Denia. Are you brave enough to lure a bull into the sea? Then this festival is for you.
Otherwise families can enjoy the spectacle from behind the safety of a fence.
The Festival of the Bous a la Mar which takes place during the Festivities of the Most Holy Sang in July each year is an impressive display of culture & tradition that shouldn't be missed!
Festivities start at the semicircular square in the port near the fish market. Ticket prices vary from 1-5 euros. More information here
12. Stroll Through the Fishermen's Quarter of Baix la Mar
Entering the neighbourhood Denia Baix la Mar is undoubtedly the most picturesque district of the city. It is commonly known as the Marine District.
You can wander through its streets and discover the old fishing boats, enjoy the cafes or restaurants or simply enjoy a quiet walk through its cobblestone paths.
Take a break at one of its many terraces with spectacular views and monuments.
13. Denia Castle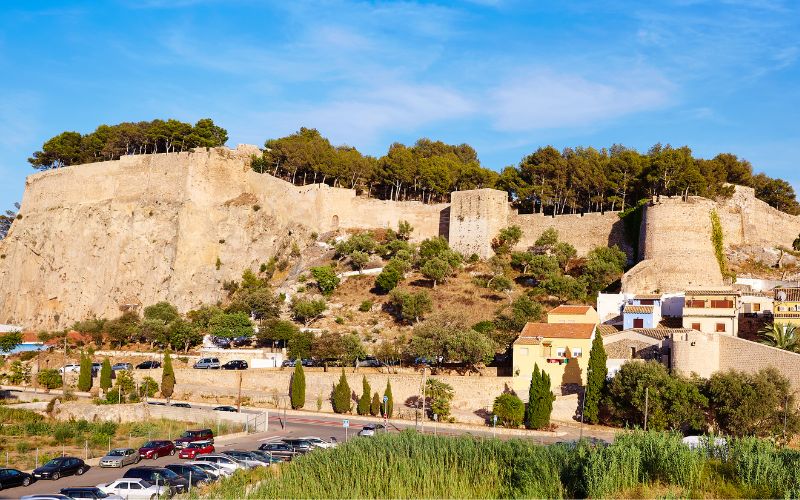 Built over a thousand years ago in the heart of the city, Denia Castle is a must-see.
Climb the stairs of the castle to soak up spectacular views of the surrounding areas while learning about its fascinating history and archaeological remains.
The Castle has been declared a National Monument by the Spanish government and is an important part of Denia's cultural heritage.
Access only by foot due to its steep incline and narrow streets. Prices vary from 1-3 euros.
Guided tours are available during the busier months.
Included in the price of the entry ticket is access to the Archaeological Museum located in the upper part of the castle. There is also a secret tunnel on-site, see if you can find it!
14. Enjoy Denia Beaches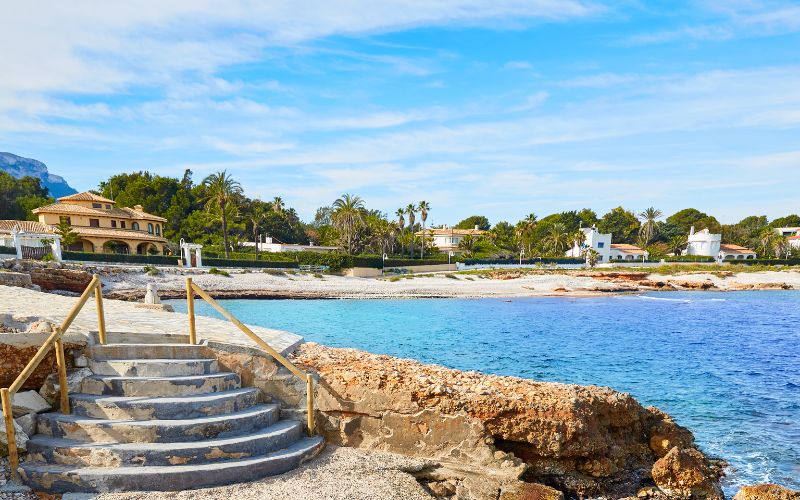 You will be spoilt for the choice of beaches in and around Denia.
Beaches like Playa Escollera Norte and Playa de la Marineta Casiana have been awarded the Blue Flag for their high standards of safety, cleanliness and facilities.
In total, Denia has many beaches in which to enjoy a variety of water activities such as diving or windsurfing. There are also plenty of sunbeds and parasols available for rental at each beach.
15. The Toy Museum
The Denia Toy Museum is located on the first floor of what was once the old train station.
Toys such as cars, planes, boats, and dolls, made of either wood or metal can be seen here.
From the early 1900s, the toy industry around Denia was significant, with almost 40 factories in the local area.
Entry is free and the opening hours are from 10 am-1 pm and 4 pm-8 pm.
16. Take a Stroll Along the via Verde(Greenway) De Denia
This beautiful well maintained Greenway is built on an old railway line which once linked Denia to Gandia.
With just over 6 km of the mostly flat path, it's suitable for all ages either on foot or by bike.
Take in the stunning views and wildlife along the way, crossing over many bridges and passing through some of Denia's most impressive nature reserves.
Picnic areas and rest stops are located along the path for visitors to enjoy.
The Greenway is open all year round, however, please note that bike rental is only available during high season.
17. Visit the Municipal Swimming Pool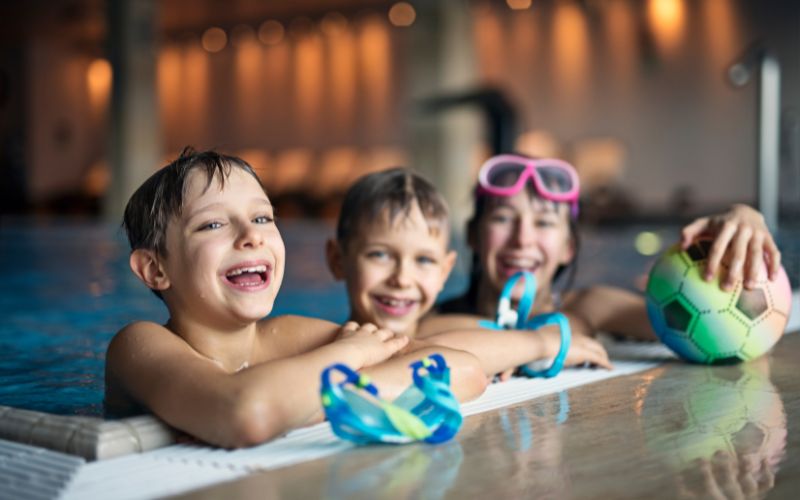 Holidays in Spain are all about the water. But what if the weather is bad and your accommodation has no pool?
No drama. The Centro Deportiva de Denia is home to two indoor swimming pools making it the perfect solution for a bad weather day.
Open most days with a break for lunch, this is a low-cost activity for families visiting Denia.
18. Spend an afternoon at La Sella Golf Resort
La Sella Golf Resort offers an 18-hole golf course and is located on the slopes of Montgo Nature Reserve.
This exclusive resort has a hotel, spa, and restaurant with stunning views of the Mediterranean Sea.
The perfect place to relax and unwind with family or friends. Prices vary depending on the season and time of day.
19. Gerro Tower
This tower was used to spot real-life pirates in the Mediterranean Sea. It was built in the 16th century and served as a watchtower during that period.
It is located just outside Denia, and visitors can climb up to the top of it for a spectacular view of the town and its surroundings.
The tower is free to visit and open all year round. Visitors are welcome to explore it at their own pace.
20.Visit Loreto Street
Loreto Street is recently pedestrianised and is now the centre of the restoration of the historic town.
The street is about 300 metres long and offers a variety of tapas and great coffee at Bar Dianense, as well as other restaurants and cafes to choose from.
The street is also home to many other attractions such as Plaza de la Constitución and Llauradora de Loreto Restaurant.
Children will love watching the world go by at one of the many restaurants along Calle Loreto.
Denia With Kids: Things to Do
Denia is a beautiful city in Spain's Valencian Community with many activities to enjoy.
From the bustling Fish Market and Baix La Mar neighbourhood to its stunning beaches and fascinating museums like The Toy Museum, Denia has something for everyone.
Whether you're looking for adventurous activities or just want some time away from it all, visiting Denia with kids will not disappoint.
Read next: 21 Fun Things to Do in Alicante with Kids